SINGAPORE (Dec 3): Krip Rojanastien does not look much like a hard-charging corporate executive these days, but he actually spent 20 years of his working life at Bangkok Bank, at one point overseeing its cards business. As he approached the age of 50, he realised that the corporate lifestyle was taking a toll on him and that he needed to do something about it. "I was in my late 40s, and I was like this," he says, gesturing with his hands to indicate that he had a generous waistline. As it happened, Rojanastien was able to turn to his own family for help. His father, Boonchu Rojanastien, a banker who was also once Thailand's finance minister, had developed a wellness resort in the Thai seaside town of Hua Hin. Rojanastien consulted a fitness manager and a nutritionist at the resort, and they came up with a plan to help him lose weight. Among other things, they recommended he take up either running or swimming as a form of exercise. "I never did like swimming, though I could swim. So, I chose running," he says. The programme helped him stay motivated and keep pushing himself to run longer and longer distances. "It was like a ladder, going up and up and up," he says. "Within a year, I was running a full marathon." Today, at 68, Rojanastien is slim and exudes a healthy glow. As chairman and CEO of Chiva-Som International Health Resorts, he wants to bring the whole concept of wellness to more people. "Wellness is an idea that is spreading to the younger generation. Now, they are into organic food, healthy food. They are into exercise. They are into a more balanced lifestyle," he says. The ultimate objective of all this is a better quality of life. "It's a lifestyle without chronic diseases and with minimal dependence on medical intervention." Chiva-Som distinguishes itself in the wellness field by not being too prescriptive. "We don't think the solution for you is the same for anyone else. Every human being is different. So, we tailor programmes and treatments to your needs and preferences," Rojanastien says. "There is no one-size-fits-all."
Chiva-Som's Eggs Benedict — healthy food does not mean you have to compromise on taste.
He adds that the Chiva-Som brand has an integrity forged through years of genuinely searching for wellness ideas and solutions. "You believe in what you're telling your clients. You've experienced it, you've studied it, you've seen it happen with other clients, you've seen a lot of research, new findings every day. And, you are bringing all that together and formulating it into something you believe is very important for this person." In fact, Chiva-Som did not start out as a business. "It was something like a weekend retreat that my father built for his friends and relatives. He wasn't looking to make money from it," Rojanastien says. "And, he was going to just keep it like that, until we discovered there was interest from other parts of the world. And, that's when the foreign guests started to come." Chiva-Som's resort in Hua Hin today still stands on a seven-acre plot that was originally occupied by a house belonging to the Rojanastien family. Now, Rojanastien says Chiva-Som is ready to leverage its brand into something bigger. Construction is underway on a new resort on the Indonesian island of Bintan. Expected to open in about three years, the new resort will occupy a total of 70 acres in the midst of an up-and-coming "waterfront resort city" spanning 338ha called Treasure Bay Bintan. Among the features of Treasure Bay Bintan are a man-made seawater lagoon that spans 6.8ha, a "glamping" themed hotel called The Canopi, an organic farm and a thriving mangrove. The developer of Treasure Bay Bintan is Kuala Lumpur-listed Landmarks.
"It is a new dimension, because it is our fundamental belief that your personal wellness has to go hand in hand with environmental wellness," Rojanastien says. "And, environment is what Bintan has in abundance — the pristine environment, the trees and the clean air. All these are key elements to achieving personal wellness." Mark Wee, CEO of Landmarks, says Chiva-Som is an ideal partner in his ambition to deliver a strong wellness element at Treasure Bay Bintan. With the ample amount of space available, the resort will offer 43 fully serviced luxury residences to cater to people who might want to spend long periods of time there. Wee says: "When I go to Chiva-Som in Hua Hin, I realise there are people who stay at the resort for a month, three months, six months. It's pretty common."
Chef Paisarn, cuisine director at Chiva-Som, offers carefully curated wellness menus.
Rojanastien adds, "We had a guy who stayed nine months at one stretch. One month is common." Wee expects that some of the buyers of the Chiva-Som residences in Bintan may well be Singapore-based corporates that want to offer their employees and clients a taste of a "wellness lifestyle". The residences could also be leased out on behalf of the owners, he adds. "Using the Hua Hin charges and [assuming] an occupancy rate of 65%, [the residences] can give investors a yield of 4% to 5%."
The residences come in a variety of sizes and layouts, and sit on plots ranging from 1,115.25 sq m to 4,318.77 sq m. They are priced at the equivalent of US$450 psf (based on land area).
Experience in Bintan
In September, prospective buyers of the Chiva-Som residences in Bintan were invited to a three-day, twonight "wellness stay", where they experienced ChivaSom's suite of consultations, holistic treatments and workshops. Held at The Sanchaya, a luxury resort in Bintan, it was designed to provide a taste of what Chiva-Som will offer when it opens in Bintan.
The Chiva-Som resort in Hua Hin is a foretaste of the brand's upcoming resort in Bintan.
Among the treatments that some guests said really stood out was the Chi Nei Tsang abdominal massage, which is said to relieve the accumulation of negative emotions that hinders of flow of chi (energy) through one's body. Another was the Super Stretch treatment, a form of physiotherapy to restore muscles that have been worked hard or subjected to chronic bad posture. "You need to adjust your posture, you need to unwind the muscles, because muscles that get used repeatedly over a period, they tighten up," Rojanastien says. "That's when you start to get aches and discomforts and so on. Super Stretch helps unwind them." With Chiva-Som Hua Hin closed for renovation at the time, many of its therapists, instructors and consultants were in Bintan for the event. Among them was Danchai Chernprateep, a meditation practitioner and holistic healer, who conducted a meditation session while playing the Chinese harp for guests during an early-morning mangrove cruise on a specially built pontoon boat. Kamlesh Kumar, a yoga instructor, provided one-on-one pranayama (breathing exercises) and yoga sessions in an open-air gazebo for some guests. Dr Aaron Bullington, a naturopathic physician, provided personalised consultations and treatments to address everything from sleep disorders to digestive problems, drawing on traditional Chinese medicine principles, naturopathic bodywork, massage and energy healing.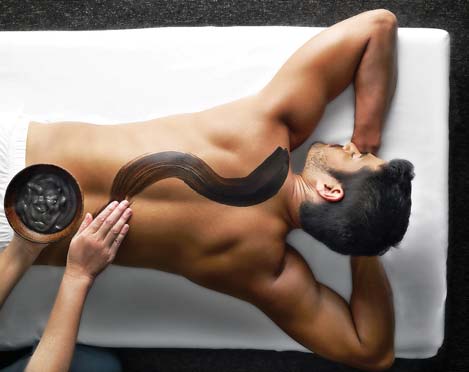 Take your pick of wellness treatments when Chiva-Som opens in Bintan.
Chef Paisarn Cheewisiriwat, cuisine director at Chiva-Som, also made a big impression on the guests with carefully curated wellness menus that were clearly healthy but not overly so. For example, dinner one night began with a salad of chopped cauliflower marinated in raw nut dressing topped with dehydrated seasoned walnuts, and a watermelon gazpacho with guacamole and crab meat. This was followed by a choice of baked rolled local fish with homemade mushroom XO sauce, or slow-cooked Osso Buco with Massaman curry. Dessert was a serving of tapioca pearl pudding, coconut milk and tropical fruit. There were also unforgettable touches, such as whole heads of garlic with tops sliced off that were cooked until soft and spreadable like butter, served with bread rolls at the beginning of the meal.
New sensibilities, technologies
While there was a distinct Thai flavour to the meals and wellness treatments experienced by the guests, the Chiva-Som resort in Bintan will adopt the sensibilities and traditions of its Indonesian home. "Wellness traditions have commonalities in nutrition, movement, and rest and recovery," Rojanastien says. "They may look different and take different forms — Silat and Thai boxing are quite different, but both are all about movement, getting the cardio and muscles going, getting the coordination going. It's the same purpose. It's just that they were discovered in different parts of the world, in different cultures."
Ironically, the value of these traditions now stems in part from modern society's having abandoned them. Wee cites meditation and yoga exercises as an example. "Thousands of years [ago], people had already acquired the knowledge of how to manage their emotions, because emotions are the most erratic of things. If you don't know how to manage your emotions, then naturally your state of mind is not going to be right," he says. "Singapore is a pressure cooker of a city — driving there is crazy, just taking over another lane feels like you're killing someone. That kind of society requires you to de-stress." Chiva-Som plans to adopt more than some additional ancient traditions at its new Bintan resort, though. It also wants to incorporate some of the latest technologies. Wee illustrates this on his laptop by playing a video of people exercising on stationary bicycles, as the artificial scenery around them changes. "Just to give you a glance, this is state-of-the-art. We are going to have a virtual room where you cycle and compete with each other," Wee says. "We have so many things, but I'm just showing you one." Rojanastien says, "Technology is a key driver. The more advanced we get, the more effective the programme. This is basically making it fun. Everyone is competing, you can simulate the terrain — up and down, left and right." Even as construction work on Chiva-Som's Bintan resort gathers pace, its Hua Hin property is close to completing an extensive refurbishment that will result in fewer but larger guest rooms, and enhanced facilities. "Space — everyone is looking for that," Rojanastien says, when asked what the renovation exercise in Hua Hin will achieve. "We are [coming to Bintan] because of the space, and we are trying to make the most of what we have [in Hua Hin]." The number of guest rooms in Hua Hin will shrink from 58 to 54, but each room will be significantly larger. "You are telling people to sleep eight to nine hours; they spend a lot of time in their rooms. So, you have got to make it as comfortable as possible," Rojanastien says, adding that the gymnasium will be 50% larger when the renovation is completed, while the dining room will be brighter and airier. "The renovation is for staying relevant for the next 10 to 20 years." In the end, Chiva-Som's expansion could be unfolding at just the right moment to catch a growing wave of demand in wellness experiences, fuelled by growing wealth in the region. Wee points out that Asia's burgeoning cities have been attracting people in search of jobs and higher incomes. "Whoever has made their money, shouldn't stay in the city," he says. "You're killing yourself with pollution, you're killing yourself with all the crap food. And, the water you drink is recycled water. You cannot do that to your own body. You should get out."
This article appeared in Issue 859 (Dec 3) of The Edge Singapore.
Subscribe to The Edge now