NEW YORK (Aug 18): A sense of growing unease gripped financial markets as President Donald Trump exacerbated the controversy sparked by a racist rally in Virginia and terrorists struck a crowded street in Barcelona. US stocks retreated, with the S&P 500 Index posting its second biggest one-day decline of the year, and a measure of market volatility spiked higher. Treasuries rose with the yen as investors sought havens. Gold jumped. Stocks began the day lower on speculation that Trump's policy agenda was increasingly imperiled after he disbanded two advisory councils staffed by CEOs and slammed Republican members of Congress who were critical of his remarks on race. Rumors that former Goldman Sachs President Gary Cohn would resign as head of the national economic council added to the selling until reports that he'd opted to stay momentarily buoyed the market. Cohn has been leading the president's efforts on tax reform. "Certainly the Cohn stuff started it and while there isn't much out there yet about what's happening now in Barcelona, it's also adding to it," Robert Parks, managing director in equity derivatives at RJ O'Brien and Associates LLC, said by phone. "And in the background is Donald Trump and everything negative that's swirling around him. Is he going to be able to get anything done that was expected?" While Cohn's continued presence in the White House brought a measure of calm to markets, it failed to end the controversy sparked by Trump's polarizing remarks, leaving his agenda with an uncertain future. The terror news was a reminder that geopolitical unrest remains a threat to global growth, with nerves still raw after last week's escalation of tensions on the Korean peninsula.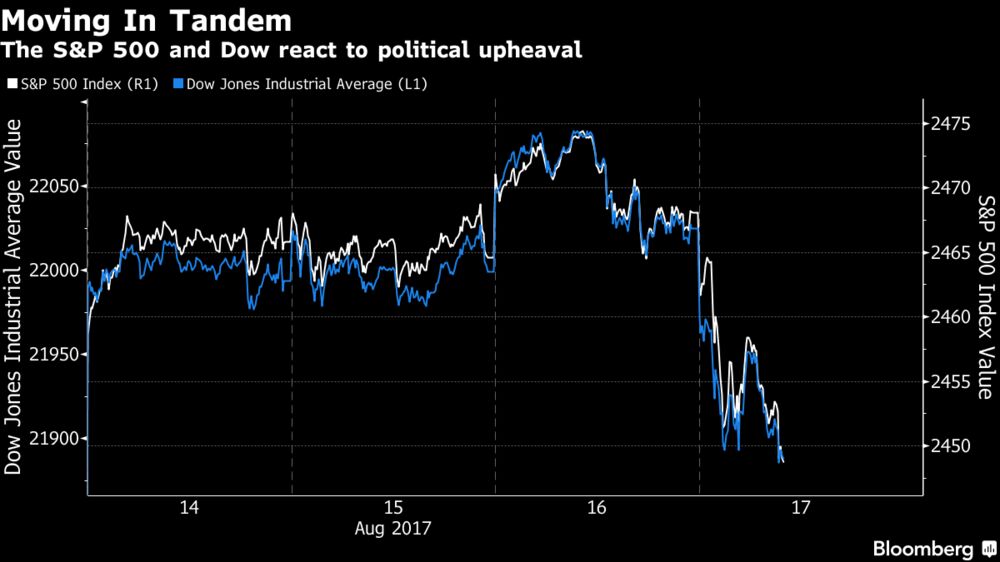 Still, some strategists cautioned that equity markets don't appear poised to crack -- at least not right now. The S&P 500 Index sits 2% below its all-time high reached 10 days ago. "A correction is coming at some point, catalysts are not always obvious," Andrew Brenner, head of international fixed income for National Alliance Capital Markets, wrote in an email. "But with central banks pulling back from the tapering mode, we doubt this is it." Earlier, European stocks dropped as minutes from the region's last central bank meeting revealed concern among officials that the currency could overheat. Gold and tin were among the best performing metals, and zinc traded near a 10-year high. Most European bonds edged higher as they tried to catch up to US yields. Sterling slipped after growth in UK retail sales dropped. Here are the main moves in markets:
Stocks
The S&P 500 plunged 1.5% to 2,430.04, the biggest decline since May. The Dow Jones Industrial Average fell 274 points, and the Nasdaq Composite Index lost 1.9%.
The Stoxx Europe 600 Index dipped 0.6%.
The U.K.'s FTSE 100 Index sank 0.6%.
Germany's DAX Index slid 0.5%, the biggest slide in a week.
The MSCI Emerging Markets Index advanced 0.3%.
Currencies
The Bloomberg Dollar Spot Index increased 0.2% after Wednesday's decline.
The euro dipped 0.3% to US$1.1729.
The British pound fell 0.2% to US$1.2871.
Bonds
The yield on 10-year Treasuries fell three basis points to 2.1888%.
Germany's 10-year yield decreased two basis points to 0.43%.
Britain's 10-year yield slid two basis points to 1.087%.
Commodities
West Texas Intermediate crude rose 0.5% to US$47.03 a barrel.
Gold climbed 0.4% to US$1,288.68 an ounce.