SINGAPORE (May 9): After a spectacular rise for two years, Singapore's biggest technology company is suddenly returning to earth. All eyes in the country's financial community have been on Venture Corp., an electronics stock that more than tripled since April 2016 to become -- at one point -- a US$6.5 billion firm. So meteoric was its advance that Venture became the only technology company listed on Singapore's blue-chip 30-member Straits Times Index. Venture Chief Executive Officer Wong Ngit Liong boosted his stake in 2016 -- for the first time in many years -- ahead of the stock rally. Beyond that, analysts say, he has largely kept quiet about Venture's business. Here's what we know about the company: it began as a contract manufacturer of electronics components in 1984. These days, it has expanded to provide services such as supply chain management and technical support for goods ranging from medical devices to communications equipment. And the market agreed with Wong's view of the stock. Investors kept buying.
They were impressed by Venture's profit, which jumped amid the good times for technology companies last year. There were rumors of a big contract with Philip Morris International Inc. for its heat-not-burn tobacco device IQOS. (Venture hasn't confirmed or denied a relationship with the cigarette giant.) Analysts also talked about how Venture was evolving into something bigger -- in areas from product design to research and development. All the while, an air of mystery surrounded the company, partly because Wong gave little away about its customers. Then came the fall.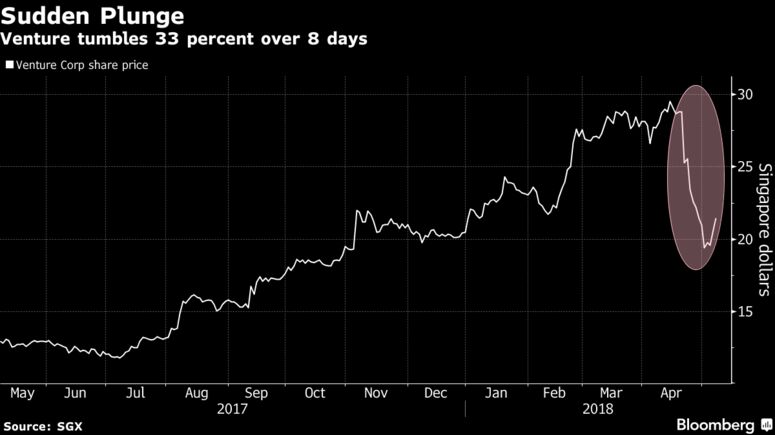 The first blow was Philip Morris's earnings; the second, a short-seller attack. Venture is too exposed to the tobacco company, which had reported disappointing sales growth, wrote an anonymous blogger or bloggers who go by the name Valiant Varriors in an April 24 report. Venture didn't do enough to reject the short seller's arguments, some commentators said. "They claimed that PMI makes up 30% of Venture's revenue, which Venture did not answer or deny," said Jarick Seet, head of small and mid-cap research at RHB Research Institute Singapore Pte. The company doesn't give much information on its business mainly due to its non-disclosure agreements, said the analyst, who retains a buy rating on the stock. Venture has "consistently reported favourable financial performance every quarter," and "keeps its 'trade secrets' very close to its heart" for the benefit of all stakeholders, the company said in a statement to the Singapore Exchange after market close on Tuesday.
During Venture's first-quarter results briefing a day after the short report, CEO Wong told analysts to consider the source and intention of the note, while the company's chief financial officer said the short sellers had "a clear hidden agenda." The company reported a 72% year-on-year increase in first-quarter net income, but its results fell short of analyst expectations because sales were almost flat. That, coupled with the short report and Philip Morris signaling that IQOS adoption in Japan has slowed, was enough to rattle the market.
See: Venture sees 72% surge in 1Q earnings to $83.7 mil on higher 
Jittery Investors
At least seven brokerages lowered their price targets for the stock, according to data compiled by Bloomberg. Credit Suisse Group AG downgraded its rating to neutral from buy. And the shares plunged 33% over eight days.
See: Analysts slash target prices for Venture Corp despite 1Q earnings surge
Investors were jittery after local technology firms reported weak earnings, because they saw that as a signal that the sector was slowing down, Seet said. But Hugh Young of Aberdeen Standard Investments says he's not that worried about Venture's decline. Young's firm, which tends to be a long-term shareholder, has an almost 5% stake, according to data compiled by Bloomberg.
Venture was "at the very least ripe for profit-taking," said Young, head of Asia Pacific at the US$779 billion money manager. Even though we don't know exactly how important IQOS is and why Venture is so prone to bear raids, "we still think it's OK," he said by email.
Venture Comeback
As if to back up the veteran investor, Venture staged a comeback this week with a 9.7% advance. That came, once again, after anonymous bloggers swayed the stock. This time, a group calling themselves the "True Valiant Warriors" came out in defense of the company. Their report and the blog it was published on have since been taken down. There was also a buyback: The company repurchaserd 109,000 shares from the market, it said in a filing Monday. Despite all the drama, Nicholas Teo, a trading strategist at KGI Securities (Singapore) Pte., sounds a note of caution about being too caught up in the stock's movements. It's important to look beyond the daily swings, he said. "Venture as a company has done really well, it's steady," Teo said.