HONG KONG (May 23): Tencent Holdings Ltd. has become the undisputed ruler of Hong Kong stocks. China's largest Internet company has surged 45% this year, adding more than US$100 billion ($168.6 billion) in value to its shares and pushing the city's benchmark equity gauge ahead of almost all major global peers. While some technical indicators signal a pullback for the stock is overdue, analysts are bullish on its outlook after the WeChat operator posted record results. Below are four charts showing just how influential Tencent has become to the world's fourth-largest stock market.
Market Cap
At US$335 billion, Tencent is the city's largest company -- and the ninth-biggest in the world. It makes up about 16% of the total market value of the Hang Seng Index, which has 50 members including giants China Mobile Ltd. and HSBC Holdings Plc. The index provider, which limits the influence that individual stocks can have on its benchmarks, said last week it will cut Tencent's weighting in the gauge to 10% from mid-June.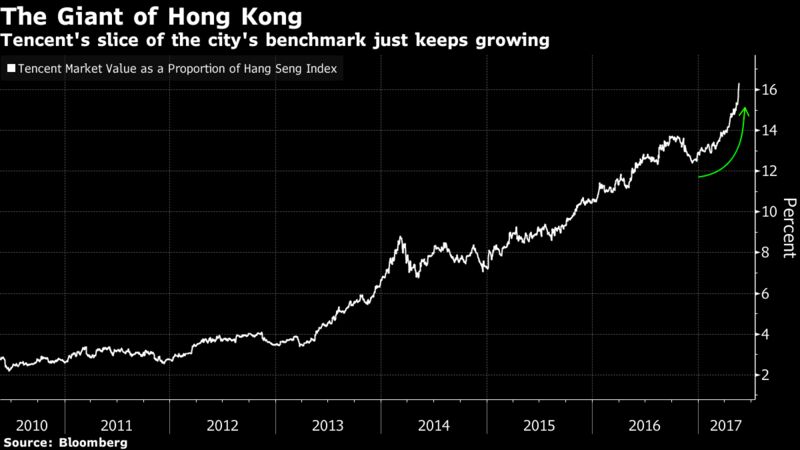 In Lockstep
Tencent, whose WeChat messenging service has about 938 million monthly active users, accounts for almost a third of the Hang Seng Index's 15% rally in 2017. The equity benchmark typically moves in the same direction as its largest stock, with the 90-day correlation between the two near 80%.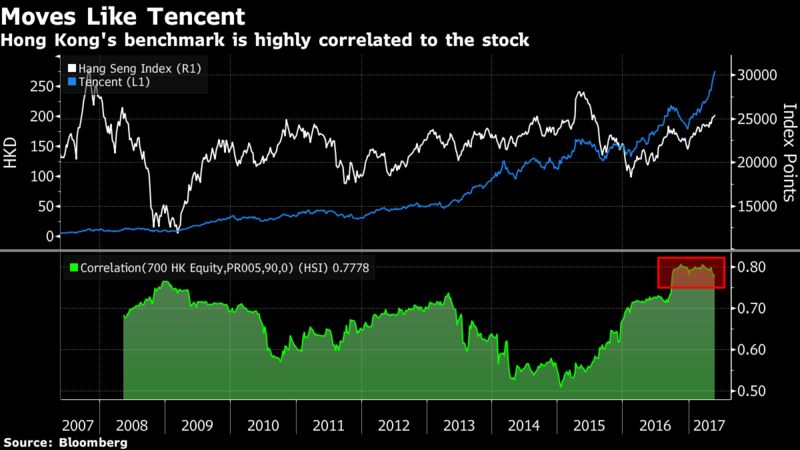 Bullish Analysts
With 44 of the 46 analysts tracking the company having buy recommendations on the company, and none advising selling, Tencent is among the most-liked firms on the Hang Seng gauge. They predict the shares will climb another 8.6% in the next 12 months, according to the average target price tracked by Bloomberg.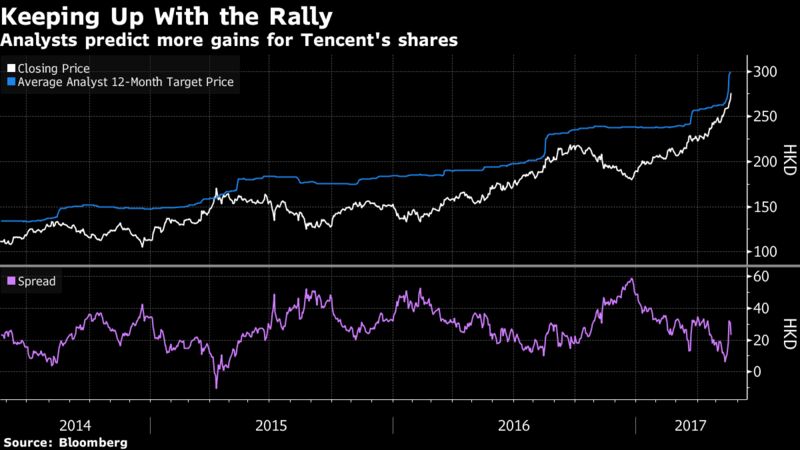 Full Speed Ahead
Tencent's rally has pushed its relative-strength index to an all-time high -- exceeding the level reached during China's 2015 stock-market bubble. Despite hovering above overbought levels for the past two weeks, the stock closed at its fourth consecutive record on Monday.