Singapore Management University's Institute of Innovation & Entrepreneurship, in partnership with
Pan-Asia Venture Development Platform
(PAVD), has jointly launched a programme called "Round A INvestor" for graduates and investors. The RAIN programme provides hands-on training for investors to learn the art of doing Pre-Series A to Series A Round funding of early-stage ventures. This is a life-long programme, as alumni become part of the RAIN Club and will be able to share deal sources, collaborate in due diligence and co-invest together. They will be invited to attend future training and programmes as observers or instructors. PAVD is a self-funded platform for venture investing; entrepreneurship training and education; and fundraising for innovative ventures. The first three days of the course — which starts on March 17 — will be held in Hong Kong, followed by two days in Taiwan and three in Singapore. The course will be led by luminaries in the academic and investment world. One of the keynote instructors is Professor Albert Chan, an adjunct professor at Chinese University of Hong Kong Business School. Chan is vice-chairman of Ping An Insurance Group's Investment Management Committee. His committee manages more than RMB1 trillion ($213.4 billion) worth of assets under management including private equity.
Two of the keynote instructors — Professors Wilton Chau and Gerry George — recently shared with
The Edge Singapore
their vision and purpose for the programme, as well as their experiences as entrepreneurs and thought leaders.
Chau, who is Professor of Practice in Entrepreneurship of the Chinese University of Hong Kong Business School, is also chairman of PAVD. He is founding chairman of QLeap Venture Fund, a venture capital fund mainly investing in Asian early-stage technology ventures. Chau sits on the boards of several listed companies and technology ventures.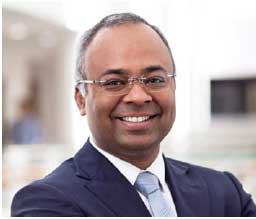 George is dean and Lee Kong Chian Chair Professor of Innovation and Entrepreneurship at the Lee Kong Chian School of Business at SMU. George is a former deputy dean of the Imperial College Business School in London. He was awarded a professorial fellowship by the UK's Economic and Social Research Council to work on resource-constrained and inclusive innovation.
What is the objective of the RAIN programme?
George: RAIN is an executive programme for aspiring investors to learn the craft of venture investment, an asset class that is significantly different from the others. Our aim is to help accelerate the growth of the angel investment community in this region, through the provision of systematic and hands-on coaching, and a convening platform through the RAIN investment club for like-minded investors to collaborate in investment opportunities. A vibrant and sophisticated angel community is critical to the growth of the start-up community in Asia. Ultimately, we hope that the success of the RAIN programme will reinforce SMU's reputation as the preferred knowledge partner in venture financing in this region. Chau: Yes, our aim is for RAIN to be the most resourceful and sophisticated angel investor club in Asia. All the candidates who complete the RAIN programme become part of the RAIN Club to share, debate and co-invest in deals together. In this way, we continue to keep the alumni updated on what's happening in the market, such as changing technologies, and the latest deals. We will keep track of them and their deals. We want to use these deals — be they successes or failures — as case studies.
How do you identify and contact angel investors?
George: There are multiple ways to identify and contact angel investors:
Join start-up pitching events. You will find many investors in attendance looking for deal flows.
Attend an angel training programme such as RAIN. You will meet like-minded students or instructors who can syndicate investment deals with you.
Become a member of a local angel investment club/network. Usually, the club will convene regular, closed-door pitching events for its members. The RAIN Club does just that and more, including systematic tracking of the historical performance of deals presented to club members.
Who are the candidates for this programme and what are its links with PAVD?
Chau: We target investors, SMU alumni and students from MBA programmes. The programme is jointly organised by SMU's IIE and PAVD. PAVD is the largest funding platform in the world. Its fund managers collectively manage US$600 billion [$795.3 billion]. PAVD also represents a large business network consisting largely of Asian investors, including angel investors, venture capital, insurance companies, family offices, private-equity investors and a sovereign wealth fund, Khazanah. Hong Kong and China family offices are investors in PAVD. The family office network is very well established in Hong Kong. In China, there has been a large build-up of first-genera­tion wealth, and these patriarchs are looking at setting up family offices. Many family offices allocate some funds into venture investments.
How do you reach family offices?
George: SMU, with its renowned Business Families Institute, is a leader in family office research. The majority of the regional family offices are members of BFI. Our unparalleled access to world-class-quality deal flows through the likes of the Lee Kuan Yew Global Business Plan as well as investment talent through the Protégé Ventures also attracts family offices that are interested in this area to reach out to us. Protégé Ventures is the first student-managed venture-capital fund in Southeast Asia.
Could you give us a flavour of the contents of your lectures?
Chau: We will be discussing the techniques of performing effective due diligence for angel investors, who usually do not have the luxury of an elaborate backend office to support due diligence. We will also be discussing investor protection, which is enshrined in the terms and conditions of the investment agreements. For instance, if you invest as a minority shareholder, you will need certain protections. But the terms and conditions cannot be so onerous that the entrepreneur in control of the start-up has little room for manoeuvre. After all, in early-stage ventures, there is not much financial due diligence you can do, although we do have a section showing participants how to value new economy ventures. During the programme, we will study different types of ventures, including social ventures, and we will have sessions on project analyses by visiting projects in Hong Kong, Taiwan and Singapore. There will also be a class on family office planning and allocation for venture capital as an asset class.
Is there a certain sector that certain investors prefer? Are some sectors easier for start-ups to profit from?
George: Investors in this region tend to prefer digital or internet start-ups. For an investment community that has not matured, such as Southeast Asia, start-ups in the internet/digital sector are relatively easier to understand than other sectors, are the most capital-efficient and are quick to see results (or the lack thereof). The impression is further reinforced by the fact that most of the recent success/exit stories originate from this sector as well.
What are some of your own experiences with start-ups?
Chau: I invested in a ginseng farm once. It takes six years to grow ginseng. Four- and five-year-old ginseng root is the inventory that represents the value of the company. At the time I invested, ginseng prices had dropped a lot and I seized the opportunity. The valuation of this inventory was the same as that for carrots. Some of the safeguards that we put in place included ensuring that the best ginseng came to us, the investors. We ensured that the local partner did not siphon off the best harvest. We planned on partnering with a large Singapore food company to do the processing and distribution. Its CEO had confirmed the company would co-invest with us, but it was eventually rejected by the board of the company. Without that partnership, the venture failed. The key is to learn from the failure.
Was there a venture that succeeded?
Chau: I invested in a Hong Kong environmental company that got listed in the US and I invested in a mainland company involved in membership in China that got listed in Shanghai. One of the projects I invested in — International Information Content Industry Association (ICIA) — became a registration authority (RA) of the International Standard Link Identifier (ISLI) for ISO in 2015 [Chau is chairman of ICIA]. ICIA comprises entities and organisations that deal with the challenges faced by the information content industry. Only 62 ISO worldwide are qualified as RAs. RAs promote the use of a particular standard through facilitating its use. This may be by applying the standard, where appropriate, or by verifying that a particular application satisfies the standard's tenets. RAs can oppose any application that is in conflict with our ISO.
How do you know what investors are interested in?
George: As early-stage venture investment is risky, angel investors tend to invest only in areas that they understand or in emerging areas that are potentially disruptive and promise huge returns if successful. Impact investment (social enterprise) is also an area of increasing interest as investors start to focus on social impact and sustainability. Technology is evolving at an exponential pace, and early-stage investors who have accurately identified industry trends early and position themselves with the right bets will reap the most benefits. The collective knowledge synthesised from the RAIN training programme and the RAIN investment club activities, with its Pan-Asia network of instructors and investment deal flows, will provide the participants with a bird's eye view of what is happening before the mainstream catches up.           
What is the ultimate aim of the start-up and investor? What is the exit strategy likely to be?
George: The aims of start-ups and venture investors are similar on many fronts, among which are the disruptive potential to ineffective incumbents and broad-based social impact. There is also the promise of superior returns when they 'hit a home run', making the founders millionaires or billionaires. An angel investor in unicorns such as Grab or Razer can easily look at more than 10 times returns on paper as well. Venture investment is very appealing to investors who want to 'do good' as they reap economic benefits. In this region, venture exits tend to be mergers and acquisitions, as many founders are first-time entrepreneurs looking [to obtain] their first pot of gold quickly. Also, many corporates find international expansion in Southeast Asia time-consuming, as every country is significantly different. As such, M&A or acquihires become the preferred strategy for rapid expansion. The IPO market for tech start-ups in this region is relatively immature and the financial returns are generally lower than a private trade sale. This is generally good news for angel investors, who can expect a shorter gestation period for their investments. The RAIN programme and club help these investors to better identify and systematically track promising deals, and also potentially help them with higher bargaining power during investment and exits through syndication and a more robust due-diligence process. To find out more about the RAIN programme, please click
here
.