SINGAPORE (Mar 27): Marilyn Tan, Principal Designer of Marquis Homestyling – a boutique design firm in Singapore which specialises in creating both luxury residential and commercial spaces – has over 20 years of experience in the industry. She oversees the majority of the company's operations from start to finish. Some examples of how she was personally involved include providing design conceptualising services and directions; developing action plans and fitting details; and reviewing the final outcome.
"I have always been intrigued by art and patterns. That ignited my passion for interior designing."
– Marilyn Tan We speak to Marilyn to find out more about Marquis Homestyling and her role in the company.
What makes Marquis Homestyling stand out among other interior design firms?
Marquis Homestyling offers a highly personalised and dedicated service to create bespoke interiors for our clients spanning residential, showflats and commercial projects.
With interior design services coupled with Marquis's retail arm, we are able to stay ahead of the game and at the same time, adhere to the timelines given. With our retail arm, we are also able to manage our clients' expectations with¬out compromising on the variety of imported furniture brands available to them. Our clients are thus able to enjoy better value and savings, especially on the loose furniture used in each project. This allows us to maximise our resources and work to meet both the developer and homeowner's vision.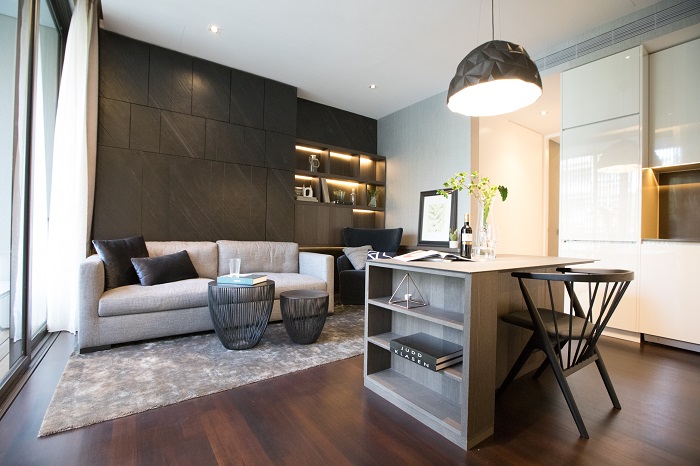 Marquis Homestyling provides its clientele a vast range of Italian furniture with exceptional quality
How do residential projects carried out for i) private clients and ii) developers compare?
As with everything, there are pros and cons to both. The challenges that I generally face when I'm working on a residential project would be catering to a client's personal needs. For example, the design team once worked with a private client who couldn't look at objects with 90-degree angles at eye-level. Understanding this, we helped her to curate a space that allowed her to live comfortably within her dream home. Private clients will often have some influence in the design process. This means we also have to take both 'feng shui' and their preferences into consideration when coming up with a design concept. With these creative challenges in mind, our design team works to create bespoke homes both charm and practicality for our clients. The personal side of working with a developer is very challenging yet rewarding. In the latest addition of our portfolio, we worked closely with Lloyd SixtyFive's developer to curate a series of showflats.
Loft concept for Lloyd Residences
When it came to crafting the loft apartment, the possibilities seemed endless. Our design team maximised and transformed the loft area from a 2+1 bedroom to 3 bedroom unit. This helped to create a spacious yet functional appeal to enhance the overall sense of depth and volume. We worked closely with the developers from space planning to the tiniest detail of soft furnishings, in order to deliver projects that withstand the test of time. We constantly aim to exceed expectations and envision ourselves to value-add to every distinctive property.
What are the biggest challenges of the moment when designing interiors for the luxury property market?
The company offers homestyling services for both residential and commercial spaces
With the inundation of trends and design ideas on social media, our main challenge is to keep our work both functional and distinctive. We spend a lot of time keeping up to date with new suppliers and materials, visiting local and international trade shows and meeting craftsmen as much as possible so that we can bring something refreshing to each project.
Marquis Homestyling
16 Tai Seng Street, #01-00 
Singapore 534138
Tel: 9769 6833/ 63830120
Email:
[email protected]
www.marquishomestyling.com