SINGAPORE (April 18): For the fourth consecutive year, Singapore has retained its top spot in Asia Pacific in the Global Talent Competitiveness Index (GTCI) 2017, followed by Australia, New Zealand, Japan and Malaysia.   The annual benchmarking report, which measures the ability of countries to compete for talent, was announced today during GTCI's regional launch at INSEAD Asia campus in Singapore.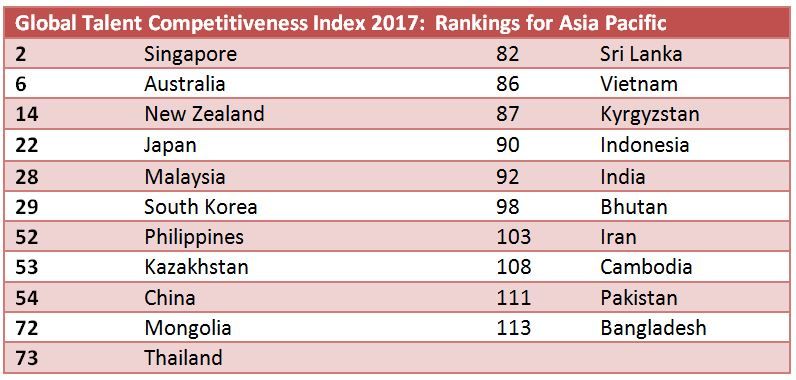 In a Tuesday joint press release issued by The Adecco Group and the Human Capital Leadership Institute of Singapore (HCLI) – both of which GTCI is produced in partnership with – as well as INSEAD, Singapore is noted for its "outstanding performance in the Enable, Attract and Global Knowledge pillars" of the index. Countries can learn from Singapore's well-developed regulatory and market landscapes for global talent to thrive and its ability to anticipate the movements of the economy, add the organisations.
This year's edition of GTCI focuses on 'Talent and Technology', and explores the effects of technological change on talent competitiveness and the future of work, on the basis that while jobs at all levels continue to be replaced by machines, technology is also creating new opportunities. High ranking countries have been noted to share key traits including educational systems that meet the needs of the economy, as well as employment policies favouring flexibility, mobility and entrepreneurship. Globally, Singapore ranks second for the fourth consecutive year after Switzerland, while European countries continued their dominance of the top 10 list. Other countries within the Asia Pacific region which rank within the top 30 globally are Australia (6th), New Zealand (14th), Japan (22nd), Malaysia (28th) and South Korea (29th). "Digital technologies will help small and exposed economies like Singapore punch above their weight by creating means for their businesses and talent to reach out to the global market. Countries must continue to upskill their workforce so that they can adapt to the digitisation wave and the sweeping structural changes that are poised to shakeup traditional work arrangements," says Su-Yen Wong, CEO of HCLI.   According to The Adecco Group's regional head, Christophe Duchatellier, this year's findings also highlight increasing challenges that many countries in the Asia Pacific region are experiencing in attracting and retaining talent. "In 2017 we are already observing organisations across the region placing an increased emphasis on world-class talent attraction strategies and tactics that will support them in remaining competitive. We would expect to see more organisations offering internship and apprenticeship programmes to foster skills development," he adds.