SINGAPORE (May 31): Singapore has registered negative employment growth of 1% on-year on the Monster Employment Index (MEI) for the month of April, according to the latest MEI data released by Monster Worldwide. The MEI is a monthly gauge of online job posting activity from a range of career and websites and online job listings across Singapore, Malaysia and the Philippines, and serves as an aggregate measure of the change in job listings across the industry. The decline in growth appears to be led by reduced hiring activity from the government/public sector undertaking (PSU)/defence industry, which plummeted the most (-6%) on an annual basis as compared to its industry peers. This was followed by reduced hiring in the hospitality industry as well as the advertising, market research, public relations, media and entertainment sector, both of which reflected a 4% decline in online hiring activity growth. On the contrary, IT telecom/internet service provider (ISP) and business process outsourcing (BPO)/information technology infrastructure services (ITEs) led in online hiring activity among industries, reporting an overall 15% growth y-o-y.
In terms of occupation, software, hardware, telecom professionals witnessed the highest demand on-year by growing 18%. Region-wise, Philippines recorded the highest y-o-y online hiring activity in the banking and financial services (BSFI) industry in Southeast Asia, at 12%, while Singapore witnessed an on-year growth of 4% between March and April 2017, reporting 2% y-o-y in April. Malaysia was the only market to report a decline in online hiring for BSFI, and saw a 9% dip between April 2016 and 2017.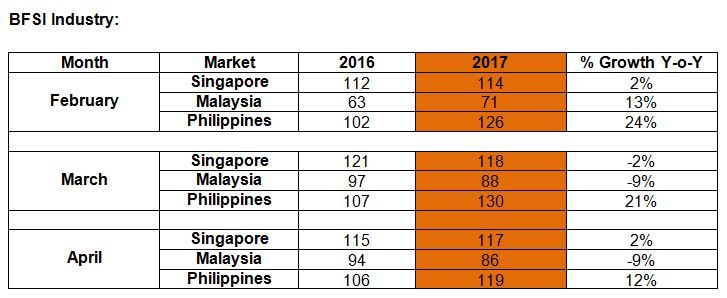 The regional data has led Monster to conclude that Southeast Asia's BSFI sector is still displaying a cautious hiring outlook even as it sees slight improvement in online hiring in Singapore and the Philippines. "As the banking sector continues to transform into one that becomes more reliant on technology, employers have been setting their sights on talent abroad to cope with demands, amidst the widening industry skill gaps," elaborates Sanjay Modi, managing director at Monster.com – APAC and Middle East. "Employers have also been rolling out strategic cost-cutting plans to cope with the ever-evolving banking landscape. As the big banks continue to eye this region for investment banking roles, we can expect to see some traction in the hiring for private banks for the private equity professionals," he adds.