(Sept 20): In his new book, Coi chef Daniel Patterson urges home cooks to experiment in their kitchens—starting with basic breakfast.
It's hard to think of a dish as elemental as scrambled eggs. The only requirements for the original two-ingredient recipe (if you don't count seasoning) are fat for cooking and eggs. Though plenty of ways exist to make them more ambitious, with fancy ingredients and elegant presentations, it seems impossible to think of a way to change them beyond the three-step process of cracking, whisking, and pouring into a hot pan.
But Daniel Patterson has figured it out. The San Francisco-based chef has earned Michelin stars and a James Beard award for his fine-dining restaurant, Coi. He is a co-founder of Locol, the California fast-food spot whose mission statement is to save the world by offering well-sourced, affordable burgers, soft serve, and coffee in underserved neighborhoods. Patterson is likewise on a mission to give home cooks a point of view in their own cooking. In a cookbook just out this month,
The Art of Flavor
(Riverhead Books), he has teamed up with perfumer Mandy Aftel to teach readers to be confident in their flavor combinations, rather than blindly relying on recipes. (Patterson compares this to the way people unthinkingly follow GPS directions in their car.)
Patterson's goal is for home cooks to cook without recipes. "Chefs make multiple decisions simultaneously when they're creating dishes. This book allows people to make their own recipes. Much of that is functional: determining you want acid in a dish, and then deciding from options like Champagne vinegar, or balsamic, or citrus. Brown sugar or honey or a juice if you want sweetness. Once you get a sense of what works for you, you gain confidence."
Learn to hit your flavor target, says Patterson.
 "There are a million recipes out there, but hardly any that explain why you're mixing this with that, or that empower you. This book is about the 'whys,' about knowing what your flavor target is, and how to hit it," says Patterson. "If you like spicy foods, high acid foods, dishes with that rich umami flavor, then get a handle on the ingredients that push that forward." Take sweet potatoes, he says. One of his favorite dishes in the book is for a soy-glazed version. Using three ingredients (sweet potatoes that are roasted, plus melted butter and dark soy sauce), Patterson transforms a staple side dish into one with sophisticated layers of dark, sweet, and salty flavors. "It will change your Thanksgiving," predicts Patterson.
To lead cooks to a place of understanding, Patterson takes time out in
The Art of Flavor
to point out the power of some ingredients to undo the wrong direction a recipe might go in. In the book's final chapter, "The Seven Dials," Patterson highlights the seven kinds of flavor adjustments (salt, sweet, sour, bitter, umami, fat, and heat) you can make to a dish. There are "Sweet Rules": If you've added too much salt to a dish, a hit of sugar can alleviate that. So can a hit of a tangy ingredient, such as a squeeze of lemon juice. (Under "Sour Rules" you learn that sour balances almost every other flavor.) From "Fat Rules," you confirm that fat, like a knob of butter, fixes and balances just about everything. It was this kind of experimentation that led Patterson to his most trailblazing recipe, a transformation of scrambled eggs. The background: He had always cooked his eggs in a non-stick pan. When his eco-conscious wife took issue with the hormone-disrupting problems associated with Teflon, he cooked his eggs in cast iron pans and soon found the egg remnants cumbersome to clean. Patterson had a "eureka" moment: Why not try cooking the beaten eggs in boiling water? Eggs are poached all the time; these would just be beaten first. Experimentation taught him that eggs wouldn't stick to the bottom of the pan if you add them to a mini-whirlpool of simmering water. In the meantime, the intense heat of the water bath would cause the air bubbles in the eggs to expand, while simultaneously setting the protein. The resulting eggs are terrifically light, fluffy, and tender, like an expertly made omelet. It also lends itself to any number of toppings, from a drizzle of olive oil to a wedge of goat cheese, even gravy. We like the way butter melts into it.
The simplest of recipes. Photographer: Daniel Patterson
Boiled Scrambled EggsServes 2
4 large eggs, as fresh as possible
Salt and freshly ground pepper
Unsalted butter
In a bowl, beat the eggs until well-blended, about 30 seconds. (Tester's Note: For lighter scrambled eggs, crack each egg into a fine mesh strainer set over a bowl; a little bit of the watery egg white will drip out. Discard it, rinse the strainer, and set over your sink.) In a medium pot of water, heat four or more inches of water to a low boil over medium heat. Add a few large pinches of salt.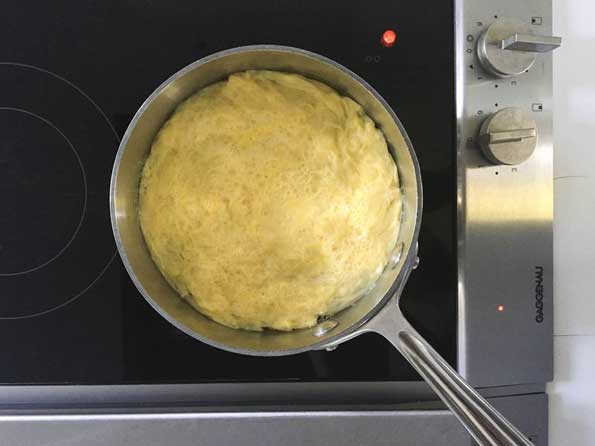 Your scrambled eggs are done. Photographer: Daniel Patterson
Stir the water to create a whirlpool, then pour in the eggs. Cover and count to 20. Uncover: The eggs should be floating on the surface in ribbons. Carefully pour the eggs into the strainer and let drain, gently tapping the strainer against the side to shake off any extra water. Divide the eggs between plates. (Tester's note: Blot off any excess water from the plate with a paper towel.) Season the eggs with salt and pepper and a hunk of butter and serve with toast.