Charles van Rensburg of Wilderness Safaris talks about gorilla ecotourism, rhino horns and introducing the Asian travel market to Africa's varied wildlife and natural beauty.
SINGAPORE (May 21): When Charles van Rensburg went to Rwanda for the first time last month, he was blown away — both by the people and the critically endangered apes that live in its cloud-covered mountains. After bush-bashing his way through verdant bamboo forest and moss-covered vines, he crouched within spitting distance of a family of mountain gorillas. With less than 2% difference in DNA to humans, the resemblance was striking, from their human-like hands and ears right down to their behaviour. "When you see the little gestures that they have or the little ones giggling, it really is special," Van Rensburg tells ­Options on a recent visit to Singapore. "They are also very intelligent, something you can sense when you watch them," he adds.
Gorilla trekking is the latest must-do on many an intrepid traveller's bucket list. And, Wilderness ­Safaris, of which van Rensburg is general manager for Asia and its Private Journeys business, offers a front-row seat to these magnificent apes. Its Bisate Lodge sits on the edge of Rwanda's Volcanoes National Park, home to about half of the 880-odd mountain gorillas remaining on the planet. A morning hike up the emerald slopes of between one and three hours brings guests to the natural habitat of 12 families of mountain gorillas, some of which are monitored by the Dian Fossey Gorilla Fund International. The mountain gorillas are one of two subspecies of the eastern gorilla, the largest living primate. Despite their heft — alpha males can weigh up to 195kg — mountain gorillas are generally gentle and shy. The national park is a window to the staggering biodiversity of Africa as it lies within the Albertine Rift, home to more than 500 species of plants and animals found nowhere else in the world. This includes the endangered golden monkey, which stands out for its striking orange and black fur, and the Rwenzori double-collared sunbird, which has vivid blue and red feathers. After a day out in the high-altitude forest, guests return to the eco-friendly retreat's thatched villas, which are carved into a volcanic wall, and to panoramic views of nearby Lake Kivu.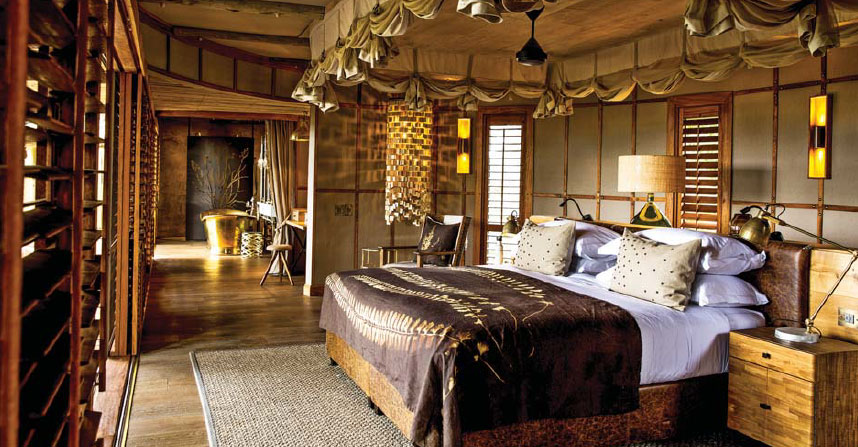 Eco-friendly Bisate Lodge near Volcanoes National Park has a reforestation programme
Bisate, which opened in mid-2017, has won acclaim for its indigenous design and sustainability, notably the reforestation of the land it sits on. And despite its lofty price tag, which starts at US$1,100 ($1,464) per person per night, response has been "phenomenal", says van Rensburg. "We're opening the booking sheets for 2020," he adds. Indeed, the success of Bisate is a microcosm of how Rwanda has propelled itself beyond the genocide of 1994, when a million people were massacred. From those depths, in just over two decades, the country has eschewed the tribalism that once defined it and rebuilt itself. "Considering what they have been through not so long ago, when you see how they've purposefully moved on, the people are unbelievable and so inspiring," says van Rensburg. At Bisate, all its Rwandan staff in their 20s are orphans. One even remembers witnessing his parents being butchered as a child. "Yet, they are so loving. When they greet you, they give you great big hugs," says van Rensburg.   Led by President Paul Kagame, who is fashioning Rwanda to be the Singapore of central Africa, the country remains among the world's poorest. However, it was ranked ninth safest in the world last year by the World Economic Forum. Tourist numbers have also ratcheted up, reaching 1.4 million in 2016 from half a million 10 years before. Today, ecotourism is the small, landlocked country's largest income earner.
Bringing rhinos back
Last year, the government doubled the gorilla permit tariff to US$1,500 per person, in line with a low-volume, high-revenue strategy. "I think that's fair, considering it costs you $300 or more to get into Disneyland," says van Rensburg. More resources have also been earmarked for conservation of wildlife and the environment, which is similarly a cornerstone for Wilderness Safaris. The company began back in 1983 with two guides in an old Land Rover who wanted to showcase and protect Botswana's stunning nature and wildlife. Thirty-five years on, the company has a footprint across eight countries, stretching from South Africa to Kenya, and hosts 40,000 guests yearly at its 52 camps. Its workforce has swelled to 2,560 people and the holding company, Wilderness Holdings, is listed on the stock exchanges of Botswana and Johannesburg. Each year, at least 5% of the company's gross profit is funnelled into biodiversity conservation. The group also supports conservation research, community projects and anti-poaching through its Wilderness Wildlife Trust. On top of that, it runs a non-profit programme called Children in the Wilderness that focuses on life skills, eco-awareness and education for youths. "We see ourselves as a conservation business with a tourism problem," says van Rensburg, who started his career with Wilderness Safaris as a guide and camp manager 21 years ago. One of the efforts he is most proud of is the reintroduction of rhinoceroses into Botswana. Poachers had put an end to Botwana's rhino population by the 1980s, leaving the safari destination bereft of one of the coveted Big Five game animals, the other four being the lion, leopard, elephant and African buffalo. These are the most difficult species to track and hunt on foot. Much of Botswana's territory is in the semi-arid Kalahari Desert, but within that lies the Okavango Delta, a mosaic of grassy flood plains that arguably offers the best big game viewing in all of Africa, van Rensburg reckons. For van Rensburg, who grew up in neighbouring South Africa's Cape Town, the Okavango Delta is heaven on earth. "It is very remote and tranquil. You will not see fences or get cellphone reception," he says. No Instagram, just you, the untouched rugged outdoors and an assortment of animals. And rather than sheer numbers, it is the diversity of the Okavango's wildlife that stands out as well as its pure and intact ecosystem, he adds. For Wilderness Safaris, which has had a camp called Mombo smack in the middle of the delta since 1990, "it was always our dream to bring rhinos back to the Okavango". That mammoth task kicked off in 2001 and involved transporting black and white rhinos from Zimbabwe and South Africa on DC-3 military aircraft. Since then, the white rhino population in the Okavango Delta has grown by over 800%. As for the black rhino, the Okavango today has over 4% of the overall numbers. Botswana also currently has one of the lowest poaching rates in Africa, as the government is "besotted with conservation", says van Rensburg, adding that there is a shoot-to-kill policy towards poachers. However, rhinos remain under threat elsewhere in Africa, with an estimated three rhinos still being killed a day in South Africa. Demand for rhino horns on the black market remains strong, particularly from Asia, where the horns have long been thought to have medicinal properties. In reality, they consist primarily of the protein keratin, similar to that found in fingernails.
Immersive, emotive travel
Fighting poachers is costly, as there is so much ground to cover. "The more cost-effective way is to educate people about rhino horns and get them to see these animals in their natural environment," says van Rensburg, who worked for an anti-poaching unit in South Africa's Kruger National Park earlier in his career. Educating people is also the path he is taking to expand Africa's market share of Asian travellers. At the moment, Asia remains a tiny sliver for Wilderness Safaris, at less than 2% of total revenue. Its biggest market is the US, which stands at 60%. However, he is optimistic about growth coming out of Asia, given rising wealth and a thirst for experiential travel. Africa's profile has also risen in the potentially large Chinese travel market, given the country's vast investment in African infrastructure. This includes the new Victoria Falls International Airport, funded by the Exim Bank of China at the cost of US$150 million. The spectacular Victoria Falls, one of the seven natural wonders of the world, remains a top draw for many first-time visitors to southern Africa, as do the national parks and wineries of South Africa. Wilderness Safaris is hoping more Asian travellers will look beyond these mainstream destinations. "Africa is so different from one concession to another. Animals behave differently too in different places," says van Rensburg. Namibia, for example, which lies to the west of Botswana, offers a very different landscape from its neighbour. The terrain consists of rugged coastlines, red sand dunes, hills, gorges and dry, harsh desert. The animals that inhabit this varied environment are also very different and highly adapted, he points out. However, there remain challenges to African tourism such as air connectivity, the steep cost of travel, security risks and health concerns such as Ebola outbreaks. "What I'm excited about is educating people about the continent,' says van Rensburg. Africa is big and perceived as dangerous, he acknowledges, which is why going with an experienced and good guide is important. Wilderness Safaris has been rated by Fodor's travel guide as one of Africa's top 10 safari tour operators and singled out for its innovation. In Singapore, Wilderness Safaris works in partnership with A2A Safaris, Asia's first bespoke safari specialist. To celebrate its 35 years in the business, Wilderness Safaris has tailored a series of Travel with Purpose journeys. Tapping a growing desire for more immersive, authentic and emotive travel experiences, these are educational safaris to off-the-radar destinations, with the opportunity to make an impact on the local environment and community. The trips are guided by scientists, conservationists or naturalists. The first itinerary will resonate with those keen to spend an hour with the mountain gorillas of Rwanda and Grauer's gorillas of the Democratic Republic of Congo. There is also a pilgrimage to the grave of Dian Fossey, the primatologist who made mountain gorillas famous. The second itinerary, in June, will take travellers to Kenya's Great Rift Valley. The highlight is a chance to see the mountain bongo, a beautifully striped antelope that lives in a remote region of central Kenya and is on the brink of extinction. There is also the opportunity to contribute to the conservation of its natural abode. In Africa, where habitats and species are at risk from illegal poaching, urbanisation and climate change, upscale safari tourism is this company's way of sustaining the wilderness that it reveres.
---
Sunita Sue Leng, formerly an associate editor at The Edge Singapore, is a writer with a travel problem