(Feb 12): These global Instagrammers are snapping photos good enough to eat
@kotaro_0402 
Followers: 10,300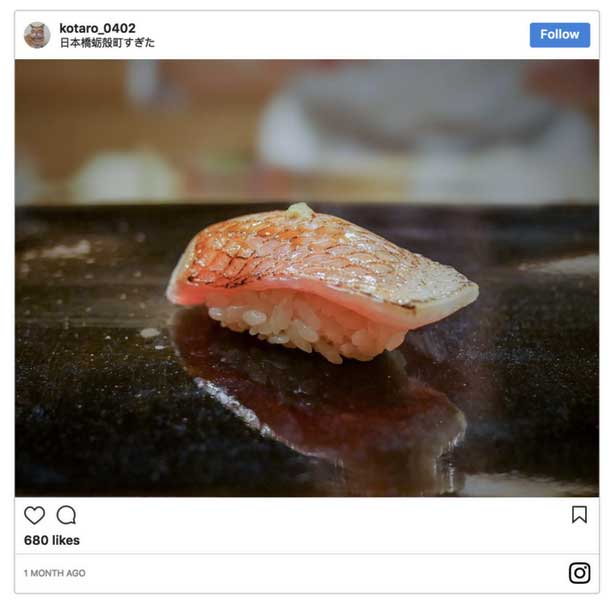 This account, run by a man who goes by Kotaro, documents edible adventures through Tokyo, from the finest sushi and kaiseki to the simplest ramen. Each post— and don't worry, he writes in both English and Japanese— includes his personal rating and what you'll pay. @phoenix_k
Followers: 26,500
Hong Kong's Phoenix Kwok not only likes beautiful food, but she takes stunning photos that introduce her city from unexpected angles. The mood is brooding, dark, and sometimes minimal—at odds with a metropolis known for bright lights and big crowds.
@clerkenwellboyec1
Followers: 172,000
Aussie expat Clerkenwell Boy has been highly influential in London's food scene for several years thanks to an obsessive focus on openings and an apparently limitless appetite. Most recently, he helped create #cookforsyria, a charity initiative for children and a cookbook with top restaurants. @befatbehappy 
Followers: 72,500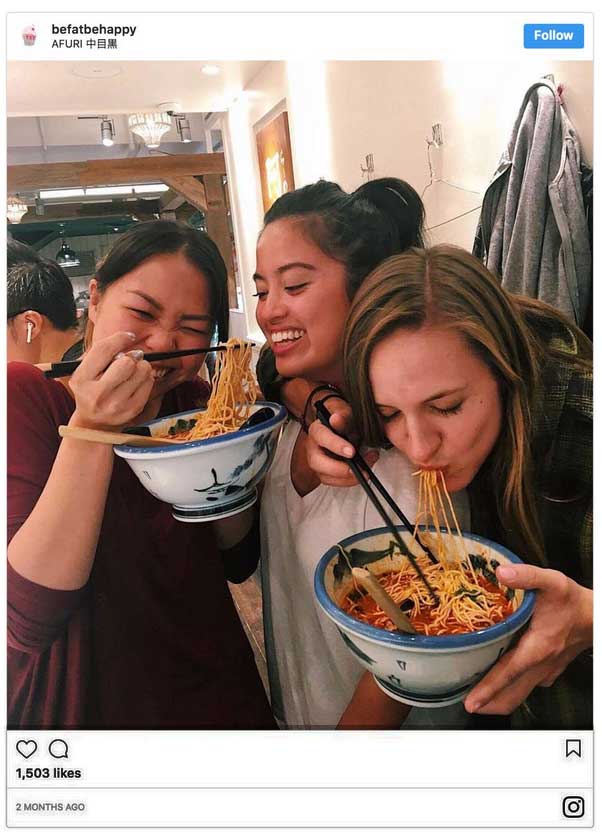 Do you think a calorie count is just a number? This New York-based Filipino American food blogger agrees. She'll whisk you away on guilt-free culinary adventures from Manhattan to Maui. There's plenty of Asian food, but her feed is no stranger to fried chicken and pizza.
@higashi_yoichiro
Followers: 3,665
Higashi Yoichiro is on a mission. The Japanese photographer who runs this account, which deserves more followers, provides curated backstreet spots mainly in Tokyo and Osaka away from the tourists. @wheremytummycomesfrom 
Followers: 377
Based on this feed from three sisters, Singapore looks like a fantastic place to eat. Influences from across the world abound: Teochew oyster omelets, Taiwanese mashed potatoes with cheese, "peanut mochi" (whatever that is) from hawker stands, and overflowing salmon roe. @foodbaby
Followers: 1,562
The Taipei tourism board should pay this woman; her feed singlehandedly will make you want to visit the home of bao buns before they conquered the world. Lots of dim sum, stinky tofu from night markets, and underground bars, too. Look out for the fried eel spines. @lefooding
Followers: 224,000
Any lover of the Parisian cuisine scene knows this new-school food blog and app. On Instagram, Le Fooding reposts its readers' best snaps. And while most restaurants featured are in the City of Light, the feed has recently highlighted New York for pastrami and Copenhagen for gravlax. @ap.sp.new
Followers: 2,917
This Instagram user, who identifies himself only as "Yuichi," runs Sushi Kin, a small restaurant in Tokyo's Mitaka neighborhood. His account (despite its baffling handle) has a cult following in New York's finance scene. A seafood obsessive, he takes spectacular photos of fish and mollusks from the famed Tsukiji Market—before and after they're turned into sushi. @highlandwagyu 
Followers: 3,865
Marbled wagyu beef is one of the most Instagrammable foods. From Scotland, the largest producer of authentic wagyu in Britain showcases its mouth-watering products, served at top restaurants. @wyahaw 
Followers: 7,577
Andy Hayler is famous for visiting every Michelin three-starred restaurant. The scarcity of old-school gourmandise on Instagram may be why he has relatively few followers, or maybe it's the blurry photos (he's not quite as steady as the youngsters), but the man gets around, posting dishes from Chicago's Alinea and Les Prés d'Eugénie, south of Bordeaux. @oli_harding
Followers: 32,400
A tattooed Brit who cooks at Mercuri Montreal, Oli Harding provides shots of his beautifully plated lamb shank, beef rib, and pork shoulder and explains how people survive Canadian winters. His feed also features macho chef shots where he manhandles gigantic cod and halibut.