Mama Mia! Here we go again
SINGAPORE (July 23): Here we go again indeed. This prequel takes us back in time to find out the real story of how Donna Sheridan-Carmichael (Meryl Streep) met the man of her dreams and had daughter Sophie as a result of their union. The loveable old cast of Christine Baranski, Julie Walters, Pierce Brosnan and Colin Firth is back. They are complemented by younger actors Lily James, Jeremy Irvine and Jessica Keenan Wynn. To up the campy factor, Cher joins the cast as Donna's mother. Expect more familiar Abba tunes to sing along to and more comedic mayhem. The movie opens on Aug 9.
Mission Impossible: Fallout
Tom Cruise returns as Ethan Hunt in the sixth instalment of the Mission Impossible spy action franchise. The story picks up from the previous movie, in which the mission ended badly and villain Soloman Lane escaped custody. Hunt races against time to fight assassins and save the world from a global disaster. Ving Rhames, Simon Pegg and Michelle Monaghan are also back, with two new faces — Henry Cavill and Angela Bassett. Movie opens on July 26.
The 50 Cents Fest
Yes, you read it right. All your favourite street food will be sold at 50 cents over two days in July. The 50 Cents Fest, jointly organised by Select Group and Chinatown Food Street, is part of the annual Singapore Food Festival, which is in its 25th year. Smith Street will be turned into a street carnival filled with the foods of yesteryear such as fish molee, kerabu bee hoon and uttapam. A total of 40 stalls, mobile vendors and street performers will transport visitors back to the 1930s. Last year, more than 81,500 Singaporeans and tourists took part in the fest over two days. It won gold for Arts and Culture/Entertainment in the Marketing Events Awards 2017.
Date:
July 28 and 29
Time:
11am to 11pm
Venue:
Chinatown Food Street, Smith Street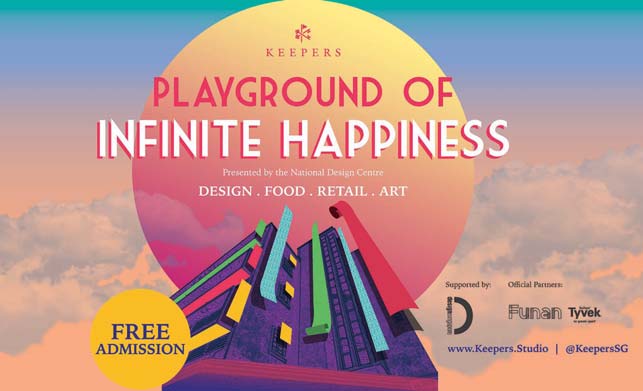 Keepers Playground of Infinite Happiness 
This unique event will showcase over 100 Singapore and Singapore-based designers, craftsmen, artists, chefs, mixologists and inventors. Visitors can look forward to art installations depicting the artists' interpretations of the Singapore Story. The event is supported by Funan and Tyvek.
Date:
July 27 to Aug 5
Time:
Retail pop-ups (July 27 to 29/Aug 3 to 5): 11am to 9pm Art installations (July 27 to Aug 5): 11am to 9pm
Venue:
National Design Centre
SCO concert at Hwa Chong
The Singapore Chinese Orchestra will perform a repertoire of Chinese orchestra classics at Hwa Chong Institution as part of its Campus Rhapsody series. It will kick-start the concert with Guo Wenjing's A Va Mountain from Dianxi Folk Tunes. Audience will be taken on a tour of A Va Mountain, in celebration of the Va people who live in the mountainous regions of Ximeng, Cangyuan and Menglian in Yunnan province. The concert will be conducted by SCO assistant conductor Moses Gay. 
Date
: July 25
Time:
6pm
Venue:
Hwa Chong Cultural Centre Theatre, Hwa Chong Institution
Admission:
Free
The Fall 
This play by James Fritz examines the delicate relationship between the young and the ageing. The story has heart, humour and empathy. There are three scenes that are loosely connected to each other: The first highlights an encounter with a dead body; the second focuses on a married couple; and the third examines the difficult topic of euthanasia. 
Date:
Aug 24 and 25
Time:
8pm Venue: KC Arts Centre — Home of SRT
Admission:
Public: $30; Concession for students, national servicemen full-time and senior citizens (55 years old and above) with valid ID: $20; Bloomberg YOUth tickets: $15