Meditation apps are all the rage — but these six just might convince even the most sceptical.
SINGAPORE (Dec 24): If the holiday season provokes more stress than excitement for you, take heart: You are not alone.
In recent years, different 
studies
 have found that as many as 68% of us find the festive season exhausting, and up to 37% of us will be so overwhelmed by that stress that we will actually cancel or delay our related travel plans. (Those visiting relatives who like to poke and prod with personal questions may — understandably — represent a large chunk of the latter group.) This year, you can pack a therapist with you as you head out for the holidays. There has been a surge in mindfulness and meditation apps and by the end of this year, there are expected to be nearly 3,500 different options for download on both Android and iPhone, up from about 1,750 in 2014. All these meditation and mindfulness options represent a burgeoning global industry: In the first quarter of 2018, the top 10 grossing "self-care" apps reeled in US$27 million ($37 million) in revenue, according to TechCrunch. That is partially because most of these apps place much of their content behind a subscription-style paywall, and they can cost anywhere from US$60 to US$100 a year.
The sheer number of apps can make deciding which one to use too stressful to begin with. So, we put Apple and Google's best-performing, highest-rated apps to the test — along with some notable newcomers — starting with free versions and then moving into paid subscriptions. Here are the ones that will get you through the most wonderful time of the year, even if that is not how you describe it at all. —
Bloomberg LP
---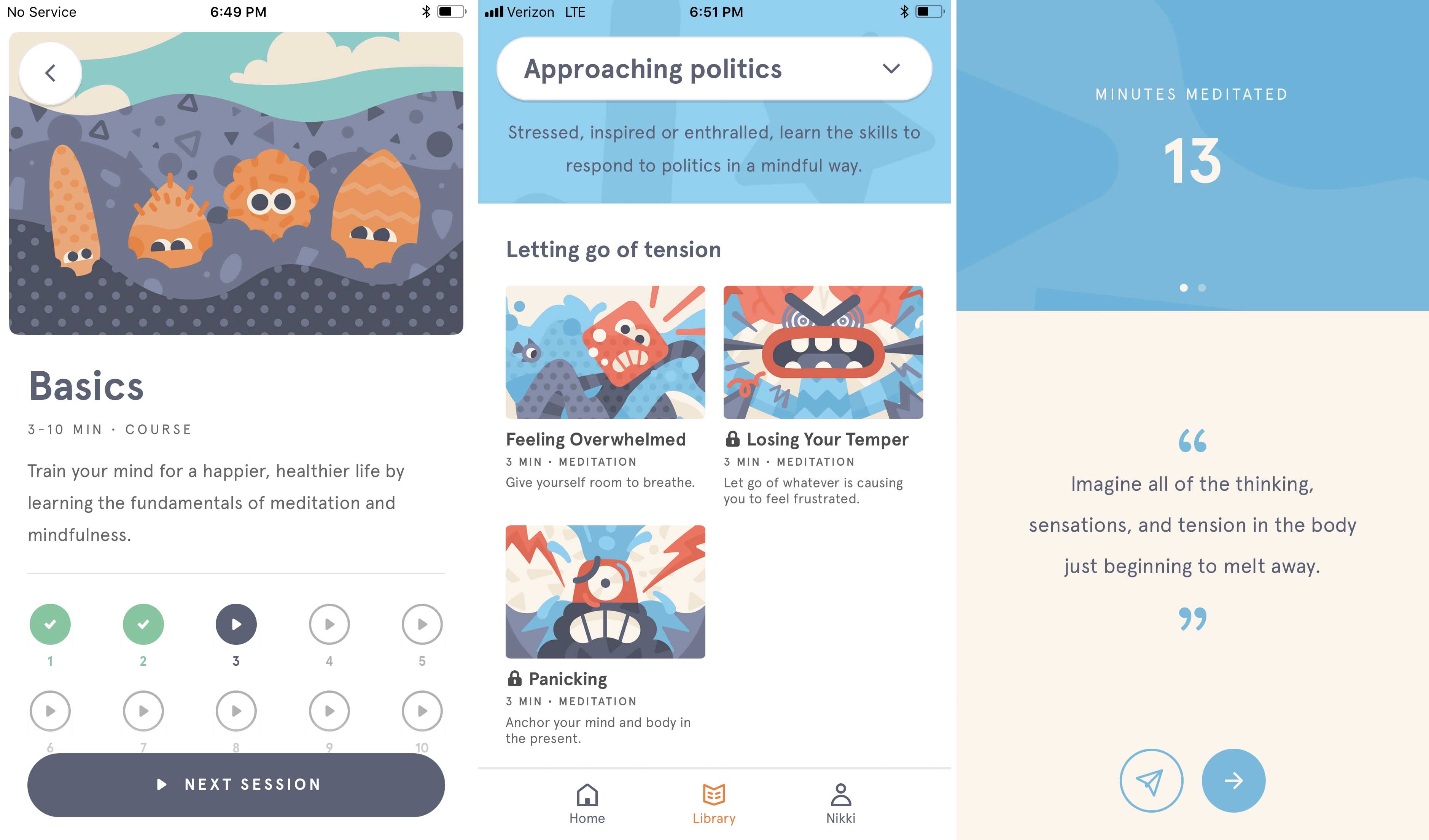 If you just want to take a moment to breathe...
Headspace is one of the most popular apps in the space, with 30 million users across all platforms. The company helped make meditation mainstream, and it offers corporate partnerships with large companies such as Google, Delta, Spotify and LinkedIn that have brought its services to the masses.
What it costs
: All the basic lessons are free, then it is US$12.99 a month or US$95 a year.
Why we like it
: Headspace founder Andy Puddicombe is a fascinating individual; halfway through college, he decided to decamp for the Himalayas and become ordained as a Tibetan Buddhist monk. Then, he joined the circus in Moscow before moving back to London and resuming a "normal" life. You will not hear any of these stories on the app, but he does narrate every meditation personally, which makes you feel like you are studying with a master and getting to know him as a friend.
What we would change
: The lessons focus largely on breathing exercises (breathe in for five seconds, hold for five seconds, and out for five seconds, for instance.) They tend to move slowly — sometimes painfully so, repeating the same pattern so many times — a little reminiscent of counting sheep to fall asleep. And what the app calls "five-minute" sessions often take closer to seven.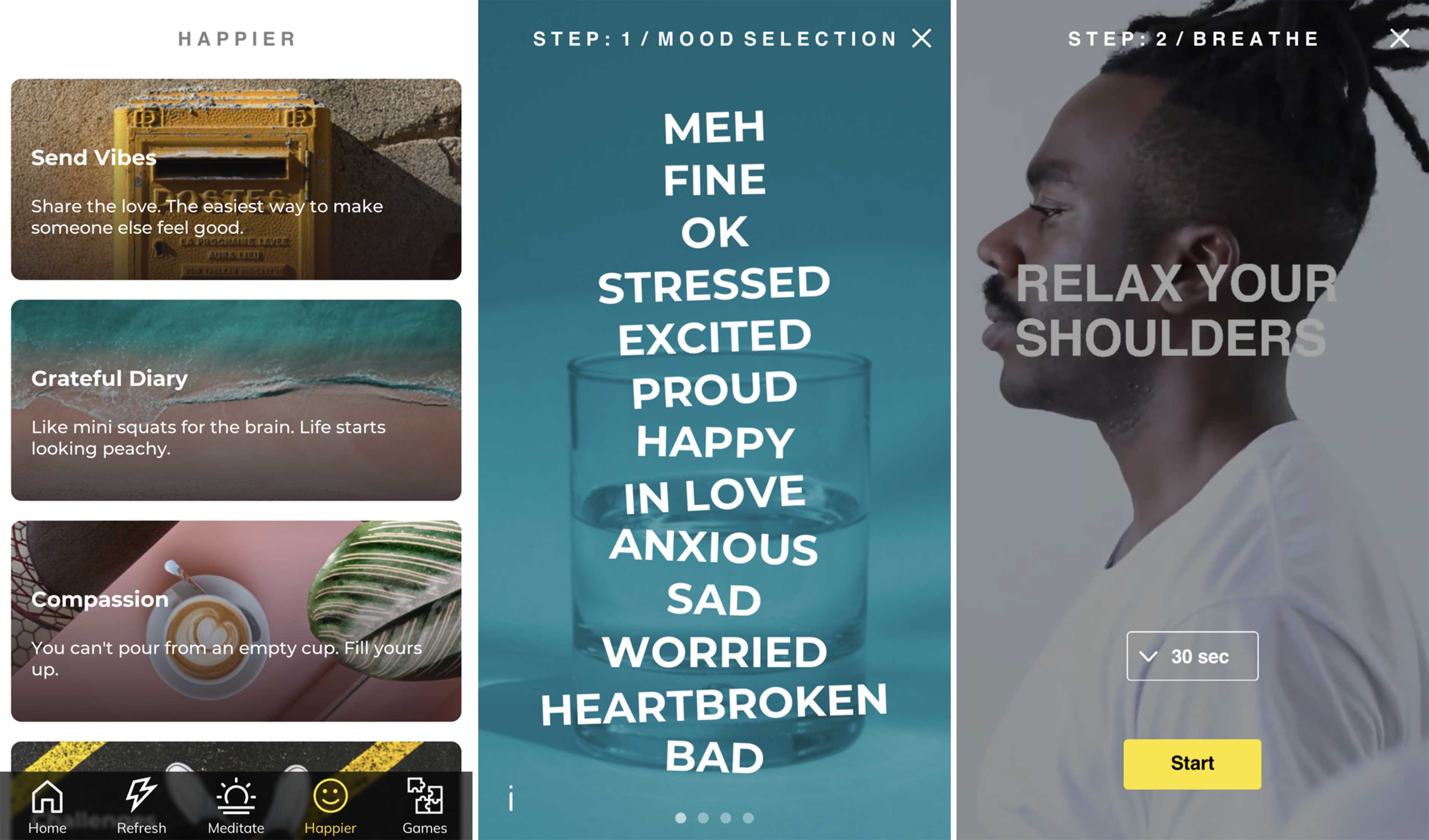 If you want to tap the next millennial lifestyle craze... 
A youthful energy — which sometimes tries too hard to be cool with its street-style aesthetic — pervades Happy Not Perfect, which is built around a quick, seven-step "Refresh" routine that helps you breathe (with a bright yellow-toned graphic of an inflating and deflating paper bag), take stock of your emotions (with diary-like exercises) and focus on positive thinking (by making you draw pictures of people or things you love). A recent update multiplied the app's content and added "Daily Dose" meditations to the free app, along with mindfulness-oriented games that help you zone out (productively) anywhere from the subway to the sofa.
What it costs
: The app's best features are free, but unlocking games and the full range of content 
requires a subscription
. Premium access will run you US$6.66 a month, billed in annual cycles.
Why we like it
: A "Refresh" takes only a few minutes to leave you feeling you have lightened your emotional load. Its exercises might prompt you to express gratitude by writing down your thoughts or drawing a picture — some have you jot down your frustrations and "burn" them with a "match" — and then all these things are categorised and saved for future reference, so you can reflect back on what makes you truly happy, or what you might need to work on.
What we would change
: Even though the app makes a refreshing effort to represent diverse populations through its visual content, the meditations are largely led by breathy, yoga-teacher types.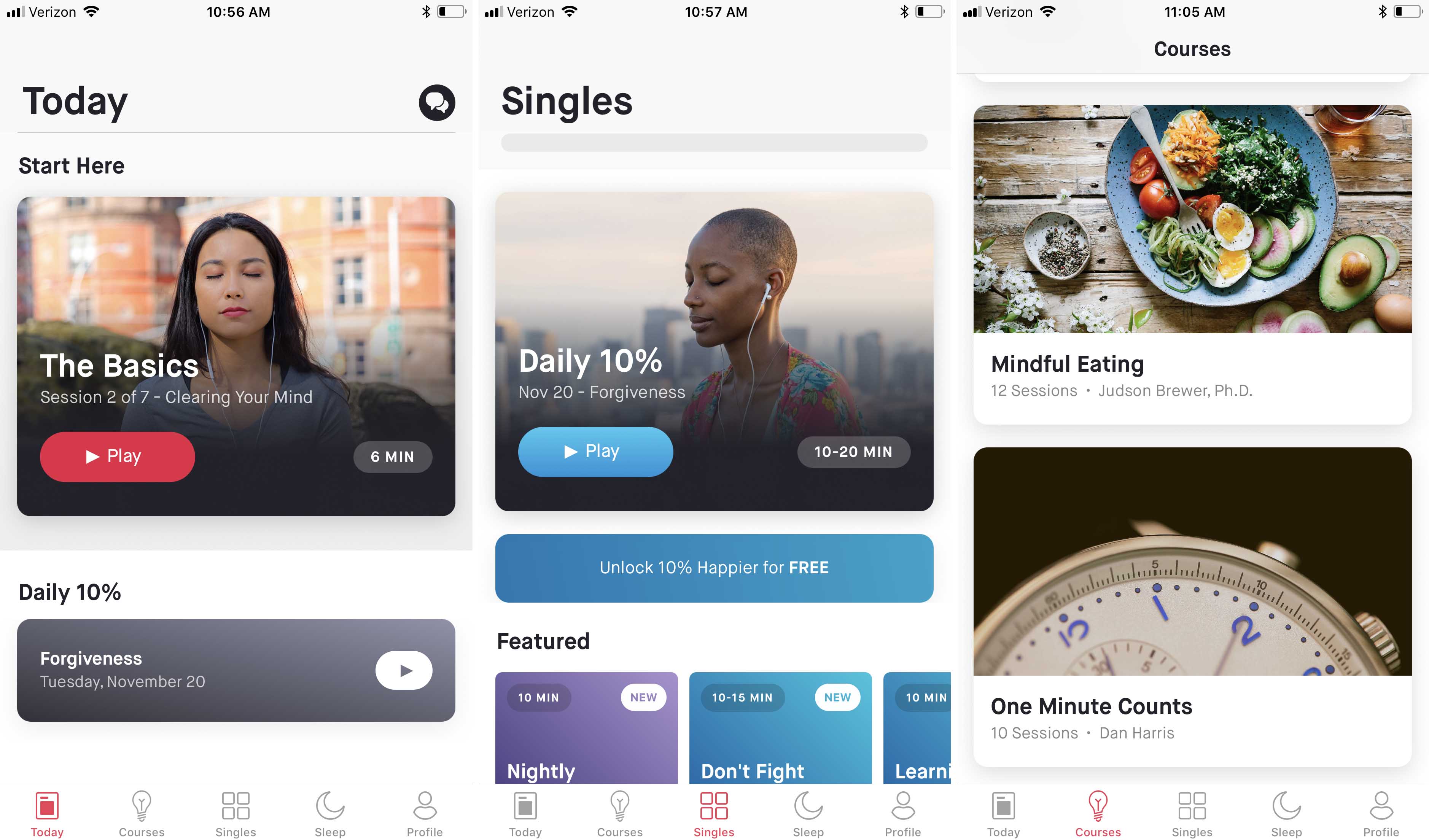 If you are a scientifically minded sceptic with politically charged relatives...
The app 10% Happier, from ABC newscaster and New York Times best-selling author Dan Harris, leads you into what he calls "the next great public health revolution". It is not just tried-and-true meditation techniques — such as noting and naming your emotions to create distance from them — but also interviews and sessions led by a community of academic experts. They are an impressive bunch, including Joseph Goldstein (co-founder of the Insight Meditation Society and preeminent Buddhism scholar) and George Mumford, who consults for athletes such as Kobe Bryant and Michael Jordan.
What it costs
: The 
initial download
 and seven "basics" lessons (that is, "clearing your mind", "respond, not react" and "finding the time") are free. So is one daily piece of content that follows a broad theme, such as forgiveness; the rest of the 350-plus meditations cost US$99 a year to access.
Why we like it
: Like academic majors, "Courses" focus on big-picture skills such as focus or mindful eating by providing more than a dozen relevant lessons from a single expert, who acts like your professor. (The focus track, for instance, includes episodes such as "My Mind is Too Busy" and "Combatting Distraction".) There are also individual, expert-led classes such as "Singles", which offer quick fixes on common themes such as stress and relationships. Two good Singles themes for the holidays: how to skillfully handle tough conversations and dealing with difficult people. They may come in handy when surrounded by your extended family.
What we would change
: Offline use comes only with the premium version.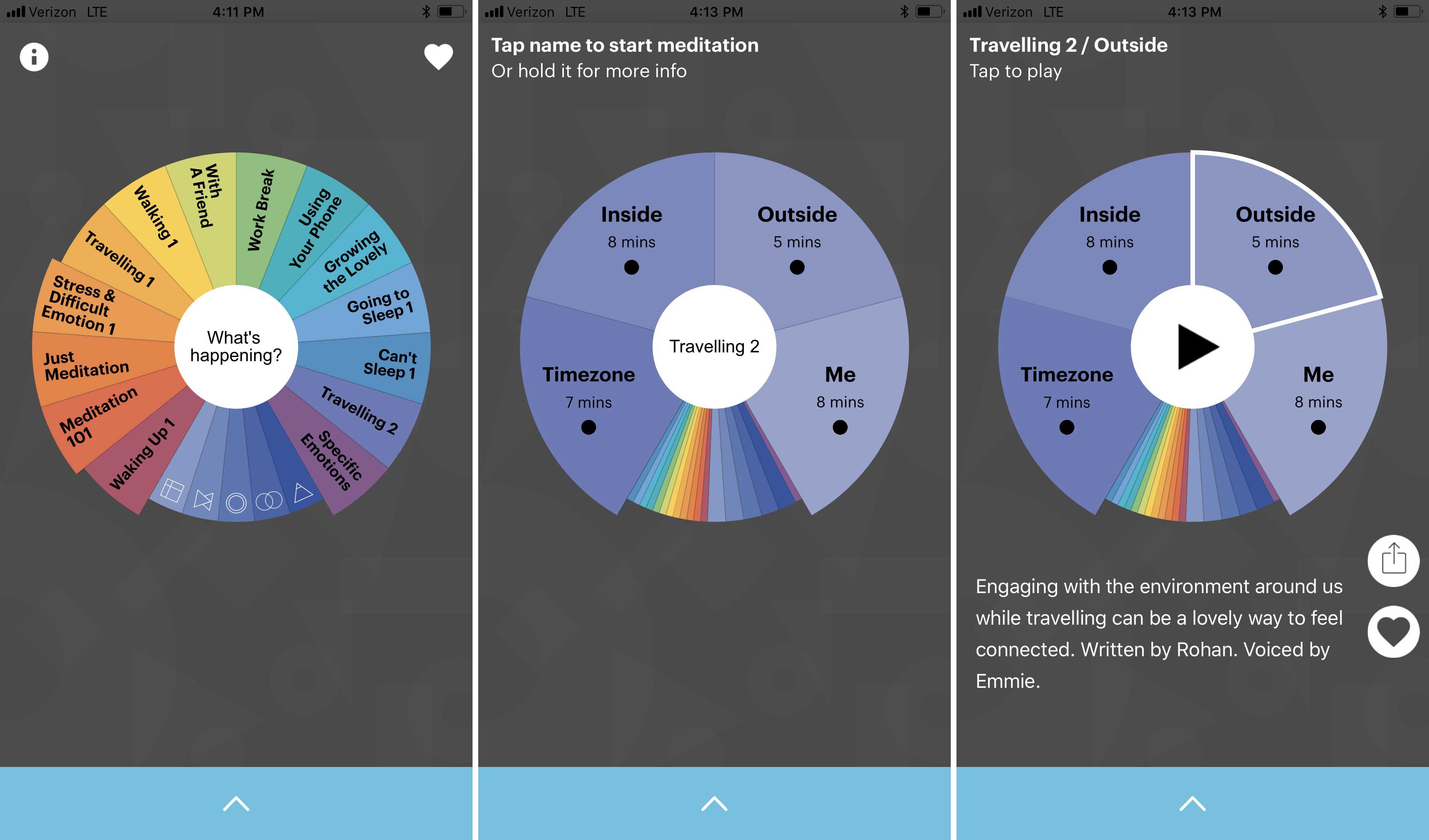 If you are terrified of flying — and hate your co-workers...
Despite the name, Buddhify has a straightforward, practical and not-at-all spiritual approach to meditation: It categorises meditations based on situations when you might need them, whether that is on a plane or in the office.
What it costs
: US$4.99 to download — and then you are good to go.
Why we like it
: Whereas a lot of meditation apps have similarly structured lessons no matter what your goal — revolving largely on breathing exercises — Buddhify's modules are situational, with themes that include "Work break" or "Traveling" or "Stress and difficult emotions". One workplace-oriented unit might help you identify your "stress signature," or early physical signs such as jaw tension that can warn you that stress is building up inside your body. Another, for nervous fliers, focuses on grounding thoughts (like the fact that your body is still inside a tube that is shooting through the sky) and finding balance in the midst of movement and commotion. Sessions range in length from four to 20 minutes, and since you pay for the product upfront, you are not bombarded with offers to upgrade.
What we would change
: The app is particularly data-heavy, which means that you can download new content only via a reliable Wi-Fi connection.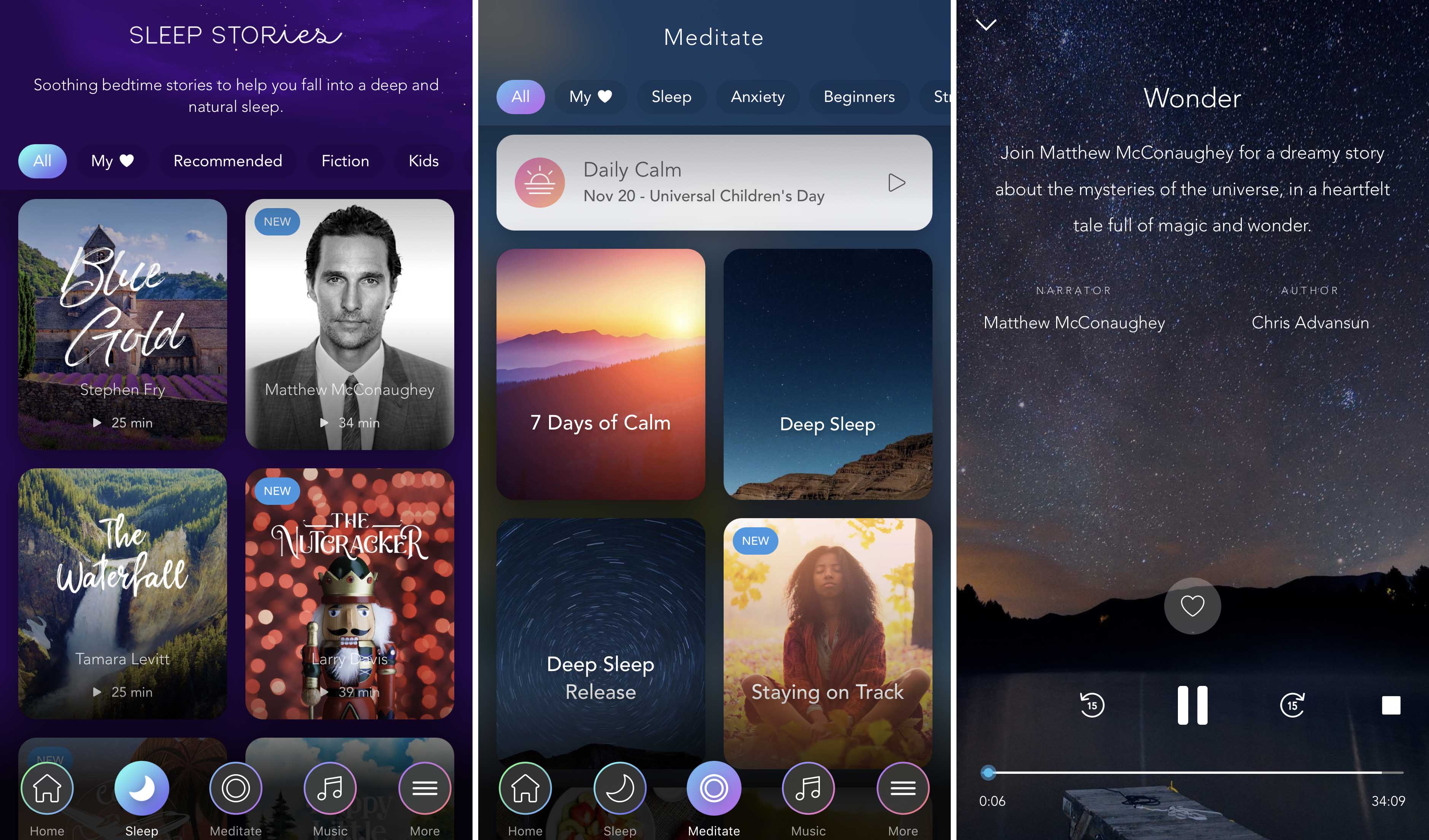 If you want celebrities to soothe you before bedtime... 
Calm is a no-frills, free app that gives way to smart premium content, with timely topics that span from "Social Media and Screen Addiction" to "Seven Days of Gratitude". Consider these bonuses, though. The app's best features are geared towards night-time, with meditations that help you unwind, video tutorials on gentle stretching and bedtime stories to help you fall asleep.
What it costs
: Try it free for seven days, then pony up US$70 a year.
Why we like it
: Matthew McConaughey can read you a favourite tale. Elizabeth Gilbert can give you the "pray" part of "Eat, Pray, Love". The painter Bob Ross — yes, the one with the hair — can help you drift off to dreamland with his series of sleep stories. (There are kid-friendly bedtime tales, too.)
What we would change
: The free version of the app feels too basic, even cheesy — meditations come with background sounds such as jungle rain, and narrators sound exactly like the cliched instructors you would imagine — so much that we were reluctant to pony up for the premium app. But the celebrity voices and fun array of locked content persuaded us otherwise. (This combination might even make it a worthwhile gift for any of your loved ones who desperately need de-stressing.)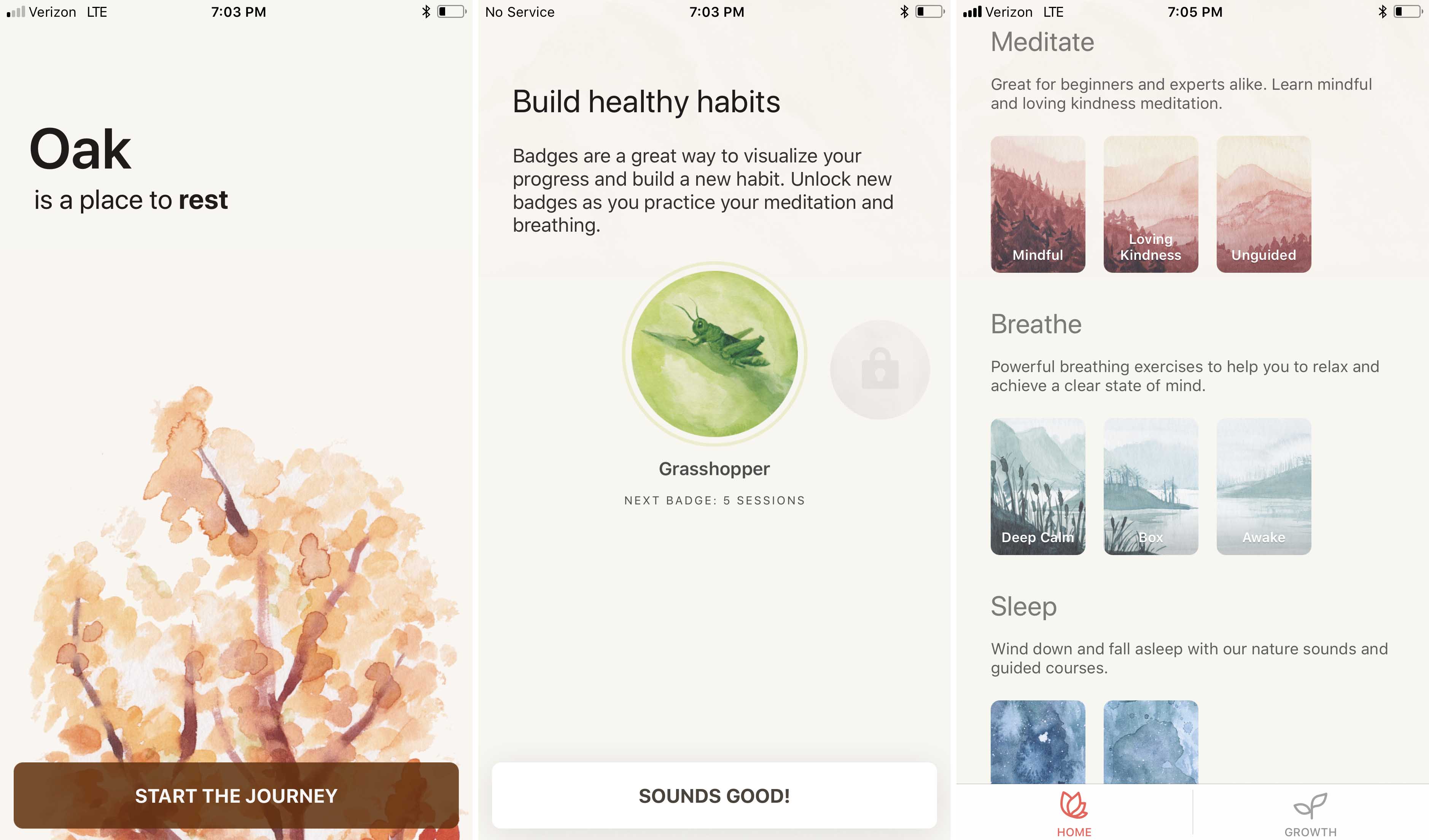 If all you want is a free app… 
A curated library of meditation, breathing and bedtime routines is available from Oak and gives you the building blocks you need to forge a few key skills and then practise them with the help of soothing visuals and sounds — guided or unguided.
What it costs
: Free, free, free.
Why we like it
: Sometimes what you need is a little boost to get started with a meditation practice. If that is the case, Oak's limited features and soothing watercolour-style graphics will deliver what you need. There are just eight lessons in total, on mindfulness, gratitude and kindness; three breathing techniques; and two wind-down meditations for bedtime. Even better, there is nothing to upsell, no decisions to make and no content to download for future reference. Simplicity can be a relaxing thing.
What we would change
: The audio guides will pause if you shut off your screen, which seems silly for a practice that is best done with your eyes closed.