SINGAPORE (Apr 30): If you're not up to wearing high fashion, you can certainly make sure it looks  good on your (designer) coffee table. Here are some stunning tomes featuring the industry's brightest and most fascinating stars, neatly encapsulated into elegant copies  as beautiful to look at as they are absorbing to read. Compiled by Anandhi Gopinath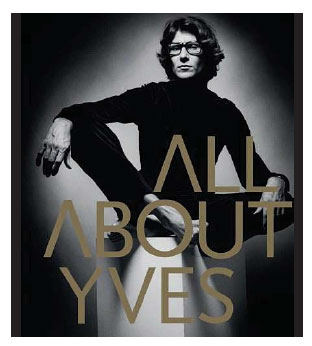 All About Yves
Catherine Ormen
This one-of-a-kind tome documents the life of Yves Saint Laurent from his childhood to the seminal moments of this great designer's career, up until his death in 2008. The book includes unseen sketches and photographs of Saint Laurent's key collections, as well as fascinating removable docu­ments that include handwritten letters, paper dolls, contact sheets,  magazines and invitations.
Coco Chanel
Isabel Sanchez Vegara
The first of a series of books designed to inspire young children, Isa­bel Sanchez Vergara's beautifully illustrated story of legendary style icon Gabrielle "Coco" Chanel makes wonderful reading for adults too. The book follows Coco's life from her early years in an orphanage — where she was a genius with needle and thread — to her time as a cabaret singer, milliner and, eventually, international fashion designer. This inspiring and informative little biography comes with extra facts about Coco's life.
John Galliano Unseen
Robert Fairer
Unfolding chronologically, John Galliano: Unseen captures the designer's mesmerising creations for his eponymous label (including rich and idiosyncratic details) and the intense backstage work of Galliano's trusted collaborators. Robert Fairer's long stint as backstage photographer for Vogue gives him a unique perspective, and his exquisite photographs of Galliano's collections, many of which are published here for the first time, offer insights into the extravagance and playfulness of one of the world's most flamboyant, innovative and controversial fashion designers at the zenith of his career.
Shadows on the Wall
Peter Lindbergh
In this book, influential fashion photo­grapher Peter Lindbergh redefines beauty standards with awe-inspiring, never-before-seen images taken at his iconic Pirelli shoots. Beautiful women with beautiful minds are portrayed simply, accessibly and in breathtaking fashion — unapologetic  pores, fine lines, freckles and all.
Gio_Graphy: Fun in the Wild World of Fashion
Giovanna Battaglia
Dubbed "cyber icon" and "fashion heroine" by The New York Times, Italian fashion editor and stylist Giovanna Battaglia is known for her colourful street style and fun-loving personality. In her first book, she has written an irreverent how-to guide to dressing for every occasion, finding fashion inspiration, living stylishly and having fun while doing it. This witty guide to living the glam life from an international style star features hilarious anecdotes, fashion advice and much more.
Irving Penn Centennial
Maria Morris Hambourg
Celebrating the centennial of photo­grapher Irving Penn's birth, this lavish volume spans the entirety of his groundbreaking career. An enlightening introduction situates his work in the context of the various artistic, social and political environments and events that affected the content of his photographs. Meanwhile, lively essays acquaint readers with Penn's primary subjects and campaigns, inclu­ding early documentary scenes and imagery; portraits; fashion; female nudes; peoples of Peru, Dahomey, New Guinea and Morocco and still lifes.
The World of Anna Sui
Tim Blanks
This colourful book looks at Anna Sui's eclectic career as a designer and artist, through both her clothing and studio. Fashion journalist
Tim Blanks writes about Sui's lifelong engagement with fashion archetypes — the rocker, the schoolgirl, the punk, the goth, the bohemian — and reveals their inspiration and influence. Complete with detailed photographs of garments, sketches, moodboards, runway shots and cultural ephemera, The World of Anna Sui is an inside look at this iconic New York designer with a worldwide cult following.
For Audrey with Love: Audrey Hepburn and Givenchy
Philip Hopman
This delightful picture book offers a stylish and compelling story about fashion and friendship that fit like a glove. When beautiful actress Audrey Hepburn has to figure what to wear for her next movie, she approaches designer Hubert de Givenchy, but he is too busy to design something just for her. When he encourages her to try on clothing from his collection, they are stunned by what they discover.
---
Anandhi Gopinath is an assistant editor of the Options desk at The Edge Malaysia
This article appeared in Issue 828 (Apr 30) of The Edge Singapore.
Subscribe to The Edge now