SINGAPORE (June 18):  I am excited to meet Singapore's golden boy Joseph Schooling. It has been two years since the swimmer bagged the country's first-ever Olympic gold medal at the 2016 Olympics, becoming a national hero overnight at the tender age of 21. We are in the Hugo Boss boutique at Marina Bay Sands and I am waiting to interview the athlete who has just been appointed the first-ever Singapore ambassador for Hugo Boss, joining the ranks of movie star Chris Hemsworth and Swedish professional golfer Henrik Stenson as celebrity frontmen for the brand. Schooling is posing for photographers and finishing up another interview with a national newspaper. When he is done, I am asked by his minders if I would mind waiting while he takes a quick lunch in the back room of the boutique. It is 1.30pm and the poor boy has not eaten. Of course I am game to wait. I want my Olympian in top form when I interview him.
The minor delay turns out to be a golden opportunity for me to chat with his father, Colin. Both parents are present for today's series of interviews and photo shoots, illustrative of their unwavering support and commitment to their son's sporting ambitions since childhood that has been widely chronicled in the media. Eventually, Schooling junior emerges and we sit down to chat.
Schooling: You're not going to do the things you like every day, and that's normal. But it's whether you give yourself an excuse to not be as good as you could be. That's the sticking point [of] whether you're going to be good or great. 
The lanky lad has a laid-back charm about him. He is relaxed and affable, and we start things off easy, with his transition from sports role model to fashion model.
Decked in a Hugo Boss jacket, slacks and tee, Schooling has all the makings of the perfect Boss ambassador: The height (6ft-neat), physique and boyish good looks punctuated by that cheeky half-grin that would set the hearts of girls halfway around the world aflutter for sure.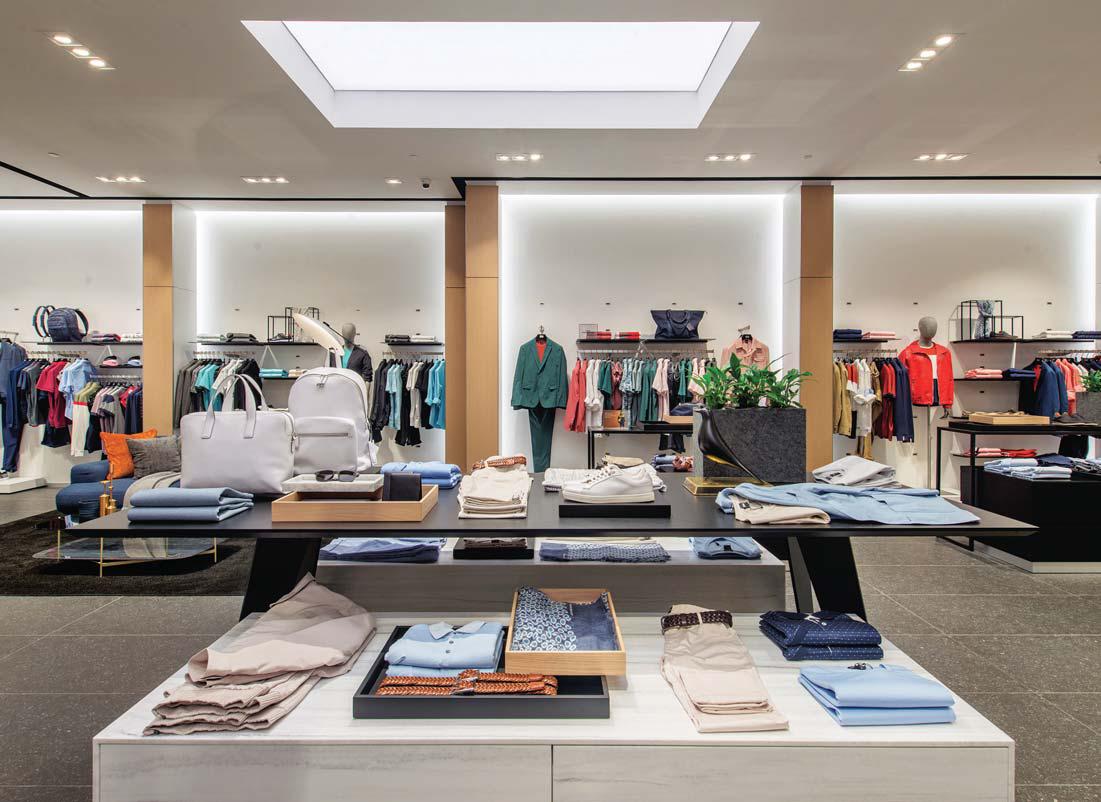 The newly opened Hugo Boss boutique at Marina Bay Sands
Second question into the interview, Schooling interrupts his own response and apologises for the quality of his replies. "I'm pretty wiped right now; I don't usually talk like that but it's been a long day," he concedes. Schooling has been fielding interviews all morning and I am the last journalist he is seeing before his training later at 4.30pm.
The verbal admission appears to have worked some mental calibration magic, and the switching of gears is visible. From this point on, Schooling is sharper, more focused and on-point. I am cognisant of the privilege I have just witnessed: The ability to quickly catch himself and immediately course-correct is one of the virtues that makes Schooling the champion he is. We continue on with the new collaboration with Hugo Boss, and how he had been a fan of the brand long before the partnership: "My dad's first suit was a Hugo Boss suit. He got it sometime ago and still looks great in it; it's still holding up, no signs of wear and tear over time. So from a young age, I'd always held this brand in [high regard]," he shares. In addition to the Olympic champ fronting a series of advertising campaigns for the fashion label, the collaboration entails a limited-edition capsule collection comprising a polo shirt, tee shirt, shorts, bag and towel. Fifteen per cent of sales proceeds from the collection will go towards the Schooling Sports Academy, which aims to support aspiring athletes in achieving sporting excellence. Schooling was not directly involved in their design, but says it is "super cool". "Hugo Boss did a great job of reading my mind. It's pretty synonymous with how I lead my life; being in the pool, or relaxed casual wear for going out. The colours: yellow represents the gold [medal] and blue represents the water. They also happen to be my alma mater colours, so that's pretty awesome," he adds, referencing his time at Anglo-Chinese School (Junior and Independent), before moving to the US to further his swimming career at 14. The shorts are his favourite piece in the collection: "They're pretty sick; I'm definitely gonna rock those," he says with an American accent acquired from studying stateside for the past nine years. The 23-year-old just recently ended his collegiate career with the University of Texas, announcing he has turned pro on March 25 — the day after the conclusion of his final National Collegiate Athletic Association (NCAA) Division I Swimming and Diving Championships.
This was swiftly followed by the announcements of a succession of commercial collaborations, as the NCAA has strict rules restricting such brand tie-ups while an athlete is tied to the association. Besides Boss, Schooling has also parlayed his wholesome image into being the face of Yakult Singapore and, in a less obvious pairing, has teamed up with mixed martial arts promoter One Championship as its brand ambassador. He has also inked a seven-figure, three-year deal with DBS, reflective of his interest to pursue a career in wealth management after he retires from the pool. The sports marketing machine has been set in motion. Will these distract him from the goal of more gold? He plays down the risk: "No, no. With every partnership I form, the companies know that swimming comes first. It's not gonna get in the way of my practice time, me doing well, me." "Swimming is the priority, and all these companies are fully supportive. So brands like Hugo Boss are doing a good job at being very flexible with my schedule. They understand the strains of training day in, day out at a high level," he continues. The struggle to live up to the constant pressure and expectations is real for any athlete, let alone an Olympic gold medallist. So, for good measure, I decide to throw Schooling a curveball to turn up the heat and test his mettle. I cross-examine him on the fact that he concluded his collegiate career at his final NCAA meet in Minneapolis without a medal — a far cry from the Olympic glory of two years ago. How does he bounce back and get his head back in the game following such a disappointment? I can see in his eyes that he knows he's been purposefully put on the spot. But not a single muscle in Schooling's face registers a reaction. Maintaining perfect poise, he responds coolly: "Things aren't going to go your way all the time. But [it's about] deciding how good you want to be, in this moment, or after a past string of events." "My next few actions are very important and that will define my getting to the next level of my career. I think I've still got a lot left to give; I've still got a lot more in the tank left to go. I still believe that 100%," he assures. I have now witnessed a second principle in the mind game that defines a champion: unyielding self-belief even in the face of failure. It is this mental fortitude and never-say-die spirit that he will be taking to his next big meet, the 2018 Asian Games in Jakarta, in August. Until then, a healthy diet of discipline, drive and focus is the name of the game. The sacrifices Schooling has had to make since childhood have also been well- documented. He does not get to go out and party like college kids his age. Alcohol is off limits and even his favourite chai tow kway (fried carrot cake) is out of bounds on this trip back to Singapore, he says. "I love that, so I'm pretty serious about putting healthy stuff in me. If you want to hit the next level, you got to do things differently. At a certain point, you can't keep doing the same things or it's not going to get better. So, little things like that, they multiply as time goes on," he explains. Have there been times he's felt like quitting? His "definitely" comes quickly and firmly. What kept him in the game was again, self-belief. And dogged discipline. "Who likes to wake up at 5am and hop into a cold pool? I don't. But those are the moments that really define your career and you as a person," he states emphatically, with a maturity far exceeding his peers. "You're not going to do the things you like every day, and that's normal. But it's whether you give yourself an excuse to not be as good as you could or should be, or get out of bed and do what you need to do. I guess that's the sticking point [of] whether you're going to be good or great." And there we have it, the third reason why Joseph Schooling is champion material. Among the many elements of an athlete's life is sometimes, superstitions. Apart from meditating to get in the right head space, Schooling does not have many pre-meet rituals. "I'm not a hugely superstitious guy. I have a few bracelets I like to wear that mean something to me, and for good luck. But as far as maybe tapping the block or bringing my favourite pair of trunks, I don't really have things like that," he says. If he were not in the pool, Schooling would be on the green. "There was a point when I had to choose between golf and swimming. My dad started me on both around the same time, at four or five. I always figured that I could come back to golf at any age, but swimming has an expiration date," he rationalises. Smart dad, smart kid. He tells me he does harbour pro-golfing ambitions after he retires from the blocks. "If you're a good golfer and you're one of the best in the world, I think that's a pretty sick life to live. I see Rickie [Fowler] and Jordan [Spieth] on courses in Hawaii playing only in board shorts — no shirts, no shoes — crushing it. That's pretty awesome," he says, with that charming half-grin. In the meantime, his head is focused on crushing it in the pool. And the secret of Schooling's success still lies in chasing the dream: "It's about how bad you want it. If you want it bad enough, you are going to work your butt off for it. So I'd say, [you got to have] passion and love for whatever you do [to succeed]." It is also about balancing work and play. "Work hard, play hard," is the life motto of this Olympian. "You put your heart and soul into the practice and everything you do, so you got to have fun somewhere right?" Schooling's strong family values have also been well-publicised. I ask how much of his success he credits to his parents. "All of it," he says without a moment's hesitation. "I wouldn't be here if not for them. They sacrificed a lot of things when I was growing up [because] I wanted to hit my goals, which I couldn't really understand when I was younger. But now that I'm grown up and maturing and seeing the world as it is, I definitely understand what they've given up for their kid to be in this situation. So, thankfully, I achieved my goal and now it's my turn to take care of my parents," says the only child. Spoken like a true Asian boy. The filial piety is heartwarming and sincere. A wave of parental pride washes over me momentarily and I'm very pleased to have met Singapore's sweetheart son.
---
---
Jamie Nonis is a lifestyle journalist with an appreciation for all things beautiful