If you have not had the privilege to sample the Glenmorangie Cask 31 or Ardbeg Twenty Something (22 Years Old), let Brendan McCarron of The Glenmorangie Co give you an idea.
SINGAPORE (Dec 10): Brendan McCarron, head of maturing whisky stocks at The Glenmorangie Co, has a real knack for whetting the appetite with his gift of the gab. I can feel my mouth begin to water just by listening to his words, even on a full stomach at half past 10 in the morning.
"You get lots of of dried fruit notes. Almost like a Christmas cake. You get spices, figs… Similar to a figgy pudding if you ever had that — it's like fig jam. Lots of chocolate and coffee notes in that as well. There is a very deep sweetness to it: the brown, sugary kind of sweetness you'll find in caramelised apples. And, hints of citrus fruits. It's an absolute explosion of flavour."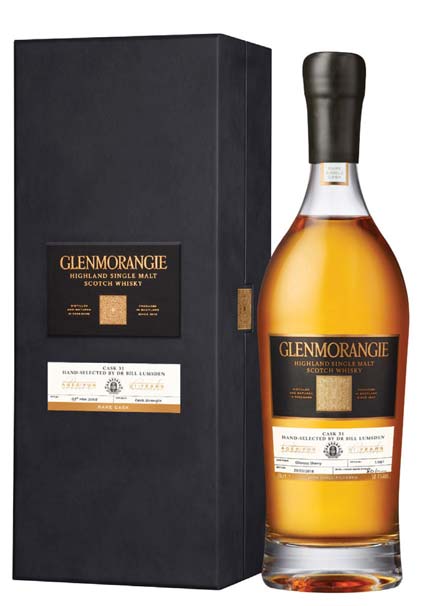 McCarron is not talking about dessert, but what it is like to savour the new Glenmorangie Cask 31: a 21-year-old single malt whisky that he had helped to make under the direction of Bill Lumsden, Glenmorangie's director of distilling, whisky creation and whisky stocks. Cask 31 started off with a select parcel of 1996 spirit, which had spent 11 years maturing in American white oak bourbon casks. It was then transferred into a single Oloroso sherry butt for over a decade before being bottled exclusively for private clients of Glenmorangie's parent company Moët Hennessy, the wine and spirits division of Moët Hennessy Louis Vuitton. I had the pleasure of speaking to McCarron during his brief two-day visit to Singapore. Right after landing on the night before our meeting, he was at a private event where a group of select Glenmorangie fans and collectors had the opportunity to snag one of these individually numbered bottles priced at around $1,600. Within a curtained back room of The Grande Whisky Collection at ION Orchard, this coveted creation was brought out and displayed on a glass table before us — to observe, but not to taste. This whisky is so rare that no tasting samples are available, says McCarron, as every drop of it has gone out of the sherry cask and into all of the 661 bottles produced.
Instead, I was treated to sips of the Ardbeg Twenty Something (22 Years Old), another new and rare release by Ardbeg. At over 200 years old, the Scottish single malt distillery is known for its tumultuous history of closures amid financial and operating difficulties. This whisky was distilled in 1996, shares McCarron, which was "quite a special year for Ardbeg, but not in a good way", as the distillery was on the verge of shuttering once again until it was bought over by Glenmorangie in 1997. Since then, the Islay malt whisky has gained a niche but cult-like following around the world, with the recent launch of Southeast Asia's first Ardbeg Embassy at The Grande Whisky Collection. The 3,600 sq ft space was opened just this year by The Whisky Trust Group as a "museum" to showcase and serve some of the world's rarest whiskies. About 40 bottles of the latest Ardbeg Twenty Something release were made available to purchase there on the day I visited in early November. When McCarron extends his invitation to nose the Twenty Something 2018 release with him, I sheepishly admit that I am not at all versed in the art of whisky appreciation. "Well, try it," he urges, lifting his glass to the light. "First, check the colour. You can see that it's quite light; these glasses here are designed for nosing the flavour, so you want to put your nose in here and breathe gently," he explains patiently as he draws in the glass to take a sniff. "Open your mouth and breathe through it while you've got your nose in the glass… You should first pick up charcoal — a medicinal sort of smokiness. Among that, there are notes of sweet fruits, lemon and lime… There's citrus and acidity." A little apprehensive and with a blocked nose, I pick up the charcoal and smokiness almost immediately as he says this, but not so much of the citrus and fruity aromas.
"Take a little sip, hold it on your palette for a moment, and then swallow," he continues, carefully demonstrating while pausing between each step as I follow suit. To my surprise, it goes down quite easily considering its 46.4% ABV. It also does not taste as prominently smoky as the nose might suggest. As I feel the warmth of the scotch wash over me, McCarron says he enjoys his whisky just as we had it — neat — nearly 80% of the time, although he does like it with ice as well. "It's your whisky, so you should be able to do what you want with it," he quips, when asked for his opinion on how scotch should best be consumed. "If you want to enjoy it with ice, though, I do recommend getting the biggest ice cube you can possibly find so that it'll melt slowly. Ice balls or whisky cubes will work perfectly. And if you're going to add water, I would suggest you don't add more than half of what's already in the glass, or else it'll become too diluted — unless you're having it in a cocktail, which is perfectly fine." On the subject of cocktails, McCarron says his favourite go-to is the classic Old Fashioned, which is generally a mix of whisky, sugar, bitters and some water. "I drink Old Fashioneds everywhere I go. Quinta Ruban [Glenmorangie's port finish scotch whisky] in an Old Fashioned is just heaven for me. There's another weird one with Ardbeg. It's hard to make cocktails with [Ardbeg whisky] because it's so smoky, but use it in a Bloody Mary and it makes the best Bloody Mary you'll ever have. It's unconventional, but it works. I've had it in a few places such as Vietnam and Shanghai. Try it, please. You'll love it." With over a decade of experience in the spirits industry, including managing the sites of distilleries at Diageo's Islay and Oban before moving to Glenmorangie in 2014, one of the biggest trends McCarron says he has observed in recent years is the increasing popularity of pairing food with whisky, rather than wine. "Ardbeg goes with shellfish and blue cheese, while some of the bigger Ardbeg [expressions] such as Uigeadail go well with barbequed meat. Glenmorangie whiskies pair especially well with seafood, creamy cheeses, ice creams, desserts," he says. The list goes on, and by now I am salivating again. When I tell him this, he admits between bursts of laughter: "Hungry? Me too."