Producing avant-garde horological machines such as the HM9 Flow involves a great degree of risk. While his audacious time-telling devices may divide critics, no one can ever accuse MB&F's Maximilian Büsser of not daring to dream
SINGAPORE (Feb 25): His business card ought to read: Maximilian Büsser, Master Storyteller. Because the 52-year-old creator of Maximilian Büsser & Friends (MB&F) may just be the Swiss watch industry's most captivating raconteur.
"I used to think I was Han Solo," says Büsser, in reference to the intrepid hero of the
Star Wars
franchise.   Growing up in the town of Lausanne was a lonely experience for the only child of a Swiss diplomat father and an Indian mother. "We lived a long way from my school, so I would never have any friends over at home. I suffered a lot of solitude, so my bedroom was my prison… as well as my kingdom," he confides. Thankfully, the resourceful child managed to transmute the affliction into a rich inner world powered by imagination.
"I [immersed myself] in
Star Trek
,
Thunderbirds
and
Doctor Who
as a kid. Those were the worlds that allowed me to escape and have an incredible imaginary life. And this imaginary life that saved me as a kid is actually making me a happy adult," Büsser says. "It's the power of therapy: You transcend what made you suffer and become somebody stronger. That's exactly what MB&F is about." Indeed, it is heart-warming to see how Büsser has fashioned his watchmaking brand into a playground for his creative spirit to roam free, always pushing the boundaries of watchmaking with ingenious innovations and producing avant-garde creations you either love or hate on sight.   "Our Horological Machines are very much my psychotherapy," he explains. "All my childhood passions have aggregated 40 years later, into creating my Horological Machines."
Getting into the flow
Options
is chatting with Büsser at The Hour Glass' Malmaison boutique. He delivers a soliloquy on automobiles and airplanes of the 1940s and 1950s that have inspired his latest unconventional invention, Horological Machine No 9 "Flow", or HM9. The monologue is completely riveting, more so for the insights it reveals about the man behind the machine.
With great showmanship, Büsser expresses his appreciation for the graceful lines and voluptuous curves of three vintage cars that he considers to be the most beautiful automobiles ever designed: the Buick Streamliner of 1948; Alfa Romeo Disco Volante designed by Milanese coachbuilder Carrozzeria Touring in 1952; and the Mercedes-Benz W196 manufactured in 1954. He also shows me a fleet of vintage airplanes — including Swiss army jet planes — that were gorgeously designed but never managed to fly.
Inspired by vintage automobiles and airplanes of the 1940s and 1950s, the HM9 Flow is one of the few watches in the world to feature two balance wheels, housed in the lateral pods
---
"Engineers were artists then," Büsser says. "The first computer-aided designs came about only in the 1960s, so those engineers had to draw by hand the shapes they believed would go fast. But there was no way of telling whether they would work. They created aerodynamic shapes even before the world understood what aerodynamic meant." The HM9, therefore, is the product of Büsser's two childhood passions: a desire to be a car designer and a fascination with building model airplanes. And it is a thing of beauty to behold. The
Star Wars
influence is unmistakable, with the twin lateral pods of the case shape resembling a hybrid between the twin-pod Cloud Cars seen zipping around in The Empire Strikes Back and the iconic Millennium Falcon starship piloted by Büsser's fictional childhood hero, Han Solo.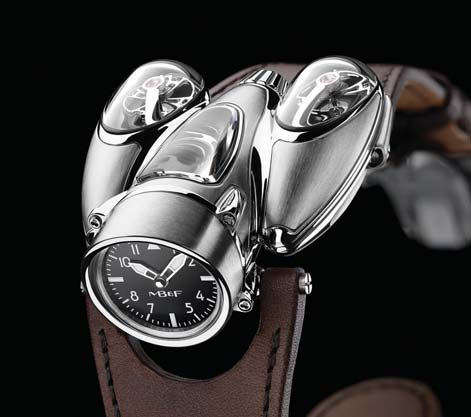 The HM9 is produced in a limited edition of 33 pieces of each version: The Air version has an aviator-style dial and the Road version, a speedometer-style dial
---
"Let me take you through the engine that powers this beast," Büsser says. The HM9 is one of the most mechanically sophisticated Horological Machines Büsser has ever made. Each twin lateral pod houses a separate balance wheel and escapement while the central hull is anchored by the mainspring barrel as well as a differential. The latter averages the rate of the two independent balances, producing a single output for the time display, and the tendency of the two balances to cancel out each other's variations in rate is intended to produce better accuracy. "Having one heart and one brain is difficult enough, but two hearts and one brain is much more difficult," he says. "There are very, very, very few watches in the world that have two balance wheels. The first man who created a wristwatch with two balance wheels — the Duality — 23 years ago was Philippe Dufour, arguably one of the two greatest watchmakers alive today. And he made so few pieces because they are so difficult to make."     Was the decision for the time-telling device to have two hearts, therefore, a vainglorious pursuit of higher complexity? "I've got a thing for symmetry," Büsser clarifies. "Whenever I try and get out of symmetry, I feel uneasy. When I drew these two pods, it felt like a plane that's about to take off. We needed the design to convey the flow of the air and the thrust, and that's why we called it 'Flow'." Then, there was the construction of the case, which, according to Büsser, is 15 times more complex than manufacturing round cases. The HM9's unusual shape is fashioned with the skins of three ingots of Grade 5 titanium joined together, with the three-part construction presenting an added challenge as well as a unique solution: The first-ever 3D water-resistant gasket that MB&F has since patented. The vertical dial — set on the side of the case — proved yet another challenge. "The movement is flat, but the dial is vertical. So, how do you transmit energy to the dial?" Büsser asks rhetorically. "There are only two other watchmaking creations in history that used conical gears and ours is one of them. They are incredibly complex to machine and they have to be perfect, with zero tolerance, because if it's not perfectly machined at 90 degrees, it's going to use up a ton of energy, and the amplitude will go down and then the performance will go down. So, it was a big feat to manage that," he explains.  
Risks and rewards
The HM9 project took about four years to develop. The learning curve was shortened and could have spanned up to eight years, says Büsser, if not for several earlier successful experimentations. In particular, the HM4 Thunderbolt with its binocular-style, twin-pod case in 2010, and Legacy Machine No 2 in 2013, which was also powered by two flying balance wheels.   "We accumulated an amazing amount of knowledge, which enabled us to even dare to attempt this. I genuinely think that a manufacture that does normal round watches could not have made this come to life. It's because we've been experimenting for so long that we could come up with this," he says. It took four years and millions of dollars in R&D. "It's an insane business model," Büsser admits. "We come up with one to two new movements a year, and each one takes three to four years to develop. So, while you're developing, it's negative cash flow for four years. It's only at the end of the sixth year that we become cash flow-positive. I think our best profit in a year was 4%. Everything we make goes back into the pot for R&D for all the different ­projects we've got going." According to Büsser, MB&F's R&D budget is pegged at 27% of its revenue, compared with the industry norm of 3% to 4%. By contrast, its communication budget is 5% to 6%, whereas it hovers around 20% for most other brands. "We put all our energy into creating — as Steve Jobs would say — 'insanely great products', and then rely on word-of-mouth to get people to know about it," he says.   The audacious creator discloses that it took him a decade to recoup MB&F's initial start-up cost of CHF900,000 — and only three years ago. But it has never been about the money for Büsser. "I'm an addict," he admits. "The addiction is that I exist when I create, and I get depressed when I don't. I'm always in search of this adrenaline spike and that addiction is fuelled by taking risks — technical risks, business risks, conceptual risks, aesthetical risks, commercial risks — because my ultimate fuel is pride. And pride only comes from taking risks," says the fearless hero of the MB&F story.
Jamie Nonis is a business and lifestyle journalist with an appreciation for all things beautiful
This article appeared in Issue 870 (Feb 25) of The Edge Singapore.
Subscribe to The Edge now