SINGAPORE (Oct 1): British actress Millie Bobby Brown burst onto our small screens and created quite an impact in her role as Eleven in the Netflix sci-fi drama series Stranger Things. Her talent has not gone unnoticed as she became the youngest, at 13, to be nominated for an Emmy for Outstanding Supporting Actress in a drama series. Brown, now 14, looked glamorous at the 70th Annual Primetime Emmy Awards on Sept 17 in Los Angeles, California with her choice of jewellery — Cartier. She did not win, but she is still a winner in our books. This was what she wore:
Cartier Love bracelet, 18k rose gold
Cartier Love bracelet, 18k rose gold, sapphires, garnets, amethysts 
Etincelle de Cartier necklace, 18k rose gold, diamonds; Caresse d'Orchidées par Cartier ring, 18k rose gold, pink sapphires, diamond
C de Cartier wedding band, 18k rose gold, diamond
So scandalous
Scandal By Night is the follow-up to the free-spirited fragrance Scandal by Jean Paul Gaultier. The designer wants women to be in business mode all day and have some fun when night falls. The fun element is reflected in the design of the cover — a pair of upside-down legs, which will add an interesting accent to your dressing table. The scent is a combination of white flowers — gourmand honey and patchouli. It is priced at $214 (80ml) and $164 (50ml) and available at leading department stores.  
Double up
Clarins' two serums in one was created in 1985. The brand has been improving its formula since then and this year, the iconic Double Serum (left) is back. Each bottle consists of water-soluble and oil-soluble ingredients that work together to target the skin's specific concerns, such as ageing. To help preserve the skin's youth and beauty, the serum targets five vital functions — regeneration, oxygenation, nutrition, hydration and protection.  
Fight pollution
Sabon's Anti-Pollution skincare collection helps protect skin against the ravages of the environment. Every day, we subject our uncovered faces to pollutants in the air. The result is a depletion of vitamin E and breakdown of collagen and elastin. This new facial line contains ingredients such as North Sea seaweed, vitamin C as well as omega 3, 6 and 9, which will protect your skin.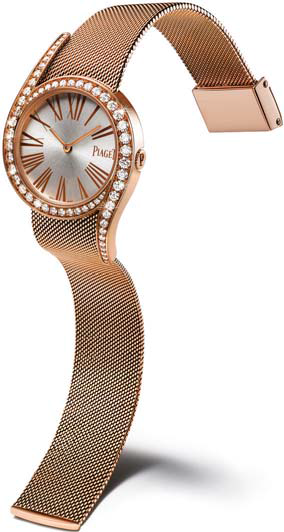 In the limelight
Piaget relives the swinging 1960s with the Limelight Gala collection for women. The jewellery watches are delicately designed to fit a woman's strong personality and is elegant enough to see her through a busy day. We have singled out the Limelight Gala Milanese gold watch in 18k pink gold. It has a sprinkling of 62 brilliant-cut diamonds while the pink-coloured Roman numerals are set on the silver dial. The watch gets its power from the Piaget Manufacture 690P Quartz movement.  
In black and gold
Louis Vuitton's foray into watchmaking in 2002 has certainly paid off and the Tambour watch has been steadily gaining popularity over the years. This year's offering is the All Black timepiece, which comes in a two-tone black PVD and pinkgold version. Women who truly appreciate Louis Vuitton's fine craftsmanship will want this feminine timepiece, which is adorned with the Monogram Flower motif as well as diamond hour markers on the dial. The All Black concept has been adapted for the quartz Tambour and is available in three diameters — 28mm, 34mm and 39.5mm.