SINGAPORE (Jan 22): You can almost hear the words: Inhale, exhale. There is a palpable calmness in the air. Ciara Yeo and Lim Wen Ling, founders of The Mindful Company, have slipped into the room, infusing it with a combined vibe of grace, calmness and congeniality. Smiles radiate from their luminous faces. Both women are willowy, even Lim who is in the third trimester of her pregnancy. For two ladies who have started up an online accessories business, their dress style is noticeably unfussy. From their hair to their timeless dresses to their sensible shoes, the only adornments are the pieces they have personally created — subtle metallic cuffs and bracelets with meaningful words such as "Breathe" and "Live in the moment" and delicate rings.
"This is a prototype," Yeo says, pointing to a ring in rose gold on her finger. Like every piece they have put up for sale, it is on a test run for comfort, practicality and aesthetics. It is also an emblem of how the company started, 2½ years ago. "We wanted to create tangible reminders to encourage ourselves and people around us," says Yeo. "We wanted something we could wear to work that no one could see." At the time, Yeo, 31, was in the thick of corporate legal work in the Mergers & Acquisitions Group at White & Case, an international law firm. Lim, 33, was a tax adviser with global financial services firm Ernst & Young. Together, in the hours outside their high-intensity jobs, the two Singapore-based Australians began experimenting with jewellery. They also had to put in the legwork to source for material, find manufacturers and go through rounds of sampling to refine their designs.  The first product to materialise was a reminder cuff, which is an adjustable bangle engraved with an inspiring message. The design is kept deliberately minimalist to keep the message from being overshadowed, the first of which was gratitude. "Gratitude is something I believe is the secret to living a full life," Yeo explains. "If you don't have gratitude, you can't appreciate the life you are living."
Soon, friends and family members were admiring the cuffs, made from hypoallergenic stainless steel and plated with silver, rose gold and gold. People began approaching them through word of mouth. That got the two millennials thinking that despite the plethora of jewellery brands in the market, there just might be space for a new brand that focused on the meaningful rather than bling. They began modestly. They ordered what they thought would be enough inventory for a year. They set up an online retail store, with a lot of the product photos taken by Yeo herself, and leveraged social media. They kept operations lean, with Lim handling business development and operations and Yeo looking after marketing and content creation. Six months after launching, they were happily surprised to find they had broken even.
Yeo (right, with Lim): We're now in a new world of retail where purpose matters
Now into its third year of operations, the Singapore-based start-up has eight staff and is cash-flow-positive, with stockists in five countries: Singapore, Malaysia, Australia, the UK and the United Arab Emirates. The bulk of their sales comes from outside Singapore, with The Mindful Company shipping to 50 countries all over the world.
From their signature cuffs, the product offering has expanded to about 110 different pieces in a variety of finishes. These include reminder braids, which are braided bracelets fashioned after the friendship wristlets favoured by teenagers, and key chains. Late last year, the company rolled out a premium fine jewellery line comprising chains with handwritten messages or charms as well as rings, all handcrafted in sterling silver and coated in rhodium to give it shine and durability. The fine jewellery line is also available in rose-gold vermeil and gold vermeil, which means the sterling silver is specially plated with a thick layer of 14-carat to 18-carat gold or rose gold, giving it a luxurious finish and added durability. The thickness of the gold vermeil, combined with the base of hypoallergenic silver, also makes it a good option for those with metal allergies. The rings are priced from $65 and the chains from $82. The Mindful Company has also gone beyond jewellery, producing tote bags made of cotton twill and reminder cards, which are framed prints with messages such as "Breathe In Courage. Exhale Fear." However, the reminder cuffs and braids are overwhelmingly the most popular items to date, with the top three bestselling messages being "Breathe", "Gratitude" and "It's a Journey".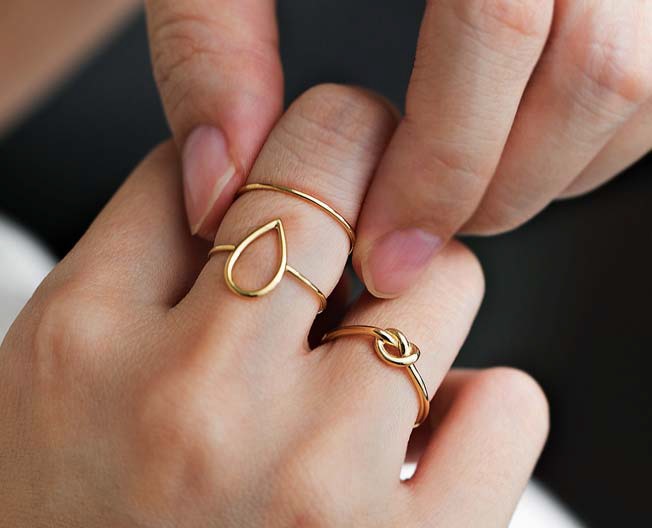 A premium fine jewellery line with vermeil overlay was added last year
Identical values
It certainly has been a journey for Yeo and Lim, who have crafted new lives as entrepreneurs after several years on the corporate treadmill. Growing up in Australia after her family migrated from Malaysia, Yeo was always interested in creative pursuits, but decided to study law and commerce at the University of Sydney, as she found law intellectually interesting. Graduating with first class honours, she opted to start out in litigation. That saw her taking on family and criminal cases as well as legal aid work. She enjoyed it, but at the same time found it emotionally exhausting. In 2010, she moved from Australia to Singapore, where she worked as a management consultant with Oliver Wyman for a year before moving into investment banking at Morgan Stanley, also for a year. She then went on to work at White & Case for three years. Like Yeo, Lim was born in Malaysia, but grew up in Australia. When it came to tertiary education, she elected to pursue a degree in commerce because her two older siblings had gone down that route. It also offered the prospect of a safe, stable career. After graduating, she spent five years at professional services multinational Deloitte in Perth, then relocated to Singapore in 2010, where she spent six years with Ernst & Young. The two met in Singapore through a mutual friend, who felt they had a lot in common. Both were born in Malaysia. Both grew up in Australia. Both are married to Singaporeans. Both are soft-spoken and even-tempered. They even enjoy the same type of exercise — running. "Running is my meditation," says Yeo, who runs almost daily, often covering 7km to 10km. Lim, who has a two-year-old daughter and is expecting her second child, has had to take a hiatus.
However, beyond their similar backgrounds, they discovered they shared the same aesthetics. More importantly, they had identical values — kindness, hope and mental well-being, for example. Mental well-being is an issue that resonates with them, as does giving back to society. Last year, The Mindful Company partnered with the Singapore Association of Mental Health to create a What's Important series. The nonprofit collaboration resulted in five specially designed bracelets, inspired by the personal stories of youths aged nine to 21 diagnosed with mental disorders under SAMH's YouthReach programme. The Leaf reminder bracelet, for example, underscores that you can choose how you wish to grow from your experiences. It mirrors the story of 16-year-old Katie, who aspires to be a visual artist. "My struggles have taught me not to get stressed trying to speed things up. Everyone's got their own timing," she is quoted as saying on the website. Over 100,000 bracelets were made and for each that is sold, $10 goes to SAMH. The bracelets are priced from $39. Aside from this, The Mindful Company also works with the Stroke Support Station, a volunteer-led initiative that helps stroke survivors and their caregivers through programmes such as mental resilience training. Yeo and Lim have donated products to help with the group's fundraising efforts and also volunteer their time.
Socially minded brand
As Yeo and Lim see it, The Mindful Company is essentially an extension of themselves and they are gratified to see that what resonates with them appears to resonate with buyers. A significant proportion of their accessories are purchased as gifts, with the Warrior cuff often given to people going through challenges such as cancer. Just under a third of the products are bought by men or for them, judging by the requests for male names to be engraved on cuffs or braids. A matte range, which is marginally chunkier and more masculine in look, has been released to cater to men. Yeo adds that they also see quite a number of repeat customers, which she attributes to their prices being wallet-friendly (the cuffs are priced from $48). They have managed to stay at an accessible price point, as they largely sell directly to consumers. Affordability is something customers want, along with high quality and a product imbued with meaning, Yeo reckons. "We spend a lot of time talking to our customers, taking inspiration from them and designing around their preferences," she says. "It's A Journey", for example, was designed for a friend who lost her father, the underlying message being that life has its ups and downs, but you have to move forward and live it fully. Being social media-savvy has also driven the brand. The Mindful Company has some 100,000 followers on Instagram and Facebook and has customers writing in or sharing on social media about what they are going through and how they are tackling setbacks. On their journey to promote personal resilience, Yeo and Lim have had to bank on each other as well as supportive husbands, family and close friends. The support system has been their anchor as they left lucrative professions for the unpredictable world of e-commerce. "We are lucky we have each other and our network, as there was so much to learn going into this industry," says Lim. No doubt, their accumulated training in finance and law came in handy when it came to issues such as costing, legal documentation, supply chains, payment gateways and shipping. But with no knowledge of the jewellery-making process, the duo had to scale a learning curve, doggedly asking people in the industry how to find reliable suppliers and manufacturers who had the workplace safety and environmental standards they wanted. The biggest lesson they have learnt from starting their own business is to build a strong support network. "Many people think they can do it on their own," says Yeo. "But start-ups deal with uncertainty every day. Always ask for help when you need to." Having navigated the challenges of the early days, the plan now is to grow their lifestyle brand internationally, especially in their top five markets. In the competitive, crowded and fast-evolving world of online retailing, where barriers to entry are low, The Mindful Company has found a niche. It has countered the odds with its social mission, messages of empowerment and personal reflection, and engagement on the digital front. "We're now in a new world of retail where purpose matters," Yeo notes. Encouraged, the two founders, easily among the most gentle and gracious business owners around, now aspire to be more than just a jewellery brand. "We want to be a lifestyle brand that encourages people to live mindfully," says Yeo, face earnest, smile still luminous.
---
Sunita Sue Leng, formerly an associate editor at The Edge Singapore, is trying harder to live in the moment
This article appeared in Issue 814 (Jan 22) of The Edge Singapore.
Subscribe to The Edge at https://www.theedgesingapore.com/subscribe