Authentic craftsmanship and keeping up with trends have enabled homegrown Meiko Tailor to stay at the forefront of the bespoke menswear business for four decades.
SINGAPORE (Jan 14): There is a material so sumptuously soft it is called the "Fibre of Gods". It comes from the vicuña, a South American animal that is a cousin of the llama. Vicuñas produce a golden fleece that is both exquisitely fine and able to retain heat, making it so prized that only Inca royalty were allowed to wear it in the past. By the 1960s, however, poaching and over-farming decimated the mountainous doe-eyed animals to near-extinction.
Fortunately, conservation efforts led by luxury Italian fashion house Loro Piana have revived the vicuña population and, today, the rare wool reigns as the Birkin of the textile world. In Singapore, only three tailors have access to vicuña wool from Loro Piana. One of them is Meiko Tailor, which began in a shophouse in Geylang and has stood the test of time to become one of Singapore's most established names in bespoke menswear.
Chung fitting customer Patrick Wagoner in his new jacket
Chung Chi Kwong is the man behind Meiko Tailor. At his atelier at the Pan Pacific Hotel, he runs his hand across a sample of vicuña wool. "It is so fine, even finer than cashmere," he tells Options. Aside from fabrics from Loro Piana, Meiko Tailor stocks other high-end material from top European mills such as -Solbiati and Ermenegildo Zegna from Italy as well as Holland & Sherry and Savile Row from London. Amid the popularity of off-the-rack suits and online retailing, at a time when millennial executives don jeans and hoodies to meetings, one of Singapore's oldest tailors has managed to find a niche providing craftsmanship and customisation. Chung, 69, meshes the timeless skill of hand cutting and sewing with styles that are in vogue such as tapered fit jackets and trimmings on shirt collars. Everything is done in-house at Meiko Tailor; nothing is outsourced. Chung, who started apprenticing at 16, still personally cuts the fabric for each suit ordered, four decades after starting out on his own. "A well-made suit comes first from the cutting," the soft-spoken Chung explains. It is also crucial to make sure the material does not twist during the sewing process so that the outfit drapes naturally, he adds. Each suit is finished off by the same sewer from stitching to buttoning. Chung is also a firm believer in full-canvassed suits as opposed to half-canvassed or fused suits. Men's suits are typically made with a layer of horsehair canvas stitched to the outer wool fabric. The canvas helps keep the shape of the suit and prevents it from sagging. Half-canvassed jackets have canvas sewn through the chest and lapels with the remainder fused. With fused suits, the canvas lining is glued onto the fabric.
Meiko Tailor makes only full-canvassed suits, as these fall better and are more breathable. There is also no bubbling or puckering after dry cleaning, notes Chung. This often occurs with fused coats, as the glue degrades over time and detaches from the fused backing, causing the fabric to ripple.
Humble roots
Tailoring has been the only job Chung has ever had. His father was a carpenter who worked on construction sites. His mother looked after her nine children and also reared pigs and grew vegetables on a small plot in Woodlands. As the eldest, Chung sought work to support the family as soon as he left school. He was introduced by a friend to a well-regarded master tailor from Shanghai and trained with him. He then went on to do national service (NS) as part of the pioneer batch of the Singapore Armed Forces. After NS, he returned to hone his skills and worked as a freelance tailor for several master tailors. On balance, it takes about two years of practice and commitment to reach a high standard in the craft, Chung reckons. Some years later, he met a young seamstress from Johor whom he married. Together, they set up a made-to-measure business in Geylang Lorong 3 in 1977. In the early years, they did mostly contract work for other tailors. After a fire destroyed the workshop, they moved to Hougang six years later, a shop that Mrs Chung still runs today, serving a mostly HDB clientele.
Chung (third from right) with his extended family at Meiko Tailor's first shop in Geylang
The heyday for the local tailoring industry was the 1960s and 1970s. At its peak, the Singapore Merchant Tailors' Association had over 250 members, Chung recalls. He was president for several years and is now adviser emeritus to the association, which has dwindled to about only 50 members now. Old tailors who did not keep up with trends quit the trade as ready-to-wear shirts and suits became commonplace. Steep rentals also squeezed out smaller players.
Staying up to date
"You have to keep up with trends," says the veteran tailor. For example, young men these days prefer a fitted cut, what is known as an Italian style, as opposed to the looser style of the past. And, instead of plain cotton fabric, the preference today is for shirting material that has some texture and design. On top of that, an increasing number of men do not want pockets on shirts, Chung notes. More and more, they are leaning towards trimmings on shirt collars and cuffs to help them stand out. And with casual dressing in vogue, more men are opting for blazers that they can pair with jeans or corduroy pants. Over the years, Chung's business grew by word of mouth, with customers returning for his earnest service, artisanal touch and value-for-money prices. In 1986, Meiko Tailor opened its flagship store at the Pan Pacific, becoming one of its first tenants, and in 2016, it set up shop at Asia Square Tower to tap the office crowd. Today, 80% of Meiko Tailor's clients are regulars, with two-thirds made up of expatriates or clients based overseas. It is also serving its second generation of customers, with some bringing their sons to get their clothes tailored by Chung.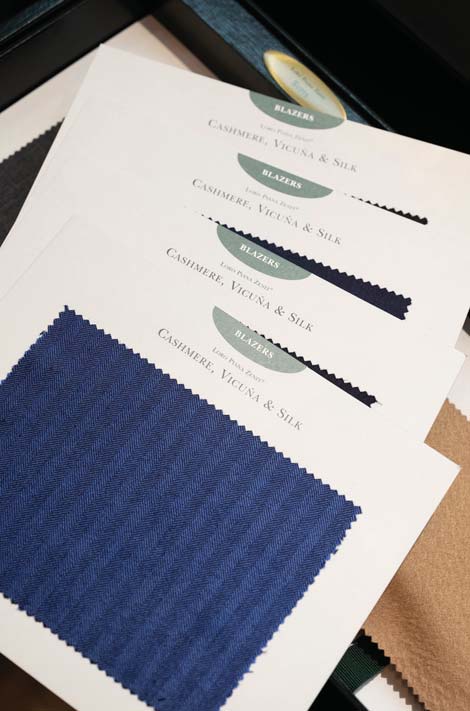 Italian luxury miller Loro Piana's vicuña wool is called the 'Fibre of Gods'
Meiko Tailor itself is bringing the next generation into the trade, with Chung's 42-year-old daughter Adele now running marketing and HR. Adele is also certified in image and colour consulting, services that are available to clients. "There is still a market for bespoke, as people want something different from off-the-shelf," she says. "We offer a personalised experience that you don't get with e-commerce or off-the-rack." That, plus a smorgasbord of premium fabrics, including the luxurious fleece sourced from the Andes.
Sunita Sue Leng was an associate editor at The Edge Singapore
---
Fabric tales
What makes fleece from the vicuña so special? In the freezing climate of the Andean Mountains, these petite members of the camel family develop dense and exceptionally fine hair that yields fibres with outstanding thermoregulating properties. The vicuñas are sheared once every two years, with each adult animal providing only 120g to 150g of the exceptionally light fibre. At their peak, there were three million wild vicuñas roaming the mountain ranges of Peru. By 1960, the population had reached an all-time low of 5,000, owing to widespread hunting. That spurred the Peruvian government to set up the first reserve for rehabilitating vicuñas. In 1994, fashion and textile house Loro Piana inked a deal with the Andean communities that allowed them to buy, process and export fibres from humanely sheared vicuñas. In 2008, the company established the first private vicuña reserve in Peru, helping to conserve the source of its finest wool. The Italian company also supplies top-grade cashmere, going directly to sources in China and Mongolia. In addition, it has long-term agreements with breeders in Australia and New Zealand to procure premium-grade wool such as Merino, which is offered in its Zenit collection, available at Meiko Tailor.
Top suiting fabrics from Loro Piana
Meiko Tailor also carries all-natural fabrics from heritage European mills such as Vitale Barberis Canonico, an Italian fabric maker that dates back to 1663, and produces a very lightweight wool that does not trap heat even in Singapore's steamy climate. Meiko Tailor also stocks luxury shirting material from SÖKTAS, a supplier of exquisitely smooth cotton fabric from Turkey, and Tessitura Monti of Italy as well as ALUMO of Switzerland, which has one of the most advanced weaving mills in Europe. Depending on the fabric, custom-made men's shirts from Meiko Tailor start from $150 for 100% Egyptian cotton. Bespoke suits are priced from $1,390 to $2,390 for a single-breasted suit made from wool blend all-season wear. The lowest tier of the Loro Piana 100% New Zealand Merino wool and Summer Tasmanian wool starts from $2,890 all the way to $5,900 to $8,900 for the Super 200's wool/silk and the vicuña/cashmere/silk mix for the Zenit collection.