Wearable art
SINGAPORE (Dec 11):
Manolo Blahnik and Bulgari join forces to create amazing bejewelled shoes
It had to happen, eventually. Jewellery powerhouse Bulgari and shoe designer extraordinaire Manolo Blahnik have come together to create bejewelled shoes. The shoes will be the highlight of the
Manolo Blahnik: The art of shoes
exhibition, organised by Vogue Spain in Madrid from now until March 8, 2018. The exhibition traces 45 years of fashion, art and culture through the creations of shoe couturier Blahnik. For this collaboration, a pair of pumps in striking green silk satin has ultra-precious gems adorning the ankle straps: 11.41 carat of diamonds, 48.61 carat of rubellites and 38.19 carat of amethysts. The pink-hued gems are shaped like pepperoncini — Italian for chilli pepper — similar to the design of a Bulgari high jewellery necklace from this year's "Festa" collection.
Of this collaboration, Lucia Silvestri, creative director for Bulgari Jewellery, says, "To co-design these unique pieces together with legend Manolo Blahnik was the realisation of a personal dream; I am just addicted to his shoes! We both believe that creativity is there to serve women and make them feel amazing. There is no reason to wear high heels only on a catwalk or to lock forever a high jewellery necklace into a safe… Beauty should be worn and enjoyed, always."
Be seduced
Séduction is the new interpretation of the Liens jewellery collection by Chaumet. The iconic motif of ribbons and bows is given a new look with diamonds, rose or white gold. In all, there are 16 new designs in this collection to captivate you.
Make it personal
It all started when founder of online shopping portal "Gifts less ordinary" Amy Read received a personalised gift. It got her thinking that everyone should have access to personalised gifts. "Gifts less ordinary" has about 6,000 products that cater for everyone. Each gift can be personalised with messages or initials engraved onto it. Check out the selection at giftslessordinary.com.
Treasure in your hands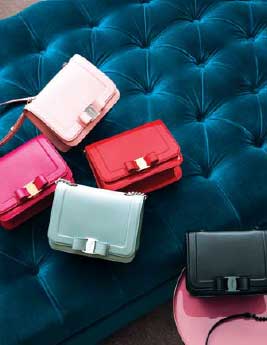 Salvatore Ferragamo's Vara Rainbow bag, from the pre-spring 2018 collection, combines features from the brand's legacy with a geometric, compact design, a linear silhouette and a Vara bow clasp ornament. Inside, the back pocket opens to reveal a series of multicoloured compartments that pay tribute to the Ferragamo Rainbow. The Vara Rainbow bag comes in a mini size in an ultra-feminine colour palette — BonBon, Opal, Begonia and Black for calfskin models, and Red for the patent leather version.
Stirring emotions
As delicate as a dewdrop glistening in the dawn light, L'Occitane's latest fragrance Terre de Lumiere is designed to stir one's emotions and conjure up memories. The fragrance has a fruity opening — with bergamot, pink pepper and blackcurrant — that leads to a floral explosion of pink peonies at its heart. The base is tender and musky, rounded off with acacia flower, almond essence, tonka bean and white musk. The fragrance takes inspiration from Provence at daybreak, when the sun's rays emerge on the horizon.
Festive pampering
This Christmas, luxury skincare brand La Prairie is offering a series of gift sets. They comprise the Anti-Aging Precious Holiday Kit ($850), Skin Caviar Precious Holiday Kit ($740), Skin Caviar Luxury Holiday Kit ($1,455), Radiance Luxury Holiday Kit ($2,055) and Platinum Luxury Holiday Kit ($2,990).