SINGAPORE (July 9): Han Li Guang's Labyrinth is many things. The one-Michelin star restaurant is an experimental playground for the chef-owner. As a purveyor of modern Singapore cuisine, it is a homage to his family and country. And, as I discover one scorching June afternoon, it is also a refuge against the blazing heat. With black painted walls, plush carpeting and stage lighting — to reflect its location in the Esplanade — the 35-seater restaurant exudes a womb-like cosiness. It recently underwent a renovation, and now boasts an "ingredient wall" and a "heritage wall".
The former is a showcase of local ingredients used in the restaurant's kitchen, while the latter sports an array of local cooking utensils. From earthen claypots to aluminium cooking pots, the utensils represent the country's multi-ethnic culinary heritage. most evident in the Nasi Lemak Cheong Fun, one of 10 dishes in the Chef's Tasting Menu ($178++) that I am sampling today. As its name suggests, it is a synthesis of two local breakfast favourites, nasi lemak — a Malay fragrant rice dish cooked in coconut milk and pandan leaf, and chee cheong fun — a Cantonese rice noodle roll.
Han's version consists of a thin cheong fun skin that encases a filling of nasi lemak sambal and topped with black deep-fried chicken skin, ikan bilis (dried anchovies) and cucumber. Taste-wise, it is on-point, succinctly capturing the essence of both dishes. Yet, it is also milder than expected. The sambal, for example, has a gentle heat. The delicious morsels are presented on a pandan leaf-shaped ceramic plate so realistic, it fools me into thinking that an actual pandan leaf has been subjected to some form of preservation. But the new menu, which followed the revamp, is not about fine-dining iterations of local cuisine. Nor is it about bamboozling diners with molecular gastronomic techniques — an approach that Han took when he first set up Labyrinth in 2013. The new menu is produce-driven. More importantly, it is "local" produce-driven. In fact, Han prides himself on the fact that the menu uses 80% local produce.
"The menu is like my love letter to Singapore," says the 33-year-old, speaking with rapid-fire enthusiasm. "Molecular gastronomy, to me, is just a method of cooking. After four-anda-half years, I [only] use those techniques behind the scenes. The techniques come secondary to produce and flavours."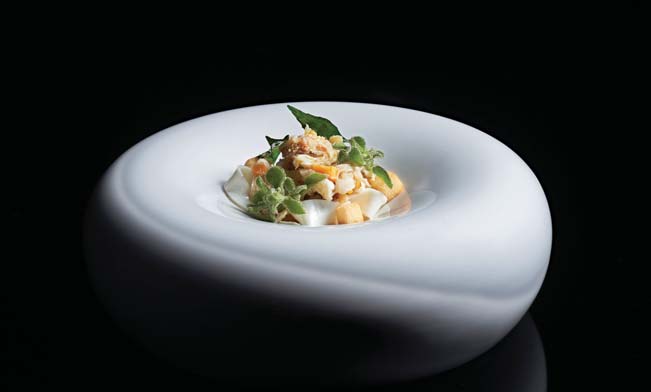 Local Caught Wild Crab pairs the sweet flesh of the crab with chilli ice cream and a curry leaf garnish
Quality assurance
Like most Singaporeans, the former Goldman Sachs banker had his doubts about the quality of local produce. But in January 2017, while filming a local TV series Hey Chef!, an encounter at Ah Hua Kelong changed his mind forever. "I was cocky and wanted to bring my own crabs to cook a meal there. Flower crabs to me were just for stock-making. But once I tried their [wild caught] flower crabs, I changed my entire view. I started meeting a lot of farmers after that, and learning about traditional methods of cooking. "I realised there were so many things that had not been unlocked, in terms of flavour combinations. And if there's one produce that's good — the flower crab — there must be others that are good as well. "Singapore has summer all year round. If people in Scandinavia can do locavore menus when it's winter nine months a year, I don't see why we can't. So I started a year-long project to see what [produce] Singapore has."
That process led to discoveries such as duck liver from Toh Thye San Farm. This, Han uses as a pâté in his dish Heartland Waffle, a paean to a childhood favourite snack: jam and butter waffles from Prima Deli Bakery in Ang Mo Kio. I find the waffle a tad too sweet, but I relish the Labyrinth Rojak, made with 10 different types of herbs, flowers and sprouts from Edible Garden City, a pioneering urban farming initiative. Light, fresh, herbaceous and wholesome, I wish all
rojak
were like this. Of course, the flower crab from Ah Hua Kelong has found its way onto the menu too. The dish, called Local Caught Wild Crab, pairs the sweet flesh of the crab with chilli ice cream and a curry leaf garnish. I enjoy the crabmeat, which has a good bite to it, and the way the curry leaves lift and localise the flavour profile.
With black painted walls, plush carpeting and stage lighting — to reflect its location in the Esplanade — the 35-seater restaurant exudes a womb-like cosiness 
Local colour
Crafting a menu that uses 80% local produce is a rare practice in Singapore, and certainly for a fine-dining, Michelin-starred restaurant. The other 20% is reserved for items such as pork (from Indonesia) and rice (from Thailand). Han insists on maintaining that ratio for the purpose of integrity. "If I go below [that ratio], the plot is lost. We have to prove to the public and the farmers that we're really trying to spearhead this movement," he says. Having a produce-driven menu also keeps him on his toes. Vagaries with the weather and seasons mean that supplies can be unstable, so signature dishes are out of the question. But rather than let this be a limiting factor, Han takes it in his stride. "The mark of a true chef is the ability to think on the spot, and create a dish on the fly. A chef's asset is his palate, his ability to construct textures, and his technical knowledge of how to execute [the dish]." There are many more tricks left up his sleeve. He says there are another "five to six" dishes that have not been released yet. And more local produce that has yet to find its way onto the menu. This includes seafood such as catfish, eel, octopus, mantis shrimp, blue spotted stingray, trevally and lobster, as well as fruit such as banana, longan and buah long long (spondias dulcis). "I don't want to show all my cards at one shot," Han says.
Beyond business
However, not all produce grown locally is good, admits Han, who honed his craft working for free on weekends at Italian fine-dining hotspot Garibaldi. Local lemongrass, for example, cannot hold a candle to its southern Thai counterparts. Meanwhile, local tomatoes lack the sweetness of its Japanese cousins, offering savoury-umami flavours instead. For Han, it all boils down to understanding what produce grows well, and what does not. His relationship with the farmers helps a great deal in cultivating this knowledge. "I'm close to the Ah Hua Kelong boys, like Bryan; Stella from Nippon Koi Farm; Sid and Chris from Edible Garden City; and Jay from Fossa Chocolate. I spend most of my days off — Mondays — with them. We hang out. It's not just a business relationship. It goes beyond. "We've had Edible Garden City people dining here already. We haven't had the Nippon Koi people here yet because they don't like to leave their homes — they live on the farm. But I've been asking them. "These guys are not driven by money alone. They want to be appreciated for their work; they want to share their knowledge. Some people ask me why I work with the bigger farms, what's so special about them. But some of these suppliers are actually my middlemen and agents in sourcing for produce. And they do it for me, not anyone else." Han adds that the farmers occasionally give him seasonal items, or produce that is only available in short supply, like passionfruit or chocolate mint herb. At Nippon Koi Farm, where he gets his supply of silver perch, an assortment of fruit and vegetables such as starfruit, sweet potato leaves, spinach, bok choy, bananas and longans is also grown. The farmers trust Han enough to know that he will make something special out of the produce. He also pays it forward by introducing them to foreign chefs when they come to visit, and takes local chefs and foodies on trips as well. "I just want to show them what we have, to change the local mentality, and let foreigners understand our local culture. It's about building a community and ecosystem. I want to use Labyrinth as that vehicle. "If demand goes up, supply will grow and business will improve. [The farmers] will be able to buy more land, build better infrastructure and hire more people. [People] are so focused on hawker food and restaurants. They're not looking deeper."
Rediscovering roots
In fashioning his new menu, Han himself dug deep — into his childhood memories. "I didn't grow up with fine-dining. I grew up on hawker food. I loved fried fish, chicken rice, pork chop, french fries, mashed potatoes, all sorts of junk food." But none of that could compare with his paternal grandmother's cooking. "She cooked from the heart, and knew everybody's preferences. She knew that I loved fried fish, so there'd always be a fried fish fillet just for me, and nobody else could touch it." Han's extended family, comprising about 20 members, would gather at the matriarch's home for a feast every Saturday. The mainstays, he recalls fondly, would be chicken rice and fish maw soup. Once in a while, there would be steak, pork chops,
chap chye
(mixed vegetable stew),
bak chang
(glutinous rice dumplings), tilapia or snapper. Of Hainanese origin, Han's paternal grandfather ran the now-defunct Cairnhill Steakhouse in Orchard Point until 1994, which explains the mix of Chinese and Western dishes at the family's dinner table. The Hainanese are famous for blending both influences in their cooking. Han recalls running around the steakhouse as a kid, and says that having Hainanese roots, plus a restaurant-owning forebear, meant that the apple would not fall far from the tree. But his interest in cooking did not mature until his college days at The London School of Economics and Political Science. Back then, he did not have the means to spend lavishly on food. He also wanted to impress girls with his culinary skills. Most importantly, he missed the food of his youth. After consulting grandma and learning her recipes, Han plunged headlong into the culinary world. Cooking taught him mindfulness, because his focus was on the food and nothing else. From then on, he discovered that he had a knack for cooking, and he picked things up fast.
Ang Moh Chicken Rice is inspired by an improvised dish whipped up by Han's grandma, who was a landlady/housekeeper for a British family during the colonial era
Cooking from the heart
Han's grandma passed away from a heart attack in July last year, aged 88. "She had a good life. She was here drinking wine on Mother's Day, and then two months later she passed away. I'd rather she pass away suddenly, than for her to [suffer] for a year. "Having this restaurant [allows me to] create dishes [in her memory]. As much as this is for myself, it's also for my family to know that part of her still lives on. Rather than being sad about it, I want to celebrate what [my grandparents have] done." The dish Ang Moh Chicken Rice (Western-style chicken rice) is a direct tribute. Comprising a diced chicken dumpling and a roux of chicken rice stock, it is inspired by an improvised dish whipped up by Han's grandma, who was a landlady/housekeeper for a British family during the colonial era. Tweaking the recipe to suit the family's tastes, she fashioned a button mushroom roux, using chicken seasoning powder, to complement the chicken rice. I savour Han's version, astounded that anyone can come up with a variant as good as the original. "I'm cooking from the heart," he says. And it shows. Most of his customers love the new offerings, although some are more accustomed to the texture-based surprises of the old menu. "The market is so fickle these days, we just do our best and hope that people can appreciate it." Receiving the Michelin star in 2017 was a double-edged sword, he admits. "It gave us authority — we're the only modern Singaporean restaurant in the world to have a star. It also gave us freedom to play around. Of course, it has given me stress as well. I worry about keeping it, or customers not being happy. I have to work harder than before, because expectations are higher. "Ultimately, it's my customers that are the most important. I focus on them rather than the star. If we get a second star, of course I'll be happy. If we lose the star, of course I'll be shattered." The next step in his culinary evolution: foraging. He wants to work with horticulturalists to explore what wild botanicals can and cannot be eaten. He wants to dig even deeper, to uncover what edible greens used to be grown in Singapore, and what recipes they were used in. And he wants to refine his cooking methods even further, blending traditional know-how with cutting-edge techniques. "I want [Singaporean cuisine] to stand shoulder-to-shoulder with Thai, Vietnamese, Japanese or Korean cuisines. Hopefully in 10 years' time, people will know Singapore not just as a financial hub. [Tourists might visit] the farms, or our produce will be used around the world. Labyrinth is not just a restaurant to me, but a platform to champion a cause and build an ecosystem."
---
Timothy Chiang is a design junkie through and through, believing that everything from a doorknob to the entire building needs to display thoughtful design. He lives for meeting design luminaries.
This article appeared in Issue 838 (July 9) of The Edge Singapore.
Subscribe to The Edge now