SINGAPORE (Nov 12): As a former science and mathematics teacher, Penfolds chief winemaker Peter Gago is acquainted with numbers as intimately as he is with the complexities of winemaking. From alcohol percentages to landmark years, not to mention the bin numbers often used in lieu of the full name of a Penfolds wine, he knows them all like he does the back of his hand. Widely used by wineries as a reference to specific storage areas in their cellars, bin numbers are considered synonymous with the names of Penfolds wines. But why numbers? "Well firstly, it's because numbers are understood around the world and we have a global audience. Secondly, it's really easy to name a wine when you have only two or three or four. When you have as many as 50, you'll run out of names, so the numbers come in very handy," explains Gago at a group interview session held on Oct 23 at the Thonburi Room of Anantara Riverside Bangkok Resort, just hours before the official Southeast Asian launch of the Penfolds Collection 2018. This marked the final stop of the chief winemaker's world tour for the global launch of the collection, starting from the brand's Magill Estate Winery in Adelaide, to Shanghai, Hong Kong, London, New York and, finally, Bangkok.
"[The bin numbers] are confusing. Some people think the higher the number, the better the wine, but it's not like that at all. If you walk up to a wine shop in Australia and ask for a Bin 128, they'll know exactly what you're talking about [2010 Penfolds Coonawarra Bin 128 Shiraz]. It's like a shortcut, a secret code, only with random numbers," he continues. Each bin number nonetheless implies a specific winemaking tradition and method that ensures consistency in what Gago calls the Penfolds house style. One example is Bin 389 Cabernet Shiraz, or what is often referred to as "Baby Grange", as some of its components are matured in the same barrels used to contain its vintage counterpart. "A Bin 389 must comprise at least 51% Cabernet, such as in the latest release [the 2016 Bin 389 is 51% Cabernet Sauvignon and 49% Shiraz]. The ratio of Cabernet versus Shiraz may have been higher in the 1980s, but the wine always remains of the same style, that is, of Bin 389," he explains. Another cellar favourite among collectors is St Henri, a vintage expression of Shiraz that Penfolds has officially been making since the early 1950s without interruption — although it is postulated that the very first St Henri wine was made as early as the 1890s. Always consistent in the making of a St Henri, however, is the use of old oak of at least 50 to 60 years. "That has never changed over the last century. Neither has the house style of St Henri," emphasises Gago.
But among the 2018 Collection of five vintages and seven varietals across 15 regions are many signs of innovative breakthroughs, a continuation of Penfolds' innovative spirit down the wine producer's 174-year-long lineage. At the forefront of the collection is, as always, the label's flagship Grange: a multi-vineyard, multi-district blend that is arguably Australia's most celebrated red wine. Comprising 98% Shiraz and 2% Cabernet Sauvignon, the Grange 2014 features Wrattonbully grapes — a maiden occurrence since Penfolds' first chief winemaker Max Schubert initially conceived the wine, then named as Grange Hermitage, in 1951. Being a relatively new region on the winemaking map, Wrattonbully vineyards had yet to even come into existence during Schubert's time. Gago is the fourth to have held Schubert's position since the latter was appointed in 1948. In his view, the latest collection is a perfect representation of how Penfolds winemakers adapt to the times and various situations without compromising on the very essence of their product: the house style. Depending on global and regional climatic variations, Penfolds' vineyard sources vary from year to year — although the methods used and the wines themselves always remain true to their respective styles. "In a hot year, we go down south to Coonawarra, where it's cooler. In a really cool year, we go to the Barossa or the McLaren Vale. So, we bend our knees [in terms of sourcing flexibility], but we keep our back straight when it comes to quality," says Gago.
"That's why Penfolds makes three styles of wines. Wines from single vineyards, where we take a lot of risk. Wines from single regions, single viticultural regions, to stay on the road; one might cop the frost, but the other side of the hill might not, representing a style of that area. The third style is multiregional blends, blended to the Penfolds house style, like a champagne."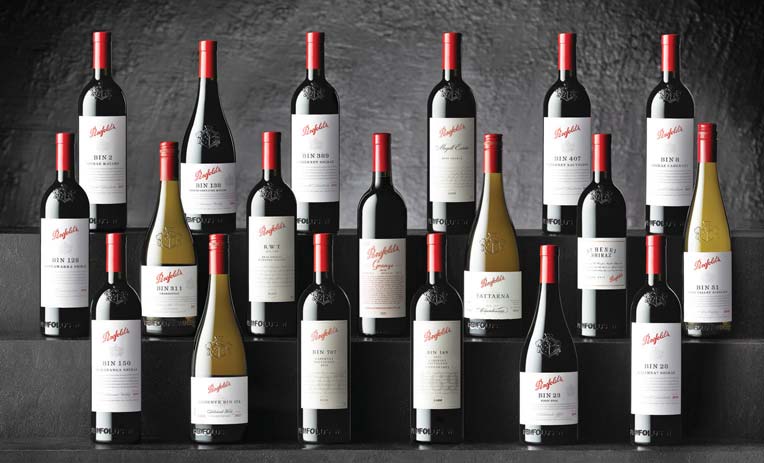 The Penfolds 2018 Collection is now available at select fine wine stores across Southeast Asia, including in Singapore.
Speaking of champagne, he excitedly shares that 2019 will see the release of not just one but three champagnes under the Penfolds name, another winemaking breakthrough that will come just in time to celebrate the label's 175th anniversary next year. He adds that the Penfolds G4 — a continuation from the special edition G3 blend of Grange 2008, 2012 and 2014 — is currently in the making. There were only 1,200 bottles of the G3 made and released by Penfolds last year, making it such a rare series that Gago says Penfolds only has "a handful of these bottles" under its ownership. There will be comparatively more bottles of the upcoming G4, he reveals, although "not that much more". "Penfolds is a traditional house that's never stopped innovating. When Max Schubert made his first Grange, he was way ahead of his time. He was very innovative when he put wine into New American oak, when he barrel-fermented it towards the end of fermentation. It was unheard of in Australia then. Thankfully, this style is now deemed as acceptable. In some wineries today, it is looked upon as being a bit of a standard procedure," says Gago. "The 2018 Collection is a continuation of what Penfolds does... We have to continue moving and changing and adapting. But the Penfolds stamp is paramount: a style, a character, regardless of vineyards."