Javier Bardem and Dev Patel have a blast in Zegna's latest Defining Moments campaign  
SINGAPORE (Apr 23):  With iconic actor Robert De Niro having set the benchmark for Ermenegildo Zegna's Defining Moments campaign, the pressure was on the new faces of the campaign to rise to the occasion.
And that, they have done. That is not surprising as Javier Bardem and Dev Patel are both respected, award-winning actors. In this third and latest Defining Moments chapter, they display a camaraderie and sense of fun in various settings, while dressed in Zegna's casual, elegant style.
Bardem (right) and Patel wear stylish, casual Zegna in various settings — including while playing golf and jamming in the studio
Defining Moments was first introduced for spring/summer 2017. For that, De Niro was paired with up-and-coming actor McCaul Lombardi. The two discuss the key points of their lives and careers, with the young Lombardi understandably wide-eyed in the presence of the screen legend.
De Niro was next paired with French dancer- turned-choreographer Benjamin Millepied. New York City, which played a big role in their careers, featured prominently.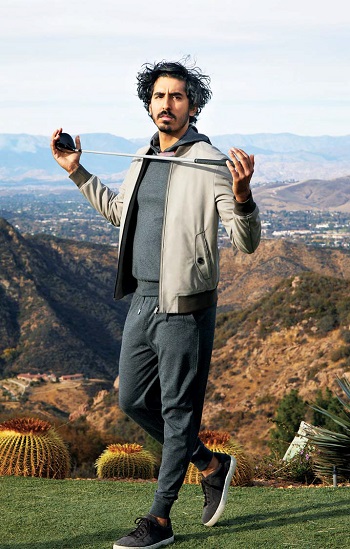 Bardem and Patel bring a refreshing, playful touch to the latest campaign. The former is better known for playing villains. He won a Best Supporting Actor Oscar for his turn as psychopathic assassin Anton Chigurh in the 2007 Coen Brothers film
No Country for Old Men
. The Spaniard also played the tortured villain in the James Bond movie
Skyfall
. British actor Patel sports a full beard and stylishly unkempt hair in the campaign. It's a look far removed from the one he wore as the clean-shaven, earnest Jamal Malik in Danny Boyle's
Slumdog Millionaire
, which won an Oscar for Best Picture. He also played the helpful, all-knowing geek in the TV series
The Newsroom
.
In Defining Moments, Bardem and Patel are featured in various settings: playing golf, jamming together, reciting Spanish poet Federico García Lorca's Before the Dawn as the morning sun gently shines, preparing a meal. In each one, they look like they are having a lot of fun. Also playing a starring role are their clothes. Among other items, Patel wears Hitchcock grey knitted track pants, and dark grey suede Vittorio sneakers. Bardem wears a vinyl grey suede shirt jacket over a white premium cotton jumper. Patel looks even more dapper in a grey cotton seersucker stripe blazer paired with vinyl grey striped trousers. Bardem, meanwhile, sports a deco teal open-collar polo shirt underneath an antique vellum valstar blouson jacket, matched with typewriter brown gabardine trousers. The videos were directed by internationally acclaimed filmmaker and photographer Craig McDean.