Celebrate International Women's Day with these five good reads.
SINGAPORE (Mar 11): Women in literature have stood the test of time. From the quietly rebellious days of Jane Austen to the new wave of women in the boardroom, the feminine have featured between pages for centuries. Here, we highlight a (hardly exhaustive) list of five books — which were revolutionary in their own way — to empower women and girls.
Lean in: Women, Work, and the Will to Lead by Sheryl Sandberg
This 2013 book by Facebook's chief operating officer is undoubtedly the book that started it all for power women in boardrooms full of men. Featuring stories from women from all walks of life, including herself, the book explores the intersectionality of race, gender and class in both work and family. It also offers perspective on how to thrive in a world dominated by men, defeating "impostor syndrome" and shattering stereotypes. While it had its fair share of criticism about being written "by white women and for white women", it nonetheless showed that women can strut down the walkways of the boardroom and belong there.
---
Becoming by Michelle Obama
The former first lady of the US can only be described as a trailblazer. Not only has she handled the spotlight of being the first lady with grace and poise, she has also inspired young women to accept their vulnerability and turn it into strength. Open and honest with her struggles with her marriage to former president Barack Obama, her book is much the same way — it explores Obama's childhood in Chicago, facing racism in public life, her early marriage struggles and her experiences after becoming the country's first black first lady.
---
Coraline by Neil Gaiman
Coraline is a book that defies expectations. Although written as a children's book, there is nothing childish about this story of true bravery in the face of fear. Coraline, whose parents move to a new city for work, discovers a hidden door leading to an alternate world where her "Other Mother", with buttons for eyes, lives. Although the alternate world seems like a dream at first — her Other Mother gives her anything she wants — it turns into a nightmare when Coraline refuses to stay and get buttons sewn into her eyes too. When her parents are kidnapped by the Other Mother, Coraline braves her way back to the alternate world, despite knowing she could very well be trapped forever. This story of courage and wits by a young girl may not seem an obvious choice, but its message of being brave even in the face of true fear resonates.
---
The Joy Luck Club by Amy Tan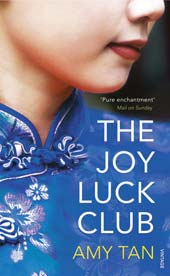 No list of books for women would be complete without Amy Tan's poignant book about the lives of four Chinese American immigrant families in San Francisco, from the perspective of both the mothers and their daughters. A true classic, the book tells of secrets revealed, lives destroyed, love shattered and the human experience of loss, grief and happiness. It shows the depth of a mother's love for her child, the struggles of rebuilding a new life in a new country and the true courage it takes to survive against all odds.
---
The Handmaid's Tale by Margaret Atwood
This dystopian fiction novel is not a read for the faint-hearted. With themes of women in subjugation in a patriarchal society, used as mere birthing cattle, it shows the various means by which these women attempt to gain individualism and independence. It centres around the story of Offred, who joins a resistance to overthrow the theonomic republic known as the Republic of Gilead. Be warned: This is not a book to read without first fully preparing oneself for a truly dark conversation of the patriarchal society we live in, but it is a necessary read for its themes of equality and justice.
This article appeared in Issue 872 (Mar 11) of The Edge Singapore.
Subscribe to The Edge now