SINGAPORE (Nov 14): Check out these Christmas offerings with a twist that are sure to add a little magic into the holiday feasting season. 
Gobble, gobble
Goodwood Park Hotel is introducing a turkey dish with some Chinese flavours. The Soy-braised Turkey served with Toasted Spiced Almonds and Homemade Chilli Sauce is slow-cooked for at least two hours to achieve its homely flavours and juicy meat. Also, give the Breaded Turkey Rillettes 'Cheong Fun' with Creamy Tarragon Dip, as well as the Mini Turkey Char Siew Po Lo Buns a try. They're extremely addictive and make a great party snack.
These turkey treats will be available for takeaway at The Deli from Dec 1 to 26, 2018. Advanced orders of five days are required.
A Spicy Affair
Mercure Hotel Singapore Bugis is bringing back its 7-Spices Turkey with Homemade Chilli Sauce this Christmas season. Putting an Asian twist to this turkey dish, the succulent meat is marinated for 24 hours with seven aromatic Peranakan spices. Pair it with the specialty chilli sauce for a spicy punch.
This will be available at the Santa's Christmas Circus Festive Buffet from Dec 10 to 23 and Dec 26-30 at $48++ per adult (Lunch) and +68++ (Dinner). Click here to book a table.
Kampong Turkey
Making a comeback this year is the Nasi Lemak Christmas Turkey from The Fullerton Hotels Singapore, served with fragrant coconut rice, crispy ikan bilis, onion sambal, egg and cucumbers on the side. This will be available at Fullerton's Charity Buffet Dinner, priced at $98 per adult where $25 from each diner will be donated to Reach Community Services. 'Tis the season to give!
The Nasi Lemak Turkey is also available for walk-in purchases or collection at the Fullerton Boutique. Advance orders can be made via https://shop.fullertonhotels.com.
Sweet & tangy
Mariott Tang Plaza Hotel is debuting its Lavender Roast Turkey with Orange, Apple & Cinnamon Stuffing this Christmas. Think fruity, florally, and savoury flavours combined into a single bite. This yuletide pièce de résistance is available for take away and is bound to be a winner at the dinner table this holiday season.
This takeaway special is available for $198 nett and has to be pre-ordered at least three working days in advance.
On a grand scale
Enjoy a grand feast with the Le Grande Fête – a honey slow-roasted turkey – from Sofitel Singapore City Centre. Weighing in at 6kg, this succulent masterpiece is a signature of executive Jean-Charles Dubois, who has kept the French culinary traditions while preparing this dish.
The Le Grande Fête is available in a five-course feast throughout the month at Sofitel's Racines for $98++ per person. It is also available for take-away at $138+.
A very German Christmas
As this is the season to share, Brotzeit is serving its Christmas Platter that has a bit of everything and something for everyone. Expect a large serving platter with honey-baked Christmas ham, venison and veal sausages, oven-roasted pork roulade, and Brotzeit's signature oven-roasted crispy pork knuckle, served with a side of truffle mash and winter vegetables.
The Christmas Platter serves up to six people and will be available at all Brotzeit outlets till Jan 2, 2019.
The classics
Celebrate a traditional yuletide at Novotel Singapore Clarke Quay with its mouth-watering buffet spread, which includes the classic Roasted Turkey with Cranberry Sauce, Salt Crusted Sea Bass, Roasted Beef Strip Loin with Grain Mustard Sauce, Roasted Lamb Leg with Rosemary Sauce and the must-try Roasted Honey Baked Ham with Pineapple & Orange Herb Sauce.
The festive lunch and dinner buffet will be available at The Square Restaurant, located at the 7th floor. Make a reservation here.
Nyonya flavours
Not a fan of turkey? York Hotel is introducing the Roasted Kapitan Chicken in this year's list of festive goodies. Inspired by Peranakan cuisine, the chicken is coated with flavourful rempah (spiced paste) before it is roasted to perfection.
Purchase the whole chicken at $50 nett or as part of the EZ Festive Party Pack for $150 nett, which comes with Romaine and Kale Salad with Pomegranate and Apple; Baked Baby Potatoes with Oregano, Butter, and Garlic; as well as Sautéed Seasonal Vegetables with Smoked Duck. Available for takeaway at the White Rose Café from Dec 1, 2018 to Jan 1, 2019. Closing date for orders is Dec 28, 2018.
Beef up
Be spoilt for choice at Pan Pacific's award-winning Edge, which will spot seven live stations this festive season. At the carving station, be sure to grab some Pineapple Glazed Bone-in Gammon Ham with Honey and Clove and Oven Roasted Mustard Angus Striploin.
Enjoy the Festive Lunch (excluding Sundays) for $62 per adult from Nov 12 to 30, and $75 from Dec 1 to 23. Or opt for the Festive Dinner from Nov 12 to Dec 30 at $98 per adult from Sunday to Tuesday, and $108 from Wednesday to Saturday.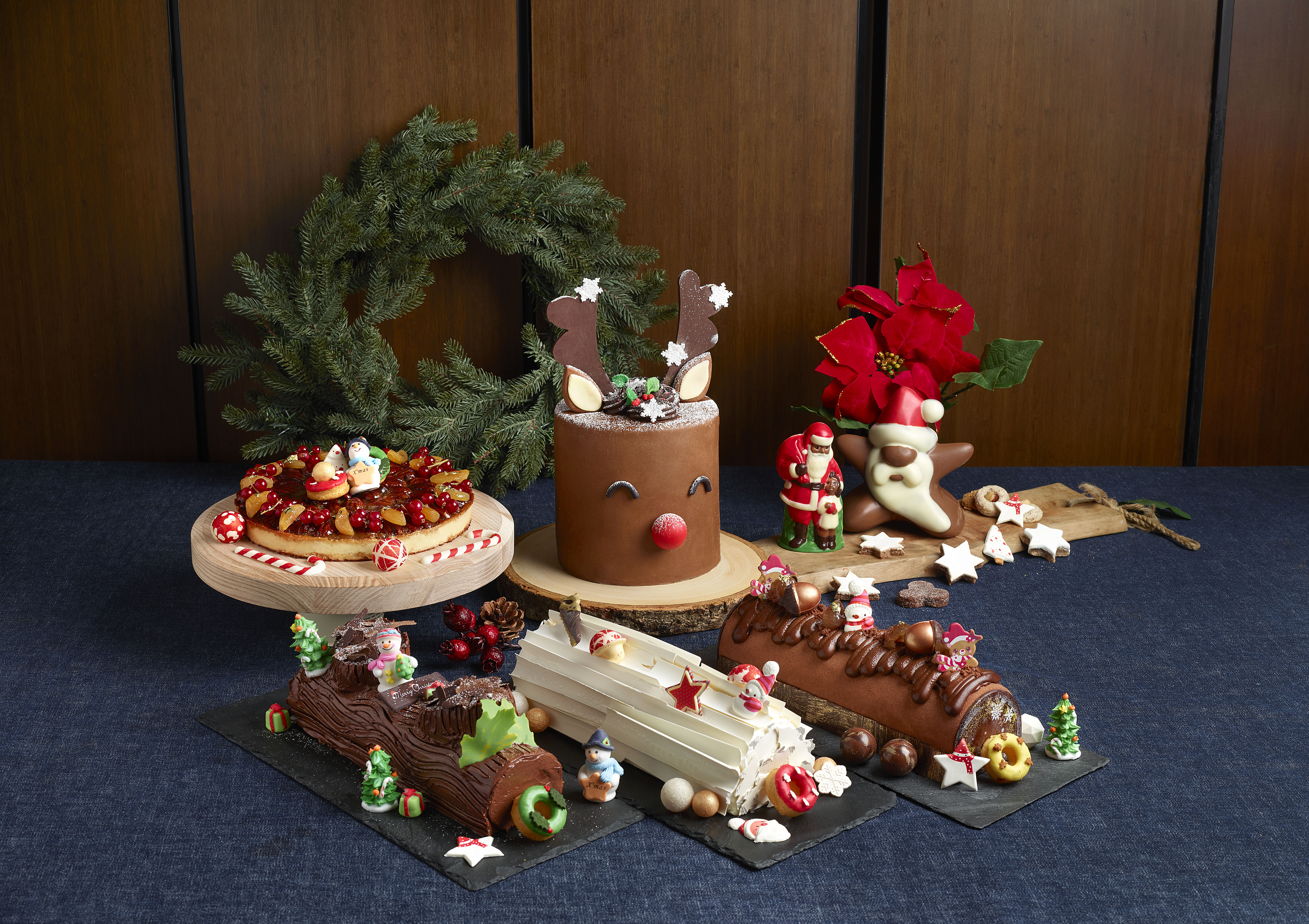 Sweet Tidings
Shophouse, Shangri-La Hotel Singapore, has some sweet year-end offerings. Sink your teeth into their signature French Yule log cakes, such as the All Time Favourite Grandma Yule Log Cake, as well as the Chendol, Coconut and Red Bean for a local twist. Also not forgetting other Christmas treats, such as Gingerbread Chalet, Minced Meat Pie and Christmas Pudding.
Available at Shangri-La's Shophouse located at Tower Wing Lobby level.