Singapore is one of most exciting cities in Asia for food, with a culture that embraced Chinese, Malay and Indian influences long before it got around to discovering the culinary delights of France, Italy and the rest of Europe. As a dining destination, Singapore has it all: From the grand dining rooms of luxury hotels through restaurants serving the freshest of seafood to tiny hawker stalls where you balance on a plastic seat to enjoy dishes that pack a dizzying punch.
You are unlikely to see Donald Trump and Kim Jong Un getting to grips with chili crab, but it is extraordinary that a city that can appear so clean and ordered is home to a riot of big dirty flavors and food that demands you get your hands greasy. We asked leading chefs from New York, Los Angeles, London, Hong Kong and Singapore where they most like to eat. Some picks were obvious—such as the famed No Signboard Seafood—so here are the rest of their selections.
Ah Lim Jalan Tua Kong
This local noodle shop is the pick of Drew Nocente, the Australian-born executive chef at Salted & Hung in Singapore. "My wife and I go there every Sunday for dinner," he says.  "They make really good noodles: They are nice and springy and cooked perfectly. The old guys there look after you once they get to know you." Favorite dish: Mee Pok pork noodles. 
64 Joo Chiat Place, 427786; +65 8699 3474
Bacchanalia
This contemporary European restaurant is the pick of London-based chef Tom Aikens, of Tom's Kitchen. Australian-born Luke Armstrong holds a Michelin star for his light, seasonal cooking from an open kitchen. "Luke used to be one of my chefs and I love his food," Aikens says. Favorite dish: Japanese fruit tomato with elderflower cream and a "gazpacho" broth. 
39 Hongkong Street, 059678; +65 6909 6360.
Beng Hiang
This Hokkien restaurant is the pick of Max Ng, executive chef at Momofuku Ssam Bar in New York. "The restaurant reminds me of the many family gatherings at my grandmother's place when she used to cook," he says. He likes to order the Fish Maw Thick Soup with Crab Meat and the Spiced and the Fried Oysters With Egg omelet. Favorite dish: Traditional Hokkien Noodles. 
Block 135 Jurong Gateway Road #02-337, 600135; +65 6221 6695.
Boon Tong Kee
Spanish chef Joan Roca, whose El Celler de Can Roca in Girona is a two-time winner of the World's Best Restaurant award, is a fan of Singapore dining in general, and this Cantonese restaurant in particular. "Singapore has a fantastic fine-dining scene but on my last visit, I found myself enjoying the best chicken rice in this quiet place," he says. "Simplicity can also be excellence." Cedric Vongerichten of Perry St restaurant, New York, says it's his first stop from the airport for lunch. Favorite dish: Chicken Rice. 
199 East Coast Road, 428902; +65 6478 1462.
Burnt Ends
Famed for his no-holds-barred approach to live-fire cooking, chef Dave Pynt employs wood-fired ovens and custom-made grills to prepare smoke-enhanced vegetables, seafood and meat. Nancy Silverton of Osteria Mozza in Los Angeles adores the place. "Burnt Ends adds so much to the city's food scene," she says, and recommends sitting at the long counter which offers a front row view of the roasting and grilling.  Favorite dish: Burnt Ends' Sanger, a crispy pulled pork sandwich with chipotle aioli on a brioche bun. 
20 Teck Lim Rd., 088391; +65 6224 3933.
Candlenut
Chef Malcolm Lee holds a Michelin star for his modern interpretation of Peranakan cuisine at Candlenut. Singapore chef Wayne Liew of 
Keng Eng Kee
 Seafood restaurant admires the way Lee refines the cuisine. "The rendang spices has the perfect ratio, giving the dish an in-depth but not overpowering flavor, while retaining the tenderness of the beef." Favorite dish: Beef rendang. 
17A Dempsey Road, 249676; 1800 304 2288 (Local calls only).
Cure
This is a modern and friendly neighborhood restaurant from Butcher Boy's Andrew Walsh. It's the pick of French-born chef Julien Royer of Odette, in Singapore. "I love how the food is refined, yet they've kept the experience very casual and comfortable," he says. London-based Tom Aikens in another fan. "Andrew is a great cook," he says. Favorite dish: Poached seabass, artichoke, olive. 
21 Keong Saik Road, 089128; +65 6221 2189.
Foong Kee Coffee Shop
This unpretentious cafe is known for serving some of the best Chinese noodles and roast meats in town. It is a favorite of chef Jason Tan of Corner House in Singapore, who admires the crispness of the roast pork and of the sauce they serve with it. Favorite dish: Char Siu. 
6 Keong Saik Road, 089114; +65 9181 1451.
Heng Heng Bak Kut Teh
This casual and inexpensive restaurant is a favorite of chef Alvin Leung, who holds three Michelin stars at Bo Innovation in Hong Kong. "You start with a steamed fish and finish with the pork rib soup," he says. "Regulars bring their own tea leaves, and Chiu Chow style tea pots and cups are provided. Favorite dish: Pork rib tea Bak Kut Teh. 
107 Owen Road, 218914; +65 6292 4913.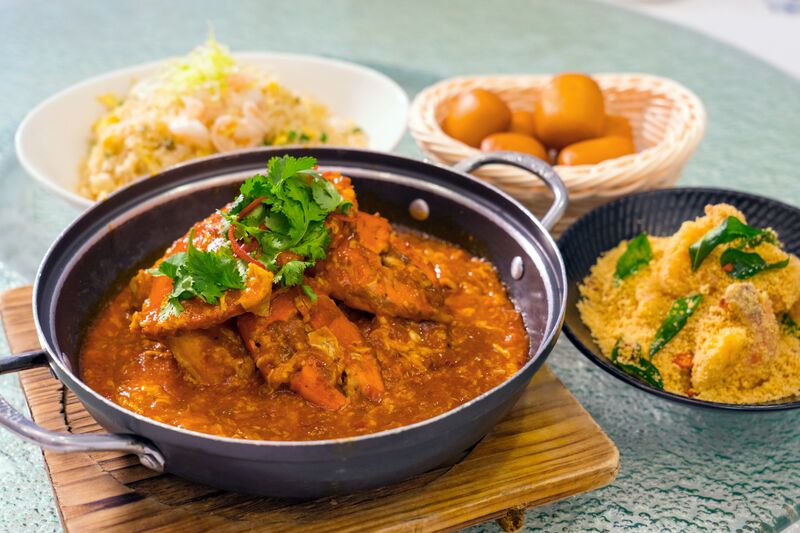 Chili crab and other dishes at Jumbo Seafood restaurant, which has been picked as the best in Singapore. 
Jumbo Seafood
This restaurant chain is famed for its chili crab, which has won an award as the best in Singapore. "It's fresh and delicious," says Cedric Vongerichten of Perry St in New York, who enjoys dinner at the Dempsey outlet. "I can't wait to go back." 
Block 11 Dempsey Road #01-16, Dempsey Hill, 249673; +65 6479 3435.
Keng Eng Kee Seafood
This is a favorite of Momofuku Ssam's chef Max Ng, who says the family that runs KEK champions classics  such as chili crab and also serves newer dishes such as coffee pork ribs. One of their more innovative dishes is the Mingzhu Roll, a beancurd sheet that is used to wrap a roll of ham, shrimp, shiitake mushrooms and salted egg yolk slices. Chef Malcolm Lee of Candlenut is another fan. His favorite dish: Claypot Pig Liver. 
Blk 124 Bukit Merah Lane 1 #01-136, 150124; +65 6272 1038.
Lao You Ji Fishhead Steamboat Seafood Restaurant
This Chinese restaurant stays open until 5 a.m. so is popular with chefs, including chef Liew of Keng Eng Kee. The menu features fresh seafood and simple stir-fry dishes. Liew enjoys the fried rice more than his own. Favorite dish: Deep fried luncheon meat. 
245 Outram Rd, 169046; +65 6221 5280.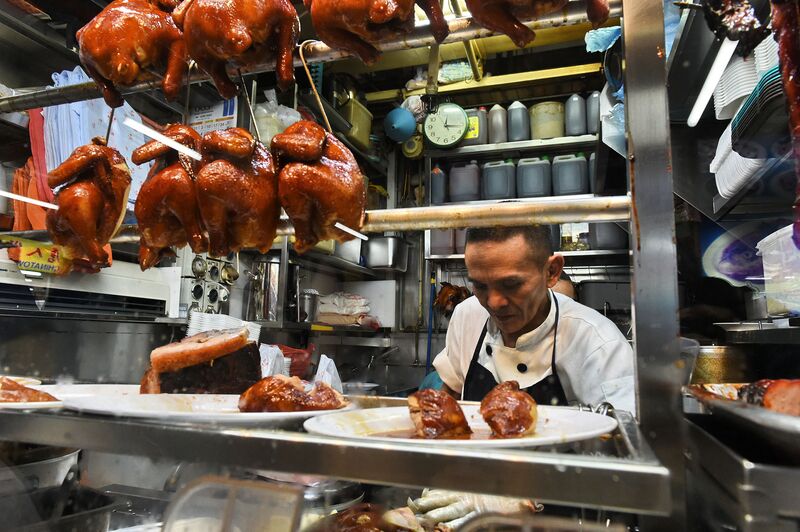 Chan Hon Meng prepares meals for customers at his Hong Kong Soya Sauce Chicken Rice and Noodle stall.
Liao Fan Hong Kong Soya Sauce Chicken Rice & Noodle
The owner of this stall, Chan Hon Meng, is seeking at least S$2 million (US$1.5 million) for the recipe for his soya sauce chicken. London-based cookbook author and TV chef Ching-He Huang says it is exceptional. "I've never had a bird so good," she says. 
78 Smith Street, 058972.
Maxwell and Newton Food Centers
Chefs love the street food of Singapore. Newton Circus is the pick of restaurateur Bobby Chinn. "Having lived in Singapore, I was directed to eat certain dishes at certain places like, the chicken & rice dish at Maxwell (Food Center), or the fish soup at Newton Circus. I also make my way down to the Geylang red light district that has some of the best char kway teow and  frog porridge I have eaten anywhere." Maxwell is the pick of TV personality and cookbook author Gok Wan. Chef Vineet Bhatia is another fan of Newton Circus. Favorite dish: Sambal Stingray.
Newton: 500 Clemenceau Avenue North, 229495. Maxwell: 1 Kadayanallur Street, 069184
Odette

(Main image: Scallop 'Au Naturel' at Odette, which has two Michelin stars.)
This modern French restaurant in the National Gallery holds two Michelin stars and also places fifth in Asia's 50 Best Restaurants awards. "Julien Royer is a fantastic young Frenchman who is driving to be one of the best chefs in Asia," says New York-based chef Daniel Boulud of Daniel. Favorite dish: "The tasting menu is sheer perfection." Mauro Colagreco of Mirazur in the south of France is also a fan. "It's the best fine dining in the city," says Colagreco. Favorite dish: Lemon and basil tartlet. 
1 St Andrew's Road #01-04, 178957; +65 6385 0498.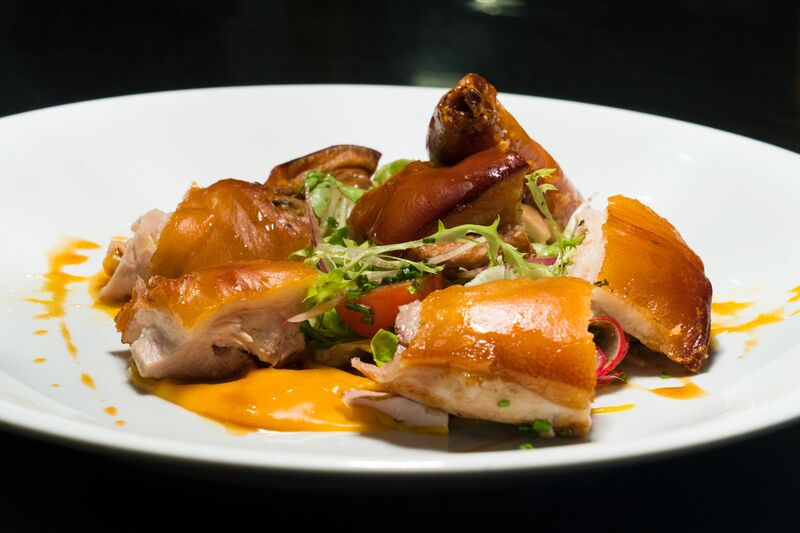 Suckling pig at OLA.
OLA Cocina del Mar
Peruvian chef Daniel Chavez serves Spanish dishes, and Peruvian specialties, too, at this casual restaurant. It's the pick of Singapore-based chef Bjorn Shen of Artichoke. "Daniel rocks all the classics of Spanish food, plus a killer range of ceviche," he says. Favorite dish: Suckling pig. 
Marina Bay Financial Centre Tower 3, 12 Marina Boulevard #01-06, 018982; +65 6604 7050.
One Kueh at a Time
This hawker stall is another pick of Colagreco, whose Mirazur ranks No. 4 in the world. "This is a small, family restaurant with homemade food where everything is done by hand with a lot of love," he says. "It is probably one of the best dumplings I have ever eaten in Asia, refined and with a lot of creativity." Favorite dish? Dumplings. 
#02-61 Berseh Food Centre, 166 Jalan Besar, 208877; +65 9795 6119.
Shirokane Tori-Tama
This yakitori restaurant is recommended by Michelin among others. It's the pick of London-based chef Vivek Singh of the Cinnamon Club. "I absolutely love this place," he says. It serves more than 20 different chicken cuts, cooked over a charcoal grill.
Favorite dish: Chicken. 11 Unity Street, Robertson Walk,  237995; +65  6836 5680.
Song Kee Fishball Noodle
This is the pick of Singapore chef Willin Low, whose Wild Rocket restaurant is among the best in Asia. This hawker restaurant, a longtime favorite, opened at its current Joo Chiat location last year. Favorite dish: Herh keow fish dumplings and fishball noodles. 
128 Tembeling Road, 423638; +65 9336 2745.
Sin Hoi Sai
This seafood restaurant has been around since 1984, an age in Singapore years. Dave Pynt, the chef and owner of Burnt Ends, is a regular. "I love being able to go after work when the weather is lovely, sit outside with friends and family, drink cold beer and eat delicious food," he says. Favorite dish: Chili crab or black-pepper crab, or possibly the "addictive" fish skins. 
Block 55, Tiong Bahru Road #01-59, 160055; +65 6223 0810.
Summer Pavilion
This one Michelin star restaurant at the Ritz-Carlton hotel is the pick of Violet Oon, widely recognized as the grand dame of Singaporean food. "You are truly embedded in a pavilion surrounded by verdant greenery of the Chinese classical garden style," she says. "The interior is luxe and the food, equally luxe, boasts of a lightness of textures and flavors that bring out the quality of the natural ingredients." 
7 Raffles Avenue; +65 6434 5286.