With new CEO Jérôme Biard at the helm, Corum is re-energising its brand through bold new pieces and strategic partnerships with creative mavericks.
SINGAPORE (Mar 26): What do skulls, Steve Aoki and Switzerland have in common? Corum watch: The world-renowned DJ collaborated with the Swiss watchmaker when the latter relaunched its Bubble collection two years ago.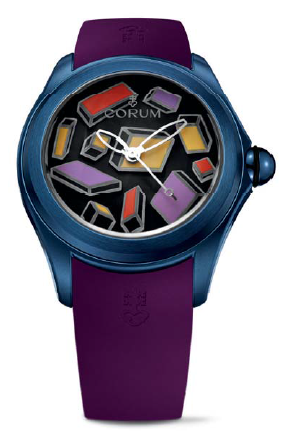 First introduced in 2000, Corum's Bubble watch became an instant brand signature, thanks to its high sapphire crystal dome that magnified the dial to playful and fun proportions. The Bubble dial was soon appropriated as a canvas for prolific creatives who were given total freedom of artistic expression, and subversive icons such as skulls, The Joker and even the devil himself came to possess the dials — an element of surprise that the world of luxury unexpectedly embraced. Aoki's limited-edition excursion, sketched while in Spain's Ibiza, was comparatively placid, featuring Cubist-inspired three-dimensional geometric motifs. But Corum's latest collaboration with American artist Matt Barnes jumps back into enfant terrible territory, with a terrifying clown staring out from the 52mm face of the Bubble Clown.
For a niche brand that produces only 10,000 watches a year, the Bubble is the collection for Corum that clearly nets the brand headlines with its astute alliances and occasional shock factor. "The most exciting aspect for me is to develop the brand through its products. The Bubble brings fresh air and is in line with our strategy to try and catch younger customers," says Jérôme Biard, in his newly minted role as CEO since September 2017. Biard inherits the reins from former CEO Davide Traxler, who has been credited with Corum's turnaround and first year of growth in 2016 after a decade-long drought. Corum's struggles over the past 10 years are the stuff of modern legend. Founded in 1955 by watchmaker René Bannwart and his uncle Gaston Ries, Corum found early success when it introduced a watch made out of a $20 gold coin. In 2000, the brand was bought over by Severin Wunderman (known for creating Gucci watches and who was responsible for bringing the Bubble into the world). Wunderman passed away in 2008 at the age of 69 and two years later, on the eve of the jubilee year for Corum, its founder Bannwart died at 95.
The company has had trouble regaining its footing since, reportedly bleeding millions every year until it was purchased in 2013 by the China Haidian Holdings group, now called Citychamp Watch & Jewellery, for which Biard is also executive director of its European Board. Biard's main priority right now is, of course, to get Corum back in the black, which he aims to achieve by 2019. On his vision for the brand, Biard says: "We need to continue to be a creative brand, to be out of the box, and be different from others. For me, Corum products are key. Marketing, not so much." This is ironic, given Corum's chief marketing strategy centres around its partnerships with creative geniuses from the worlds of music, art, photography and film such as Aoki and Barnes, as well as Cuban-born, American-based artist Nelson de la Nuez, known as the King of Pop Art, and young Paris-based photographer Juliette Jourdain, both of whom have been inducted into the Bubble hall of fame with their inspired creations for Corum. "When you have less money, you have to find out the best way to do something," Biard explains. And the best way, for Corum, is always the creative way. "Our motto is 'Craft your dreams', so we need to have people who have a dream and have made that dream come true. It can be a football player or an engineer, but they have to be interesting and have personality," says Biard. As a brand intent on eschewing the typical, Corum selects ambassadors with niche appeal rather than celebrities with mass following. They are masters of their domain, such as Joachim Horsley, a name that may not ring familiar but whose work you would have probably unknowingly encountered.
Horsley has composed over a million scores for DreamWorks productions, arranged songs for Michael Bublé and John Legend, and his You- Tube channel for his own arrangements have registered a record-breaking 10 million hits in six months — a feat unmatched by any other solo pianist. "To reinterpret Beethoven's 7th Symphony with a Cuban-inspired arrangement and rack up 10 million views in six months is no mean feat. It goes to show that one can break boundaries with a classical background while taking an audience to new, previously unexpected horizons," observes Biard.
And the new Golden Bridge Joachim Horsley is fashioned in exactly the same spirit. This limited-edition addition to Corum's Golden Bridge collection is the first Corum watch to feature a metallic decoration on its sapphire caseback, depicting an extract from the original score of Beethoven's 7th Symphony. Collectors can even co-create their own Golden Bridge model (characterised by a linear gear movement that appears to float mid-dial and a crown unconventionally placed at six o'clock), as the metallic sapphire caseback can also be personalised to feature a different score, motif, wording or a coat of arms. For the special Joachim Horsley edition, Corum also teamed up with Swiss music box maker Reuge to create a specially designed presentation case, which will play three of the melodies personally arranged by Horsley — compositions by Bach, Mahler and Beethoven reinterpreted as rumbas or with Cuban-inspired beats — while the classical piano sitting above the box houses the timepiece. "It was a natural partnership; an ode to creativity, to non-conformism, and to celebrating new possibilities," offers Biard.
Another interesting collaboration, harnessing creative energy tinged with a subversive streak, is the new Corum Hobo Coin, featuring a dial engraved with skull-and-dragon motifs, with the mechanical movement sandwiched in between. Talented New York-based Russian artist Aleksey Saburov was present at its launch at Baselworld last week to showcase the disappearing artform of engraving the coin dial "live" for visitors to Corum's booth at the fair.
While these collaborations work hard for Corum in lieu of the marketing dollars the brand lacks, it is the sailing-inspired Admiral collection that has sold more pieces for the brand, which has been long associated with the sport. Corum's Admiral's Cup watch (it has since dropped "Cup" from the name) was introduced in 1960, three years after the first Admiral's Cup race was held. And last year, Corum partnered with Iguana Yachts, the French visionary manufacturer of amphibious boats — a relationship that was solidified at the 40th Cannes Yachting Festival. The 63-year-old brand has indeed carved for itself a niche among Swiss watchmakers that boast legacies stretching back hundreds of years, through its distinctively diverse watch collections and strategic partnerships where creativity and audacity are the common thread binding them all. "We have to be proud to say Corum is not Rolex, it's not Patek Philippe, but it's a very beautiful brand," Biard says. His candour is refreshing, evoking the audacious spirit of the brand. He adds: "Our marketing director is not your typical [marketing director from a fast-moving consumer goods brand]; he is an artist, a sculptor. I like this kind of profile." Biard himself comes to Corum from LPI (Weitnauer Group), a luxury watch and lifestyle distribution company specialising in the Russian, Turkish and Brazilian markets, where he was CEO from 2009. He was managing a team of over 150 people spread across 50 companies under the group, which also has businesses in perfume, cosmetics, alcohol and fine food in emerging markets. Prior to this, Biard clocked a four-year stint as international sales director for Girard-Perregaux. And before that, 16 years of the watch industry veteran's 25-year career were spent at Richemont, in sales and marketing for Vacheron Constantin and Cartier. Managing a boutique-sized brand is quite a departure from working in a big group with lots of protocols and greater financial muscle. On the different dynamic, Biard observes: "It's nice and beautiful; I can go deep with more freedom in terms of products, marketing and communications." He intends to stick to Corum's product policy, but develop it in a more "precise and deeper way". In terms of day-to-day management, he says: "I have good people, so I give them more freedom to make their own decisions. I don't want to be babysitting; I already have five kids, I don't want to start again," says the 50-something CEO with a laugh. Despite its Chinese ownership, Corum continues to be based in Basel, with about 70 staff at its La Chaux-de-Fonds headquarters. Biard certainly has an arduous task ahead of him in getting the company back on its feet. "My way is sharing with my team and making sure that we listen to the market and don't stray too far from the vision — more discussions, more sharing together and more listening, perhaps," he says. He is enthusiastic about 2018: "Yes, we are optimistic. We made last year the best-ever year for Asia, China and Southeast Asia. The team has been working hard for many years and we are now beginning to see the fruits." Hong Kong is Corum's best-performing market today and he discloses, almost apologetically, that Malaysia is doing better than Singapore for the brand. The work ahead now, he says, is to get Europe and the US back up on track. Corum will soon be re-entering Russia after a two-year hiatus and then the US is next: "We used to have a strong market presence in the US, so brand awareness is there." The new distribution strategy will focus on retailers instead of opening and operating Corum's own boutiques. Citing the shuttering of Corum's Miami boutique as an example, he says: "We have to know our strengths and not be over-dreamers because that kills us." According to Biard, the China-owned brand is "not at all strong in mainland China", with no point of sale in Shanghai or Beijing. Where is Corum available in China, then? "I don't have an answer for that right now," he laughs. He does say, though, that if Corum were to open a boutique in Beijing or Shanghai, it would be "in a very exclusive spot". As for the other question currently on everyone's minds: Can Corum regain its lustre after a decade of misfortunes and missteps? With Biard at the helm, the answer to that appears to be a "yes".
---
Jamie Nonis is a lifestyle journalist with an appreciation for all things beautiful