Sincere Watch Academy has returned, offering lectures and hands-on sessions for those who want to learn more about timepieces
SINGAPORE (May 7): The watch community in Singapore will be pleased to know that the Sincere Watch Academy has reopened after a hiatus of seven years. The academy was started by Sincere Fine Watches 15 years ago to enhance the knowledge of watch enthusiasts. By imparting the information on the many brands it represents, it aimed to inculcate in clients a deep appreciation for fine watches and how they were made.
The recent session was done in partnership with Armin Strom, an independent Swiss watch brand known for the complication, "Resonance". Guests were treated to an engaging lecture and hands-on session by Claude Greisler, technical director of Armin Strom and inventor of the Mirrored Force Resonance. "Students" had a chance to try their hands at straight graining and simple assembly, which are part of the basics of watchmaking. According to David Ang, regional managing director of Sincere Fine Watches, the academy aims to be a "platform to educate watch collectors on the niche and unique propositions of different brands, to continually engage them with new insights and to further develop their understanding and appreciation of the intricacies of
watches and watchmaking". He added that "a common ground is established, to unite watch enthusiasts through horology and for them to enjoy an experiential horological journey".
Sneaker girl
The Sonnie sneaker by Chloè is for the woman who is always embarking on new adventures. She can comfortably do that in her Sonnie sneakers, which have a sloped silhouette and a split bi-colour sole. There is a choice of high-top or classic running style.
Burst of energy
The splendid sunburst pattern — an evolution of Audemars Piguet's signature Tapisserie design — appears for the first time surrounded by the platinum case of this timepiece, one of the three new Royal Oak Tourbillon Extra-Thin models.
Walk with Hermès
Hermès has unveiled its home collection, A Walk in the Garden, which features designs by author and book illustrator Nigel Peake. Inspired by the beauty of English gardens, the collection comes in bright orange, leaf green, buttercup and Prussian blue.
Drink for charity
SOMA offers clean drinking water through its eco-friendly designer water-filtration pitchers and carafes. The biodegradable filter is made of coconut shell carbon, silk and plant-based casing. A portion of the proceeds from the sale of each SOMA product goes to charity:water, an organisation that provides safe drinking water to some 660 million people in the world.
The Legacy continues
MB&F and independent Irish watchmaker Stephen McDonnell have reinvented the most traditional of horological complications: the perpetual calendar. The result is the Legacy Machine Perpetual, which has an in-house movement. First launched in 2015 in red-gold and platinum editions, and then in two white-gold editions, the LM Perpetual is now presented in a titanium case in a limited edition of 50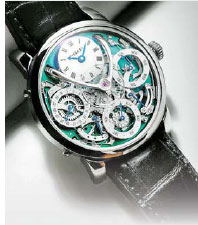 pieces. It features a fully integrated 581-component calibre with a revolutionary new system for calculating the number of days in each month. Holistically reinterpreting the aesthetic of the perpetual calendar by placing the full complication on a dial-free display underneath a suspended balance, its complexity has been simplified. Other features include hand finishing, polished bevels, Geneva waves and hand-made engravings.
This article appeared in Issue 829 (May 7) of The Edge Singapore.
Subscribe to The Edge now