SINGAPORE (Mar 27): As Uber Technologies Inc. looked to conquer ride-sharing around the world, Grab was focused on serving the 620 million people that share its home in Southeast Asia. Helped by the deep pockets of SoftBank Group Corp., Grab emerged the winner on Monday when Uber agreed to swap its business in the region for a 27.5% stake. The deal is a vindication for co-founder Anthony Tan's strategy of tailoring services to local needs and working with incumbent taxi operators instead of against them. With US$4 billion ($5.2 billion) raised from investors led by SoftBank, Tan has turned Grab into a ride-hailing juggernaut since it was born in a tiny Kuala Lumpur storage room about six years ago. Rich funding has helped him lure top talent and survive through the losses generated by a fierce battle with Uber to win over customers. Now the 36-year-old Harvard grad, who spurned the family's automotive empire in Malaysia to strike out on his own, has emerged stronger as he turns to his other significant competitor in the region, Indonesia's Go-Jek. "Anthony is a great leader, someone that I've learned a lot from," said Jeremy Kranz, head of the technology investment group at GIC Pte, Singapore's sovereign wealth fund.
The deeply religious Tan, who still attends Bible study classes, started Grab in his native Malaysia. With Harvard classmate Tan Hooi Ling, he kicked off operations for what was then known as MyTeksi in Kuala Lumpur, allowing users to book cabs. Grab later relocated to Singapore and now provides a host of services from Indonesia to Vietnam and the Philippines. The company is valued at US$6 billion by CB Insights, making it the most valuable startup in Southeast Asia.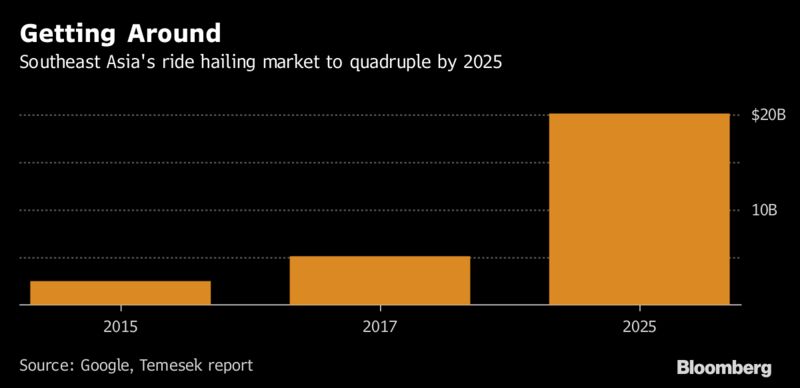 Along the way Grab has been picking up talent, from engineers to product developers, as its funding helped woo them from household names in the technology world. "In Southeast Asia, one of the most difficult things to build is tech talent," Tan said at the Money 20/20 conference this month. "We've been able to build tech talent from Google, Facebook, Twitter, Microsoft. We've been very blessed. With that, we could build great products." That includes Ming Maa, a former executive at Goldman Sachs Group Inc. and SoftBank, who was hired as group president in 2016 and oversees Grab's fundraising, mergers and acquisitions and other strategic issues. Still, it's not a clean victory. Go-Jek remains a potent rival, particularly in Indonesia as it moves beyond just ride-sharing to real-world service such as food delivery and hairdressers on demand. Also, the US company is getting a bigger slice of Grab than it did when it sold out in China. Uber got less than 18% of Didi Chuxing in that deal, although it did get 36.6% of Yandex when it retreated from Russia. To some, Grab's victory may also have been the result of pressure from SoftBank to consolidate a global ride-hailing empire and whittle down billions of dollars in losses.
"After investing US$700 million in the region, we will hold a stake worth several billion dollars and strategic ownership in what we believe will be the winner in an important global region," Uber CEO Dara Khosrowshahi said in a message posted on its website. While Tan is the rare CEO to credit his success as part of God's plan, others see more terrestrial reasons behind his rise. "A lot of guys have the ability to succeed, but it's people like Anthony who end up winning," said Amit Anand, managing partner of Jungle Ventures in Singapore. "He comes from the ground up, and he never forgot what got him there, versus people who never had to hustle." As the company expanded, it tailored services for new markets. For Indonesia, it operates GrabBike in a country where many are comfortable traveling on a two-wheeler. In the Philippines, where Uber got into fights with regulators, Grab adopted a more cooperative approach. "In online businesses, we would have expected big global players to dominate due to their scale of operations," said Lawrence Loh, associate professor at National University of Singapore. "Uber's sell-out suggests that the pendulum has swung towards the importance of business localization." Grab has also been effective at keeping its customers. Its reward program lets riders accumulate points that can be redeemed for everything from KrisFlyer miles, the frequent flier program of Singapore Airlines, as well as free rides to a Big Mac. In Indonesia, customers can cash them in for durian, the stinky fruit that's popular in the region. "Grab has done a great job building those proprietary linkages that make consumer experience more sticky, more consumer-centric," Anand said. "Today, every great company has access to technology, people and capital. What keeps you ahead of the game is building those linkages that are difficult for other people to replicate."