SINGAPORE (Jan 29): Industrial property rents have been drifting lower in the last 24 months. This has been reflected in the results reported by four industrial real estate investment trusts since the start of the year. Their net asset values per share have fallen, from 6% y-o-y for
ESR-REIT
to as much as 11% for
Soilbuild Business Space REIT
(see table). Industrial properties owned by REITs are valued based on cash flow and future rental assumptions. The declines in NAV are no surprise, since industrial rents have fallen in line with JTC's rental price index. This stands at 99.1 in 3Q2017, down from 140 in 1Q2014. The chart shows the decline in the industrial rental index since it reached a plateau in late 2012.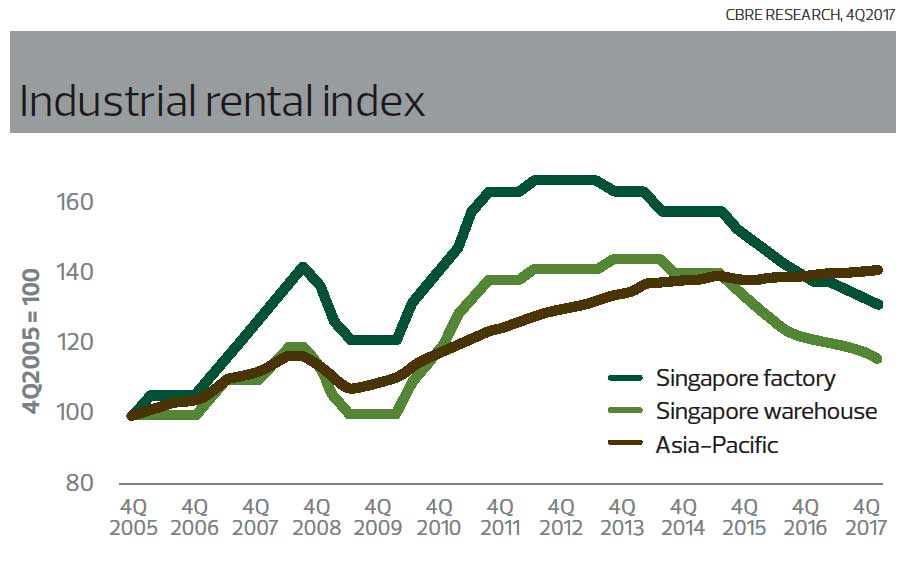 To continue reading,
Sign in to access this Premium article.
Subscription entitlements:
Less than $9 per month
3 Simultaneous logins across all devices
Unlimited access to latest and premium articles
Bonus unlimited access to online articles and virtual newspaper on The Edge Malaysia (single login)