SINGAPORE (Mar 17): This could be as bad as 2008 -- if not worse. Afraid of the ramifications of the coronavirus outbreak, investors across the globe have been dumping stocks, with no end in sight. For Asia, some see equities slumping more than the 60% plunge during the global financial crisis. With no cure available for the deadly virus and a global economy already set to slow down, the situation is very different from that in 2008, a crisis largely seen as a U.S. export. The mood in markets has distinctly soured in the past week, even as authorities slashed interest rates and introduced stimulus measures. The pandemic, which has already infected more than 174,000 people globally and killed 7,000, has brought entire countries under lockdown and disrupted global supply chains. "For businesses, every counterparty is a potential failure in the network of supply and demand," said Rainer Michael Preiss, chief equity investment officer at the Global CIO Office in Singapore. "The re-pricing of assets will be faster and more severe than many still currently anticipate or think is possible."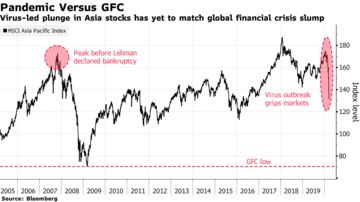 Tuesday brought with it more declines for the MSCI Asia Pacific Index, after its worst week since October 2008. The gauge has already lost more than 25% from a high in January and is trading at its lowest level since July 2016. In recent weeks, the region's markets fell into bear territory one after another. "2020 could potentially be more difficult since we have a distributed problem instead of an isolated one," said Bryan Goh, chief investment officer of Tsao Family Office in Singapore. A 50% slide from the peak "is possible" since "asset prices were inflated" before the correction, he added.
Policy Limits
Goh questioned the effectiveness of monetary-policy intervention in supporting economies during the current crisis, a view echoed by other investors. The Federal Reserve's move to slash its key interest rate by a full percentage point to near zero over the weekend failed to stem declines, while containment and stimulus measures announced by several countries elicited a similar reaction. "The question to ask is: Will the number of infections rise further? And the answer is yes," said Ruchir Desai, a fund manager at Asia Frontier Capital Ltd. "Will this lead to significantly lower economic activity in the next few months? The answer to that is also yes." In China, the epicenter of the outbreak, the repercussions were even worse than analysts had forecast. Industrial output, retail sales and fixed-asset investment all plunged more than 13% in January and February as much of the economy came to a halt. Now, businesses are restarting domestic operations, but the world's second-largest economy faces an export slump as the rest of the world is shutting down to fight the virus. Some investors say Asia's market rout won't deepen to 2008 levels. "You don't have a liquidity crisis in Asia today, our fundamentals are strong," and lower oil prices are giving investors solace, said Kelvin Tay, Asia Pacific chief investment officer at UBS Group AG's wealth-management unit. The firm recommends to pick stocks selectively and favors China's tech companies.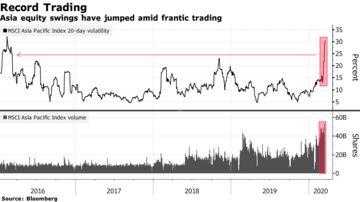 But in the meantime, the rapidly escalating global health crisis and lack of data transparency are exacerbating investors' fears. "I feel like there's something really serious in the U.S., something that has made the Fed cut the interest rate by a full percentage point," said Jeon Kyung-dae, chief investment officer for equities at Macquarie Investment Management Korea. "U.S. policy makers may be watching risky signals in the economy that we can't see." In addition to the Fed, central banks in Europe, Japan, Korea and Southeast Asia have announced measures to support the economy. So far, that hasn't prevented further stock losses, and the Philippines took the decision to shut its equity, bond and currency trading. "We need to see a selling exhaustion point and policy action like 2008," added Justin Tang, head of Asian research at United First Partners in Singapore. "But this time, the market is looking for some sort of big-bang fiscal stimulus. Nobody can call a bottom precisely."