SINGAPORE (Aug 2): Singapore lags most financial hubs when it comes to gender diversity on corporate boards, so much so that a government-backed group has started calling out companies with no female directors. The strategy is working. Two years ago, after discovering 38 of Singapore's 100 biggest companies had entirely male boards, the Diversity Action Committee began a well-publicized biannual ranking of firms based on gender representation. The result: the number of corporations with no women on their boards fell to 27 by the end of June.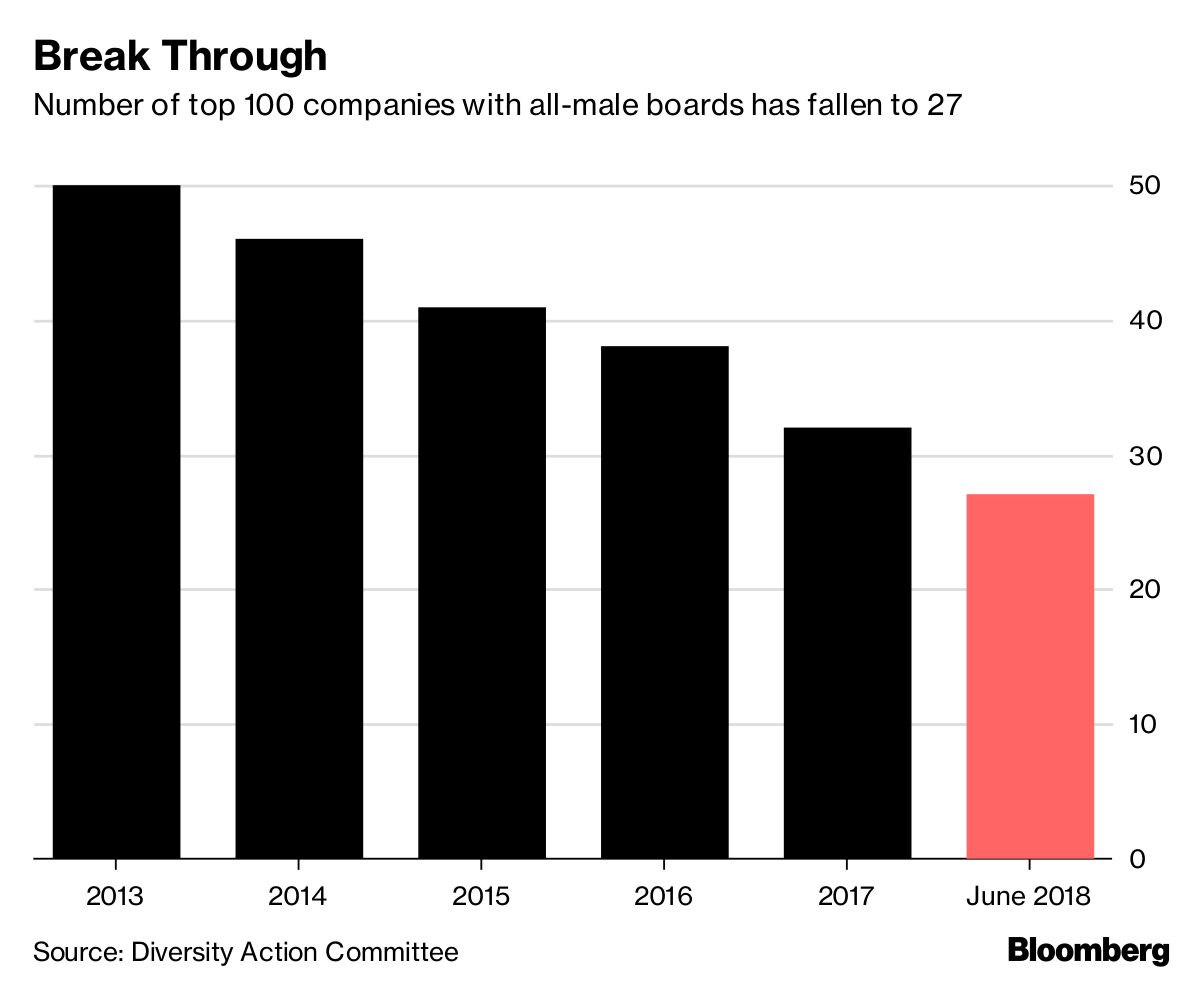 Meanwhile, the percentage of board seats held by women at Singapore's top 100 companies has risen to 14.7% from 9.5% in December 2015, the DAC said Tuesday. It's not just about naming and shaming. The list -- which details how many women each firm has on its board, who they are and the percentage of female representation -- also highlights companies that outperform regarding gender.
Singapore companies are playing catch-up amid an international push for diversity that has seen mutual-fund giants including BlackRock Inc. and State Street Corp. put pressure on firms to embrace greater female representation. The island nation still trails the UK, Australia, Germany, Malaysia and India in terms of women on boards, yet is ahead of Hong Kong and Japan, according to a study by the committee.
Moving to Action
"There's nothing like a good league table that is regularly reported that moves people to action," Diaan-Yi Lin, a senior partner at McKinsey & Co. said in an email. The collective annual gross domestic product in Asia Pacific could rise by 12 percent, or $4.5 trillion, in 2025 if countries worked to further gender equality, she said in an April report.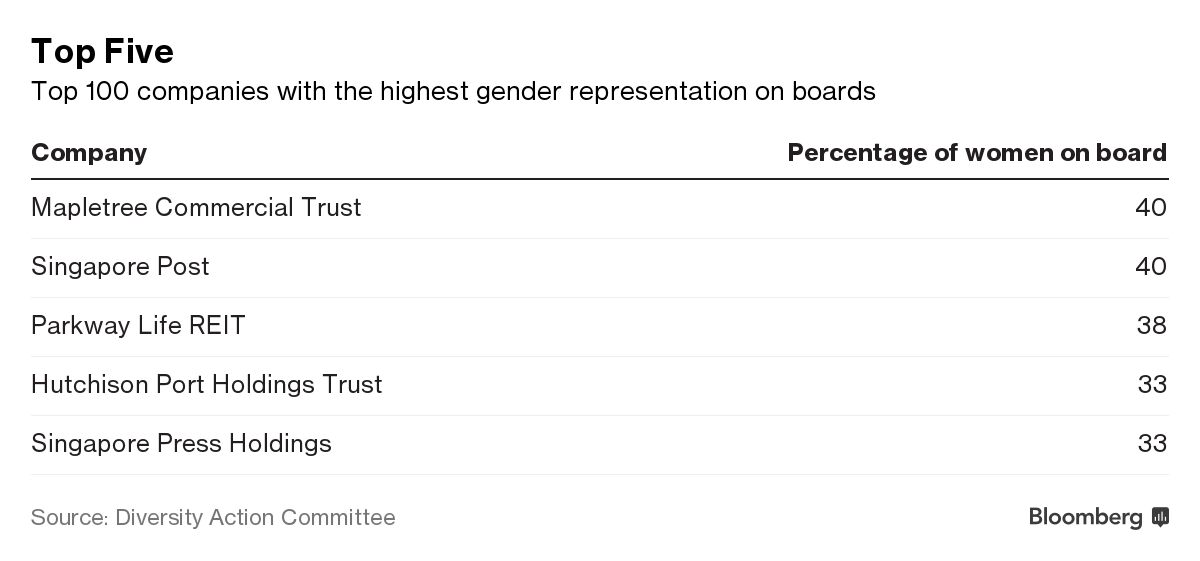 The list, which is based on publicly available information, is just one of many activities the DAC has taken to address the gender gap on boards, the committee said, adding it isn't possible to pinpoint the exact reasons for the improvement in numbers. The 18-member group, which includes corporate leaders and business professionals, targets companies by regularly speaking with board decision makers, keeping a list of potential female candidates recommended by executives and showcasing through data that broader gender representation tends to improve corporate performance. In 2016, the DAC suggested to Singapore's regulator that the code of corporate governance should require companies to disclose board diversity policies. In 2017, it proposed setting a term limit for independent directors to create impetus for change. The code is currently being reviewed by the Monetary Authority of Singapore. "At the end of the day it must make sense for business, it must make sense for companies," Singapore Exchange Chief Executive Officer and chairman of the DAC Loh Boon Chye said in an interview. "It may be a process, it may be step-by-step but what's more important is what is sustainable."
The typical board director in Singapore is male, older than 50 and has at least one university degree, according to the committee. While the top 100 companies have accelerated progress in gender equity in recent years, the broader market has been slower. Since 2014, about 55% and 49% of companies remain without female board directors.
'Mostly Unconscious'
"Gender discrimination in Asia is mostly unconscious," according to a March report by Insead Emerging Markets Institute and Deutsche Bank AG. Many Asian cultures have traditional societal roles for men and women and there still is pressure for women to give up or disrupt their careers to raise a family, the report said. Thirty companies, including casino operator Genting Singapore and technology firm Venture Corp., added female directors to their all-male boards earlier this year. Among the most diverse boards regarding gender are Mapletree Commercial Trust and Singapore Post, with 40% female representation on their boards at the end of June. The lack of gender diversity on boards is particularly stark in financial centers like Singapore, where more than half of university graduates are female and women account for almost 30% of employers. According to Marleen Dieleman, an associate professor at the National University of Singapore, the disparity could stem from cultural expectations. "There is still a tendency to source new board members from personal and family networks, and to look for people with similar backgrounds, thereby overlooking qualified others, including women," Dieleman said. "This is particularly true in family firms, which constitute the majority of listed companies in Southeast Asia, India, Korea and Hong Kong." Some, including DBS Group Holdings Chief Executive Officer Piyush Gupta, say more drastic measures need to be taken. The bank, which is Southeast Asia's largest lender, has two women on its 10-member board.
"Gender quotas are controversial and can be polarizing," Gupta said by email. "If the pace of change in having greater women representation on boards remains glacial, then quotas should be seriously considered."