BANGKOK (Feb 15): In many ways, China's Lunar New Year holiday is America's Thanksgiving, Christmas and Independence Day all rolled into one. Millions of Chinese take planes and trains to make the journey home (or abroad) to visit family and friends. Copious amounts of food are shared and gifts are exchanged as people ring in the first days of the moon's new cycle with fireworks to ward off bad spirits. But while it's been celebrated for thousands of years, the festival isn't immune to the rise of technology and the impact it's having on China's fast-changing society and economy.
Red Packets Go Mobile
Nowhere is that shift more evident than in the evolution of the hong bao. Traditionally, the red envelopes stuffed with cash are given out to children, the doorman, the housekeeper. But China's electronic payment revolution has transported the practice online. Tech giants Tencent Holdings Ltd. and Alibaba Group Holding Ltd. started offering "virtual" red envelopes a few years ago, and it's caught on.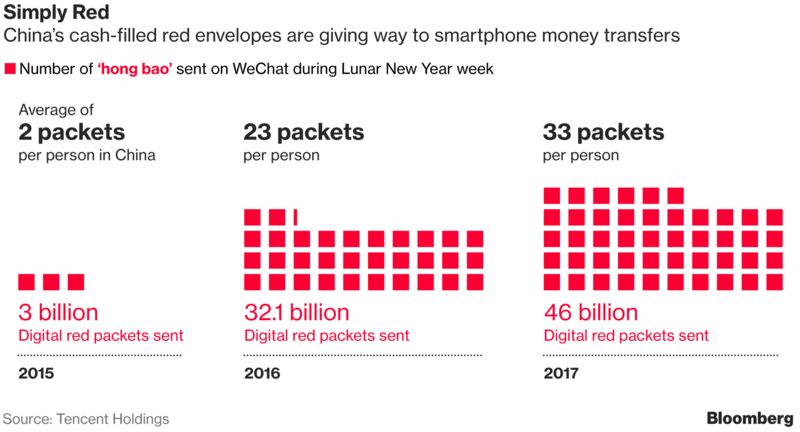 During last year's New Year break, 46 billion e-hong baos were sent via Tencent's ubiquitous WeChat messaging and payment platform -- that's the equivalent of 33 cash envelopes for every person in China. Two years earlier, the ratio was just two-to-one. Alibaba, China's biggest e-commerce provider, also offers electronic hong bao via its Alipay platform. It's a quicker way of fulfilling the holiday giving obligation for a country that had almost 530 million mobile payment users at the end of 2017, more than the population of the US.
Getting Home Faster
The holiday, also known as Spring Festival, unleashes the world's biggest migration, with more than 3 billion passenger trips expected over the period. Rail travel is synonymous with the New Year journey, but can be a cramped and exhausting affair with some trips home taking days on conventional trains. China's push into high-speed rail is rapidly changing that, with plans to develop the network into the country's less developed west. Bullet trains became the most popular form of New Year rail travel for the first time last year, with some journeys cut to a quarter of the time taken on a regular train.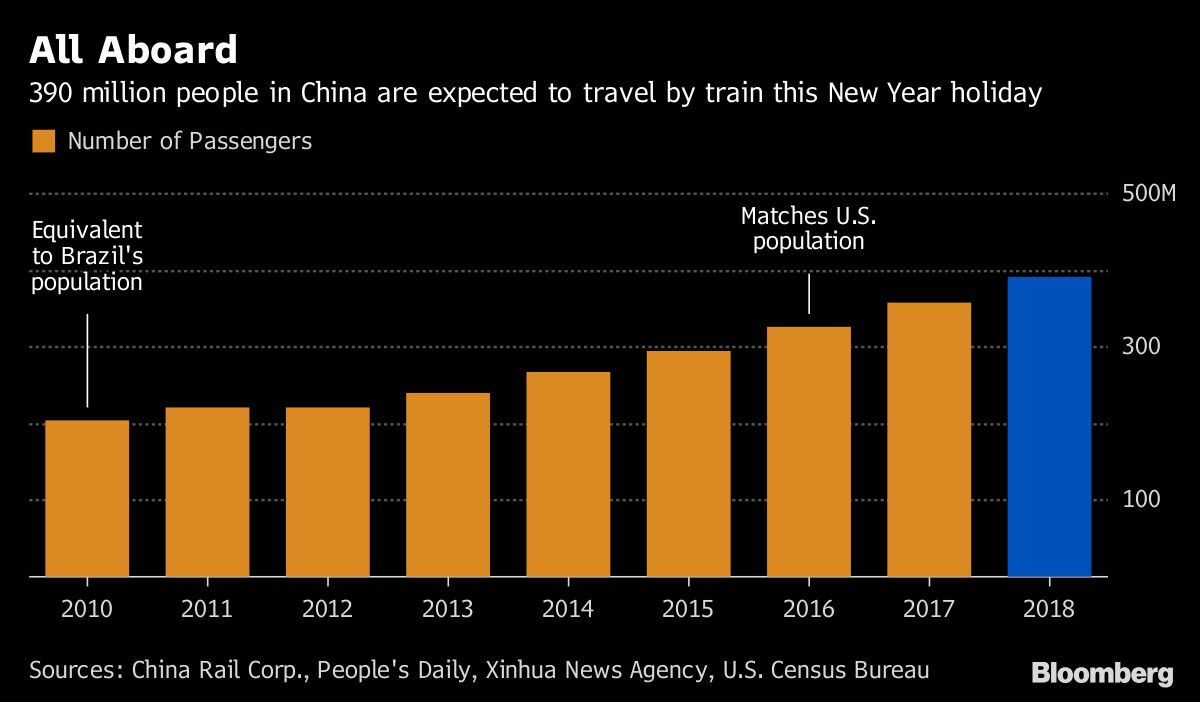 Hotels Lose Out to Mom
But mass movement doesn't mean more guests for China's hotels. Because people typically stay with family and friends over the break -- which runs from Feb. 15 to 21 on the mainland this year -- hotel occupancy slides.
The occupancy rate during the New Year month has averaged 51.5% since 2007, compared with a non-holiday average of 64.3%, data from travel research firm STR Inc. show.
Ka-ching Time For Casinos
China only allows formal gambling in the southern territory of Macau. New Year visits to the Vegas-like resorts in the enclave a short ferry ride from Hong Kong are becoming more popular as Chinese spending power climbs. MGM Resorts International opened a new US$3.3 billion resort on Macau's Cotai Strip on Feb. 13, just in time for the holiday. Rooms at all the major hotels are fully booked for the period, according to a survey from Morgan Stanley.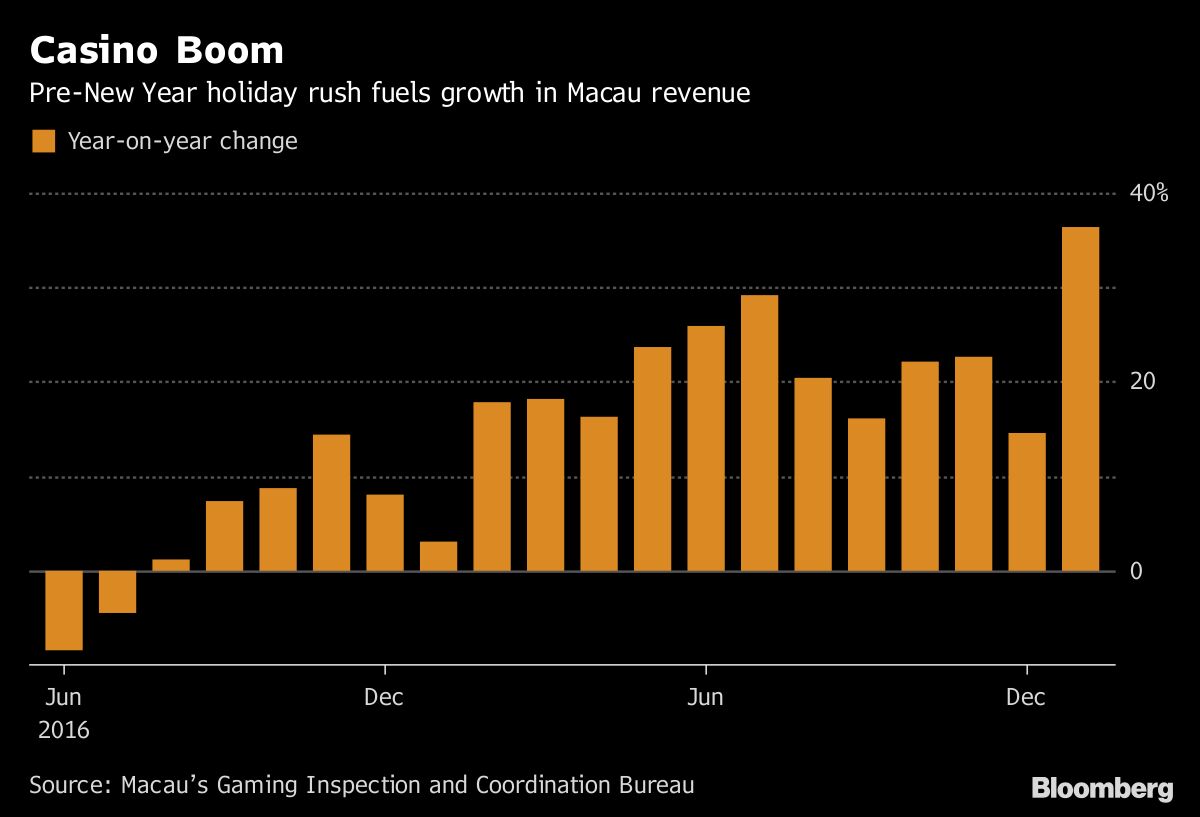 Gold Gets a Gift Boost
Lunar New Year is not just a time for giving cash. Gold prices get a bounce from the holiday too, with the metal turning in its best performance during January and February over the past decade, the months when Spring Festival usually falls. Gold rose 3.3% in January, just below the average for the month the previous 10 years. Jewelry and other ornaments comprised about 60% of the 1,090 tons of gold consumed in China in 2017.
BBQ Pork Prices Skyrocket
Feasting is integral to Spring Festival, known as Chun jie in Mandarin. While many families will stay up on the New Year's eve making dumplings and other goodies, in Singapore the Chinese community flocks to their version of the Christmas turkey: barbecue pork.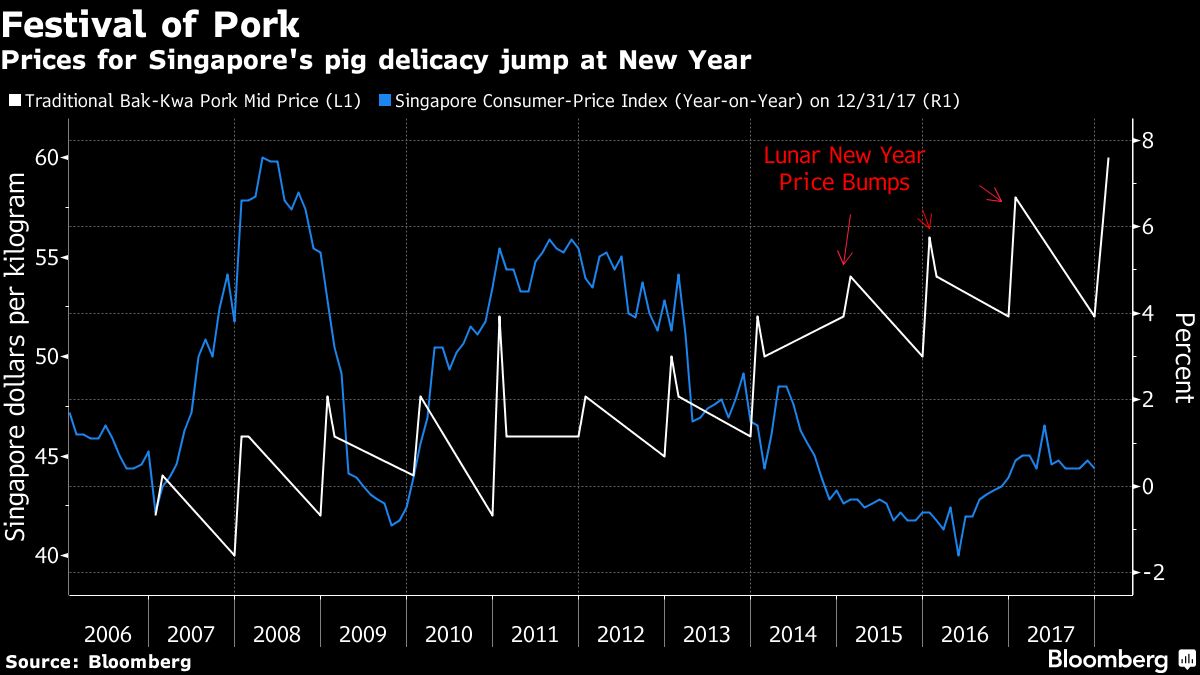 Average prices for the traditional caramelized pork slices known as Bak-Kwa typically surge ahead of the holiday, and have edged higher over the past 10 years. Similar to jerky, Bak-Kwa is given as gifts or eaten as a snack over the holiday. Other traditional New Year foods include fish, noodles, rice cakes, and spring rolls.
Fireworks Fuel Air Pollution
It wouldn't be Spring Festival in China if it wasn't greeted with a bang. Fireworks are let off to scare away evil spirits and bring good luck. Despite curbs on their use in some parts of China in recent years -- fireworks retailers in Beijing are forecast to sell 83% fewer pyrotechnics this year -- the tradition lives on. That's good news for kids and fireworks lovers, but bad news for the environment. New Year's Day, which falls on Feb. 16 in 2018, is usually the most polluted day of the year, according to BerkleyEarth.org, as explosives emit smoke and chemicals into China's skies. Levels of PM 2.5 -- tiny particles in the air that pose the greatest risk to people's health -- soared last Spring Festival, which may give the authorities in Beijing further impetus to crack down on fireworks. The city has seen markedly bluer skies this winter as a campaign against coal-fired heating and smog shifted into a higher gear.