TOKYO (April 5): Corporate Japan achieved a rare feat in the fiscal year that ended last week. Not one of its almost 4,000 publicly-traded firms filed for bankruptcy protection. Yet that's no reason to celebrate, according to analysts who see Japan's easy credit conditions standing in the way of a much-needed, corporate restructuring to flush out failing companies and make room for new businesses. "It's totally unhealthy," says Martin Schulz, an economist at Fujitsu Research Institute in Tokyo. "Japan's business cycle isn't working. When no old companies go out of business, no new ones can come in because there isn't room. The old companies will always compete on price, simply because they can." The last time not a single Japanese corporate titan went belly up was a four-year stretch 26 years ago, according to a report published this week by research firm Teikoku Databank. Back then, though, an overheated Japanese economy averaged 5.5% growth per year and then hit a wall when stock and real estate asset bubbles burst. This time, ultra-low interest rates and government loan guarantees left over from the global financial crisis are keeping companies afloat.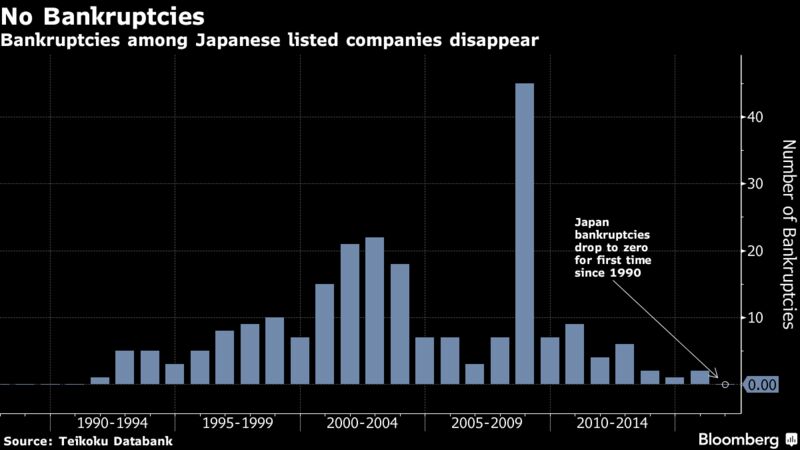 Prime Minister Shinzo Abe touts fewer business failures as an economic success, but critics say too-easy credit is keeping "zombie" firms alive, worsening labor shortages, and excess competition is putting downward pressure on prices.
Creative Destruction
The Austrian economist Joseph Schumpeter in 1942 coined the term "creative destruction" to describe the messy way that capitalism reinvents itself. Japan may be stuck in a rut because it refuses to take the economic pain needed for a revival. Yet it's hardly the only country keeping companies on life support. A January study by the Organisation for Economic Cooperation and Development blamed zombies -- defined as firms with persistent difficulties paying interest on debt -- for slowing productivity, and thus causing sluggish growth, in the developed world. In South Korea, where the shipping industry has been hit by slumping global trade, state-run banks last month agreed to lend Daewoo Shipbuilding & Marine Engineering Co. US$2.6 billion and swap debt for equity to prevent a default. It was the second time in less than two years that the troubled shipbuilder was bailed out. In China, roughly 10% of the country's publicly-traded companies are "among the walking dead," being kept alive by continuous support from government and banks, according to research by He Fan, an economist at Beijing's Renmin University. Banks keep lending, often because they don't want to own up to their bad debts. Meanwhile, the government fears the unemployment that would result if so many troubled firms were left to wither away.
In Japan, the creative-destruction dynamic is particular sluggish, though. The county's business start-up and closure rate is about 5%, roughly a third of that in other advanced nations, another report from the OECD shows. Overall, the number of Japanese business failures has fallen eight years running, according to Teikoku Databank's numbers. "It's not natural," says Fujitsu's Schulz, "for so few companies to be going bankrupt."