NEW YORK (Jan 22): The world's biggest bond market probably needs a little push from central banks to prop up yields at the highest in more than three years. The Bank of Japan and the European Central Bank both have policy decisions this week, before an announcement from the Federal Reserve on Jan. 31. While no action is expected from any of the three this month, investors will be on alert for the latest signals on withdrawal of policy accommodation after years of unprecedented stimulus. Any dovish hints from officials could pull the benchmark 10-year Treasury yield back from the brink: It touched 2.66% on Friday, the highest since July 2014.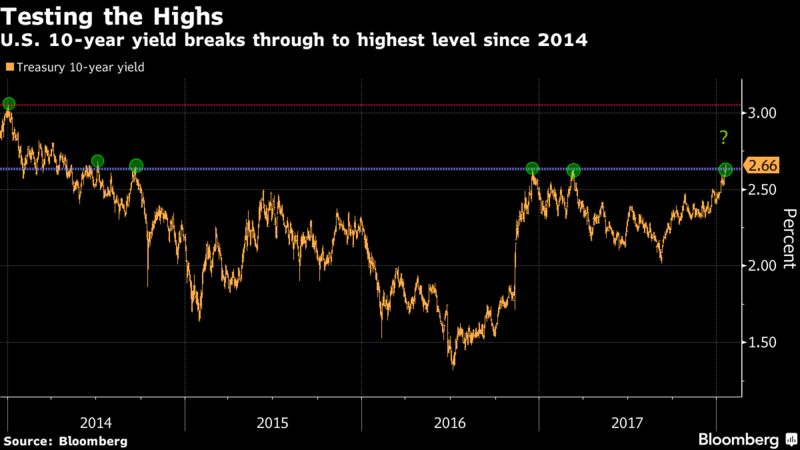 Traders are on edge because technical indicators signal weak support for the 10-year Treasury if the yield breaks even higher. That's not to say there's any hint of panic. In fact, strategists are questioning the pace of the ascent in yields, and anticipate a reversal if policy makers signal they're hesitant to remove the proverbial punch bowl. "If the market is reminded that low rates globally are going to stay low, at least for this year, there's room for these rates to come back," said Gennadiy Goldberg, an interest-rate strategist at TD Securities. "Everyone is trying to get all excited about rates moving up today, and one of the biggest pain trades is that rates start moving up later." The challenge for investors to start the year is that there's a sense that yields are finally pushing higher, but the forces driving that trend are so slow-moving, such as central-bank policy, Goldberg said. Bill Gross at Janus Henderson Group, for instance, declared a bond bear market this month, yet he expects it'll be "mild," without big losses.
Gundlach's Observation
Traders have long focused on the yield levels cleared last week, because they represented the top of the range since December 2016. DoubleLine Capital's Jeffrey Gundlach, for one, said this month that the 10-year yield could accelerate higher if it traded past last year's peak of about 2.63%. He added context to that in an email Friday, saying "closing levels are what matter. And preferably two in a row. Need Bunds to confirm, too." The 10-year Treasury yield closed the week just shy of 2.66%. Meanwhile, German 10-year yields fell on a weekly basis for the first time since mid-December, closing at 0.57%. The Treasury market is on pace to post losses in January for the first time since 2013. Traders will be scanning the globe for affirmation that the selloff isn't a fake-out.
What to Watch This Week
The International Monetary Fund releases its World Economic Outlook at Davos on Jan. 22
The BOJ's next policy decision comes Jan. 23 and the ECB follows on Jan. 25
The initial estimate of fourth-quarter gross domestic product highlights U.S. economic indicators -- analysts expect it will show 3% growth, which would be the first time in more than a decade that GDP was that strong for three straight quarters
Jan. 22: Chicago Fed national activity index
Jan. 23: Richmond Fed manufacturing index
Jan. 24: MBA mortgage applications; FHFA house price index; Markit U.S. manufacturing, services and composite PMIs; existing home sales
Jan. 25: Advance goods trade balance; wholesale and retail inventories; initial jobless claims; Bloomberg consumer comfort; new home sales; leading index; Kansas City Fed manufacturing activity
Jan. 26: GDP; core PCE QoQ; durable and capital goods orders Treasury is auctioning coupon securities with yields at multi-year highs
Jan. 23: US$26 billion of two-year notes
Jan. 24: US$15 billion of two-year floating-rate notes and US$34 billion of five-year notes
Jan. 25: US$28 billion of seven-year notes
Fed speaking circuit is light; Senate will hold confirmation hearing for Fed nominee Marvin Goodfriend on Jan. 23; Chicago Fed's Charles Evans will make remarks at a conference on unconventional monetary policy the same day; St. Louis Fed's James Bullard speaks in Oslo on Jan. 26