SINGAPORE (Jan 26): The volatile and mysterious world of cryptocurrencies is now a shopping mall away -- at least in Singapore. Ready-made computing machines used to facilitate transactions in Bitcoin and other digital currencies have appeared on the city-state's shop shelves even as its central bank sounds a note of caution.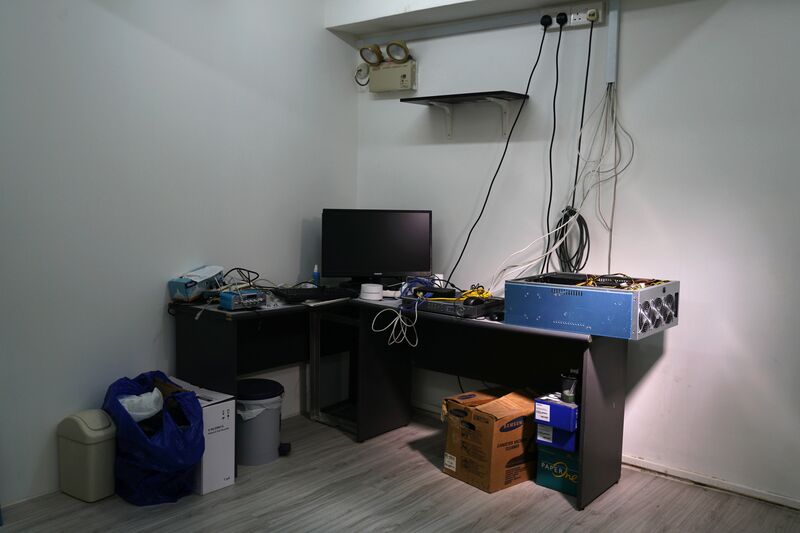 The availability of store-bought 'mining rigs,' each contributing its computing power to solve the complex mathematical problems needed to confirm transactions in digital currencies, means would-be cryptocurrency 'miners' in the country no longer have to assemble their own machines out of separate components. At Sim Lim Square, a popular shopping complex focused on electronics, at least five stores were selling cryptocurrency mining machines in recent weeks.
Shopowner Wilson Josup sells about 10 machines a week, up from one to two when he first started selling them about six months ago. Buyers range from those in their 20s to retirees, he said. The bulk of his customers use the $4,000 rig to mine Ethereum, the second largest cryptocurrency by market capitalization.
Details of a mining rig available at Josup's store. Photographer: We Leng Tay/Bloomberg
"Most of my customers would ask me to help transfer the rigs from their homes to a data center because they don't like the heat and noise," said Josup, adding that his profit margin on each rig was around 10%. Based on customer testimonials, leaving a machine running for a full month can net about $400 a month, Josup said. Still, the machines aren't flying off the shelves for every shopkeeper. Two floors down the same complex, cryptocurrency-mining rigs are on offer at a computer repair shop for $5,500. Shopowner Trecia Tay hasn't sold a single machine but says she gets some 10 queries about it a week, five times the rate three months ago. In December, authorities in neighboring Malaysia shut down two bitcoin-mining houses in the state of Selangor after neighbors complained of frequent power disruptions.