SINGAPORE (July 12): Schooling isn't cheap in Singapore: not just for citizens, but for the government too.
The city state boasts one of the best education systems in the world and as the government tries to transform the economy into a high-tech hub — part of its "Smart Nation" programme — it's putting heavy emphasis on equipping students with skills for a digital economy.
Government spending on education has doubled since 2005 to $12.9 billion this year, or 17% of its total budget. That's not only to pay for teachers and better infrastructure, but also subsidies for Singaporean students.
The city state is the third most-expensive place in the world to educate a child — trailing only Hong Kong and the United Arab Emirates. Parents budget US$70,939 ($98,000) for schooling from primary through tertiary level, according to a survey by HSBC Holdings Plc published in June.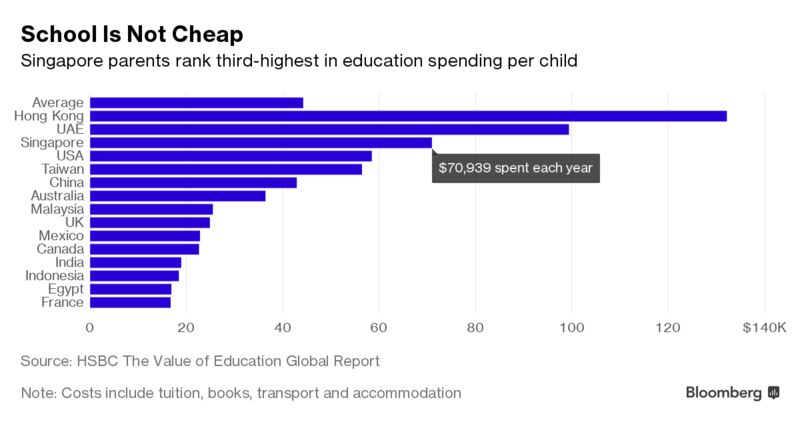 But for Singaporean families, the government foots most of the education bill. If you're a local, it'll cost you about $123 a month for a child at primary school, while a foreigner pays as much as $563.
The government currently subsidizes 435,100 students enrolled in primary through secondary schools and is projected to assist 80,100 who are doing undergraduate and postgraduate studies this year.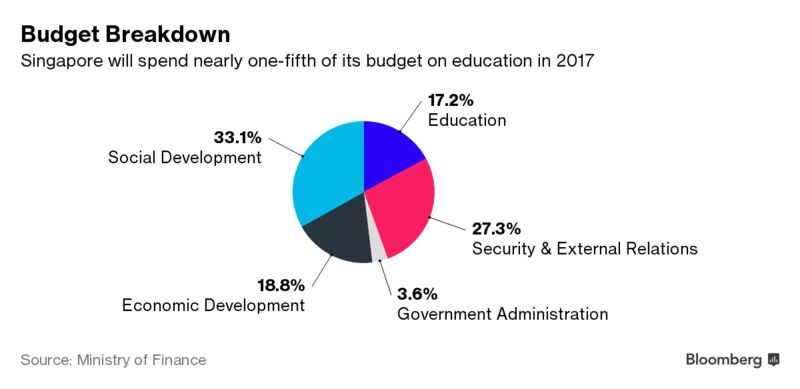 "Government expenditure is likely to continue to hold firm if not increase over time," said Selena Ling, an economist at Oversea-Chinese Banking Corp. in Singapore. While families are probably spending more of their budgets on schooling as costs increase, overall expenditure is still small compared to other "big ticket" items, like housing and food, she said.
The latest consumer price data shows education costs rose 3.2% in May from a year ago, more than double the rate of inflation.
The Ministry of Education said rising education costs are due to improvements in the quality of teaching, upgraded infrastructure and curriculum enhancements. At universities, coursed have been adjusted to better prepare students with computer-related skills — enrollment spaces for technology-related programs have been increased and new courses have been introduced, the ministry said in an email.
"Increased government expenditure on education would likely have a positive impact on the Singapore economy in the long run," said Kelvin Seah, an economics lecturer at the National University of Singapore. "These initiatives are meant to increase the human capital of individuals and increase worker productivity."