SINGAPORE/BEIJING (March 15): In the three years Ivan Chu has been the chief executive officer at Cathay Pacific Airways Ltd., he has seen the marquee carrier's stock become Asia's worst performer on the Bloomberg World Airlines Index. He may have little to reassure investors at the company's earnings conference Wednesday. Asia's biggest international airline is set to post its worst full-year performance for 2016 since a loss eight years ago as Chinese carriers and rising costs erode earnings. The median forecast in a Bloomberg News survey of nine analysts is for a profit of HK$450 million ($82 million). The Hong Kong-based company is scheduled to report the results around noon. Chu, appointed in March 2014, is executing a business revamp to stem the slide as shrinking business travel, pressure from budget operators and more direct routes offered by mainland carriers weigh on Cathay's yields -- the money earned from flying a passenger for one kilometer and a key measure of profitability. Among the analysts tracked by Bloomberg, not a single one recommends buying the shares. Since Cathay gave little specifics of the review in January, investors will be seeking more information on the plan, including any possible management reshuffle at the airline, whose last two CEOs held the role for about three years each. Changes "will start at the top" and the carrier will eliminate some positions as part of the revamp, with key changes taking effect by mid-year, Cathay said in January.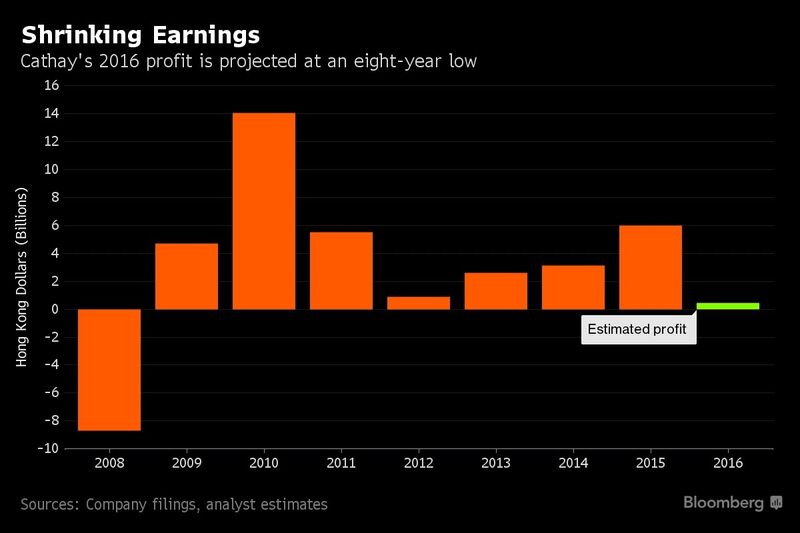 In the survey, four projected losses ranging between HK$377 million and HK$1.5 billion, while profit estimates spanned HK$450 million to HK$1.49 billion. The disparity in the figures reflects differing estimates of charges due to fuel-hedging losses. "I don't see 2017 being a whole lot better for Cathay," said Mohshin Aziz, an analyst at Maybank Investment Bank Bhd. in Kuala Lumpur. "Cathay is becoming collateral damage of the Chinese airlines' expansion." A representative for Cathay didn't respond to an email seeking comments. Maybank, which downgraded Cathay's stock to sell from hold last week, is among 15 brokerages tracked by Bloomberg that recommend selling the shares, with the rest advising a hold. Shares have declined 16% in the past year in Hong Kong, compared with a 17% gain in the benchmark Hang Seng Index. Yields have also been hit as the carrier widened its discounts to premium offerings. Cathay scrapped its second-half outlook in October following an 82% plunge in first-half profit. Chinese carriers, including Hainan Airlines Co. and China Eastern Airlines Corp., have added non-stop flights to the US and Europe in the past year, challenging the prominence of Cathay's Hong Kong base as a transit center. "Given Hong Kong's diminishing role as a transfer hub, does it still need so much capacity and such a big carrier?" said Eric Lin, an analyst at UBS Group AG in Hong Kong. Cost cuts can be helpful, "but it won't address the root cause, that people are not coming to Hong Kong to take flights," Lin said. Earnings have also been crimped by losses from fuel-hedging, which widened in 2015 to HK$8.47 billion from HK$911 million a year earlier. Chief Operating Officer Rupert Hogg said in January that Cathay Pacific will shorten its hedging period to two years from four.
Cathay Pacific faces other costs beyond its control that increase operating expenses by 3% to 4% a year, according to Maybank's Mohshin. Hong Kong is imposing a levy to finance a third runway at Chek Lap Kok airport, ranging between HK$70 and HK$180 for every passenger flying out of the city, and has increased aircraft parking and landing fees by as much as 27%.