SINGAPORE (July 22): Asiatic Group has issued a cease and desist letter to its minority shareholder, Jerry Low Chin Yee, for making and publishing what it deems a "series of defamatory and injurious remarks" against the company and its board of directors.
The letter, sent by RHTLaw Taylor Wessing LLP on July 20, demanded that Low cease to publish any defamatory statements and immediately remove his statements against Asiatic Group.
It also required him to issue to the company by July 22, an apology and undertaking of the blog www.asiaticminorities.blogspot.com, as well as the Facebook page entitled "Asiatic Group Minority Shareholders", both of which Low had created to voice out his opinions against the company.
Further, Asiatic is seeking compensation from Low by way of damages on its grounds of defamation, in addition to indemnification for the costs and expenses incurred by the company for its lawsuit.
The company is demanding written confirmation that Law has complied with, and will comply with the conditions it has set out in the cease and desist letter, as well as his offer of damages and costs.
The Edge Singapore previously reported that Low had used the Facebook page to publish an open letter entitled 8 Reasons for a change, which criticised, in detail, the company's management structure and stock performance, among others.
See:  Dissenting minority shareholder moves to stir up Asiatic Group, says will issue open letter on May 9
See: Asiatic responds to dissenting shareholder Low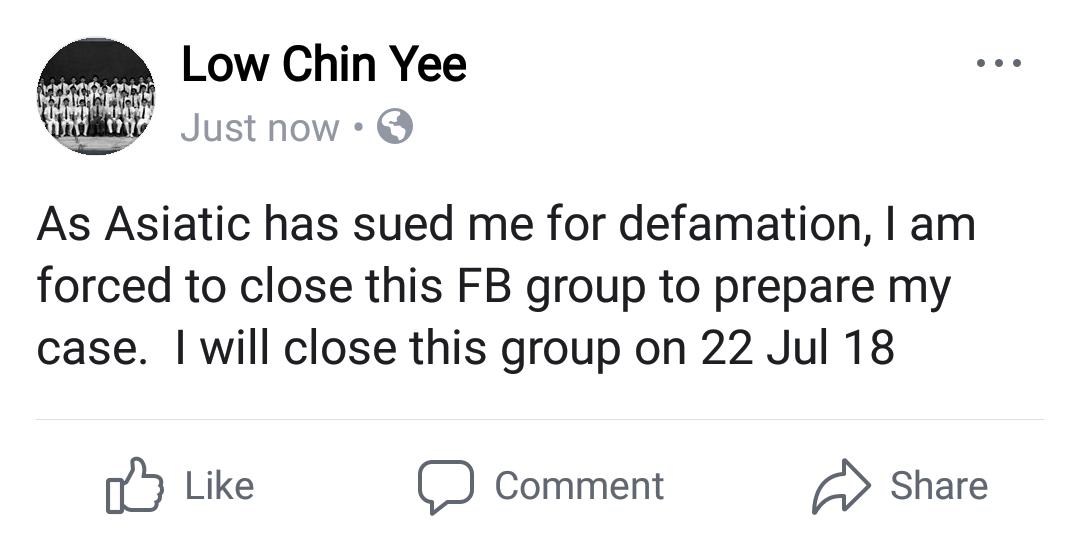 Screenshot of Low's post on the newsfeed of Facebook group 'Asiatic Group Minority Shareholders', taken on Jul 20 
Low was last seen announcing the closure of the Facebook page in a public post on July 20, but this was later on removed or hidden after the group's privacy settings were changed. 
"As Asiatic has sued me for defamation, I am forced to close this FB group to prepare my case. I will close this group on 22 Jul 18," he wrote.
As at 22 July, 1.34pm, the abovementioned Facebook page now appears to be a closed group with only one member, presumably Low, who remains listed on the page as an administrator. Material published on Low's blog entitled Asiatic Minorities, however, still remains.
Shares in Asiatic closed flat at 1.2 cents on Friday.