WASHINGTON (Jan 24): A number of Wall Street analysts are becoming increasingly concerned that President Donald Trump won't be able to follow through on several key proposals that he campaigned on, such as lowering corporate taxes and increasing infrastructure spending.
If he doesn't, or aspects of the reforms are pared back, their outlooks would become much less optimistic. 
Stocks in the US have rallied more than 8% since Trump was elected, but all of those gains were made between Nov. 8 and Jan. 6. Since then, markets have stalled as has consumer confidence.
"[M]uch of the improvement in confidence over the past two months was certainly the Trump effect, as to be expected, but as seen with some consumer confidence indices lately, the confidence flattened out in January from the initial euphoria in December," Peter Boockvar, chief market analyst at Lindsey Group LLC, wrote in a note last week. "The same can be said for the stock market."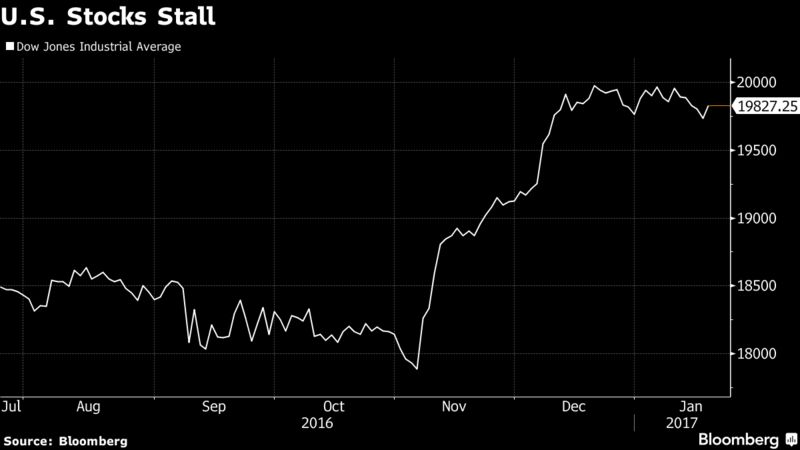 Another way to see the creeping pessimism is through the US dollar. After strengthening against other major currencies such as the euro between the election and early January, the trend has reversed.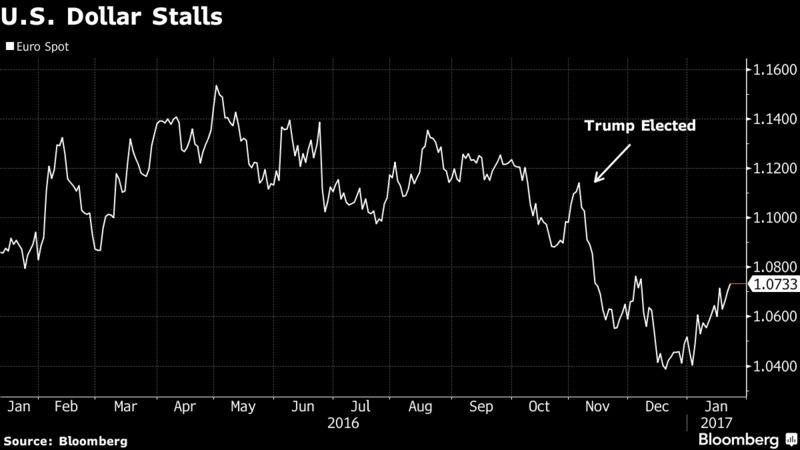 Morgan Stanley issued a formal word of caution over the weekend. 
"As Trump took the oath of office, we transitioned from the thrill of victory to the difficulty of governing," chief US economist Ellen Zentner and her team wrote in the note. "Hence, while our base case remains that Republicans can execute a tax reform-driven fiscal stimulus on or around the third quarter of 2017, we concede that execution risks are rising. This high-risk, high-reward path is another sign that investors may find it increasingly difficult to believe that their faith in US policy will be rewarded as the year progresses."
And investors are voicing similar concerns. 
"'Unsettled' is our best description of fund managers' mindset as the new administration takes office," David Kostin, chief US equity strategist at Goldman Sachs Group Inc., wrote in a note. "During an extensive series of client meetings in the US, Europe and Asia, it became apparent that investors are confused about how to best position portfolios under a Trump presidency."
If Trump doesn't follow through, Wall Street likely is going to have to make some big changes to their 2017 forecasts. Right now the average target for the S&P 500 Index is 2,362, according to data compiled by Bloomberg. The highest is 2,500 from RBC Capital Markets and the lowest is 2,275 from Fundstrat Global Advisors.