SINGAPORE (Nov 25): John Soh Chee Wen and Quah Su-Ling have been identified as the "masterminds" behind what authorities described as "the largest market manipulation case in Singapore's history". Soh and Quah on Friday were charged for "orchestrating a massive fraud", according to a joint statement by the Attorney-General's Chambers, Commercial Affairs Department, and Monetary Authority of Singapore. Prosecutors say the pair had devised a scheme to manipulate the shares of Blumont Group, LionGold Corp and Asiasons Capital, which is now known as Attilan Group. Shares in the three companies collapsed suddenly in early Oct 2013 after a big run up over the preceding nine months. That crash wiped out $8 billion in market value in the stocks, leaving a trail of livid and broke investors.
Prosecution in court on Friday said the penny stock crash has led to the loss of investor confidence, and has inflicted "immeasurable, and enduring" harm to Singapore's financial markets and its reputation as a financial centre. Soh and Quah, the former CEO of IPCO International, have been charged under Section 197 of the Securities and Futures Act, and Section 109 of the Penal Code. They are accused of using more than 180 trading accounts "to create an illusion of liquidity and demand" for shares in the three companies, as well as to control the supply of these shares available to the market, so as to influence their prices. Soh and Quah, whom the prosecutors allege have been in an intimate relationship for the past three years, face 181 and 178 charges, respectively. These include six counts of conspiring "to create a false appearance" of the liquidity and demand for Blumont, Asiasons and LionGold shares, for 14 months between August 2012 and October 2013, and four counts for conspiring to manipulate and support the share prices. Another six counts are for cheating Goldman Sachs International and Interactive Brokers into extending them vast amounts of credit, by providing the shares as collateral while concealing from the brokers that those shares were being manipulated by them. A further 162 counts were levelled against the two for giving instructions with respect to the trading accounts, without obtaining consent from the brokers and thereby deceiving them. Soh, 56, faces an additional three charges for being involved in the management of Asiasons, Blumont and LionGold, while being an undischarged bankrupt.
While Soh does not appear directly as a shareholder or director of any of the companies involved in investigations, he did carry LionGold business cards that describe him as "Adviser to Chairman". Soh, who appeared in the dock in a white long-sleeved shirt, conferred with his lawyers from WongPartnership before it was announced he would remain in remand, without bail. During this period, his lawyers will be able to file a response to the prosecution's claims, before his case is heard again on Dec 20. Quah, 52, has been offered bail at $4 million. The prosecution contends that she is a flight risk, particularly given her relationship with Soh. The prosecutor noted that Soh had previously obtained and used an Indonesian passport under another name to travel in and out of Singapore. The prosecutor said this means Quah would "have access to the opportunity to flee Singapore along with Soh or using Soh's contacts or resources". Dressed in a black, buttoned up top, the fair and petite Quah had occasionally glanced at Soh while listening to the proceedings with her brow furrowed. Another man, Goh Hin Calm, was arrested along with Soh and Quah in the early hours of Thursday morning. Goh has been accused of being their "key assistant". Goh, who is IPCO's interim CEO, was charged with six counts, for intentionally aiding Soh and Quah in their scheme to create a false market for shares in Asiasons, Blumont and LionGold. He allegedly managed the bank and trading accounts used to manipulate the shares.
Goh, 57, has been offered bail at $750,000. This was reduced from the initial $1 million that the prosecution had asked for.
Probe continues
The Attorney-General, CAD and MAS say the fraud perpetrated by couple and their accomplices involved trading accounts belonging to 59 individuals and corporate nominees, who allowed Soh and Quah to control their accounts. These were serviced by 20 brokers. The authorities say investigations are continuing against nominee account holders and brokers who may have helped Soh and Quah's scheme. These individuals include directors and members of senior management in Blumont, Asiasons, LionGold, and their related companies, during the period in question. CAD and MAS have already raided more than 50 locations and interviewed more than 70 people in a probe that started in April 2014.   Soh's role in the Oct 2013 penny stock crash was flagged by
The Edge Singapore
in its Issue 641 cover story, dated Sept 1, 2014
(cover photo below)
.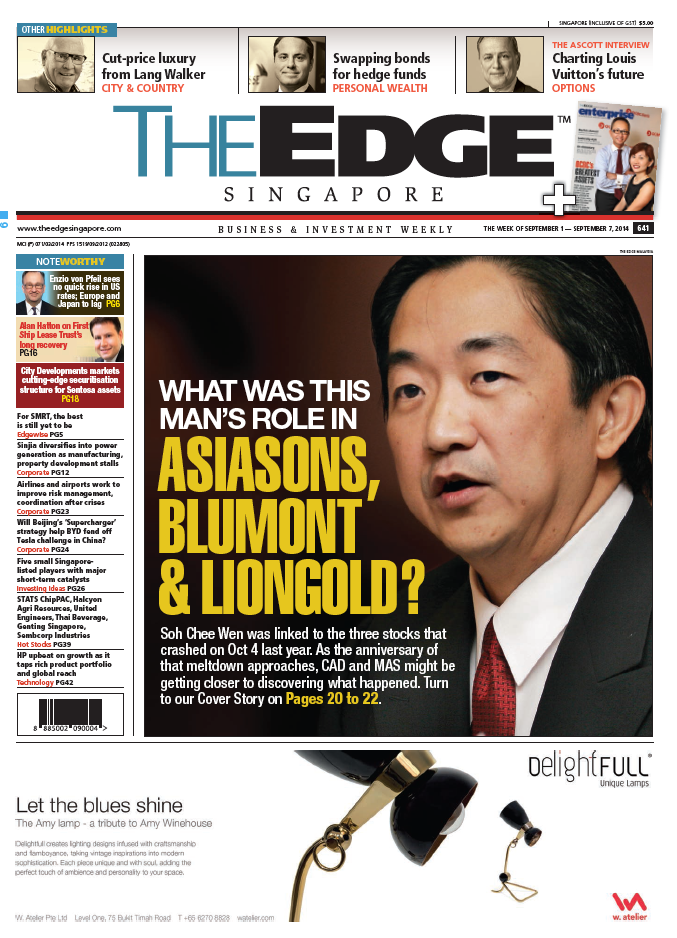 The most recent issue of
The Edge Singapore
provides a detailed illustration of how the penny stocks were linked prior to the crash. It also cites court documents in relation to a 2012 lawsuit brought by Quah and seven other plaintiffs against Tony Li and an entity owned by him. These documents link Soh to complex deal-making, involving the companies, that the CAD began investigating two years after.